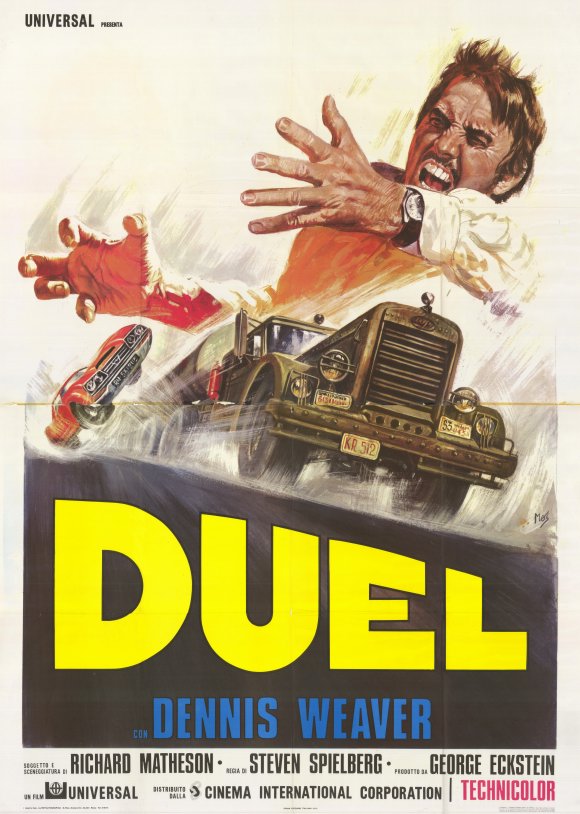 Hello! I'm very excited to announce a brand new monthly podcast!
Me and fellow Agent Mat Benson have started a new show that's all about Steven Spielberg!
Each month, me and Matt will watch a Spielberg film and discuss it in within one hour.
And we plan on doing every film he's directed (and maybe even throw in a few episodes of his Television work). Also, we plan on watching every film he's made in chronological order. Meaning we're starting with his first film and going in order of release.
So why Spielberg? He's such a film making icon for modern cinema, you almost take for granted that he had to start somewhere. To track the journey of a director from the beginning and seeing the evolution (both his ups and downs) is gonna be really exciting.
I had a great time recording this with Matt, and I honestly can't wait to record the next episode!
Now, if  you haven't seen DUEL, do be warned, we go into detail about the films plot so yes, spoilers. But I think it's still enjoyable to listen even if you never saw the film, so if you just wanna listen and you don't mind hearing what happens in the film, then give it a shot.
Or hell, get yourself a copy and enjoy the breakdown with us!
Here's the trailer for the film….
So go ahead and click HERE to listen and download the episode! I will  update this post to let you guys know when the shows available on iTunes!
The next episode should arrive around the same time next month, and if you wanna get ahead and watch the next flick, that movie will be Spielberg's second film, The Sugarland Express.