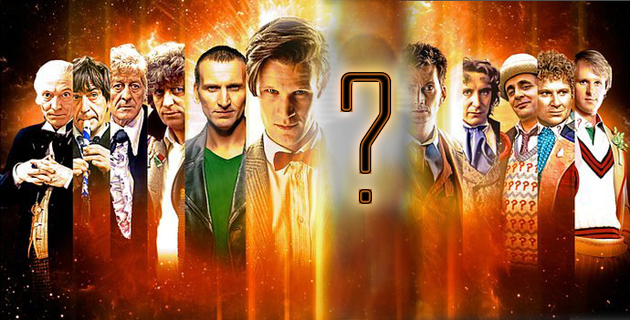 Today is the day many of us Whovians have been waiting for, ever since the announcement of Matt Smith's departure from the show. In a little over 2 hours (it's about 9AM in Los Angeles) the entire world will find out who'll be stepping into the TARDIS once our favorite bow tie-donning, poofy-haired, powerfully-chinned Gallifreyan goes awash in yellow light.
Ever since this year's Gallifrey One, I've had a bad feeling (or good feeling, depending on your taste) that Matt Smith was going to step down from the role very soon.  Reason being, at Gally1, they played an interview with Stephen Moffat, that had been conducted the week of the convention, if I remember correctly.  In the interview, he covered upcoming themes/possibilities for Series 7B, including such things as the return of the Ice Warriors, and things we might see in Journey to the Center of the TARDIS.  The last question that the interviewer asked was about rumors of Matt Smith leaving the show.  Moffat replied in a way I've described to people as "how you would tell your kid that their puppy died,"  he said, "Matt will be around forever."
I suppressed the urge to scream, "BULLSHIT!  He's lying, everyone, can't you see it!?"
The Troughton Rule, it is stronger than any of us, I said!  Did anyone believe me?  Yeah some people did – but some didn't!
Well, that has come to pass, and now we're we as a Who-community will finally be moving forward today, away from the months of speculation and debate, and into months of criticism, speculation, and debate.
Woman? Person of Color? Older? Younger?  2 hours, and we shall know. I'm still pulling for Chiwetel Ejiofor.
I'm going to attempt to set up LiveBlogging so you can watch me devolve into a bubbling mess of fandom through this post.  Agent Earl, out for the time being. 9:30AM, PST
—————————–
11:30AM PST – So, obviously, I didn't figure out the liveblogging plugin.  But, Peter Capaldi is the 12th Doctor!!!  His IMDb Starmeter is going to shoot through the roof!