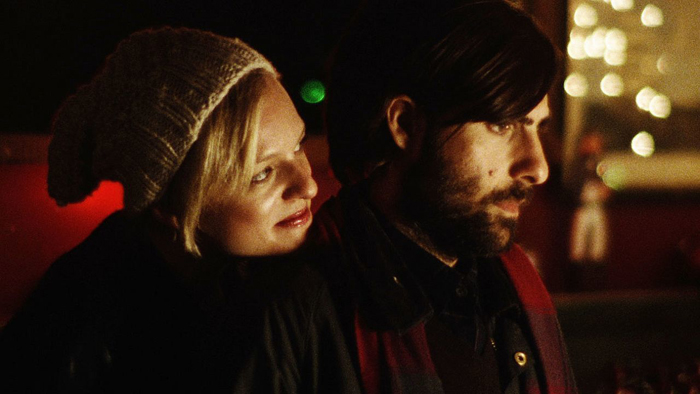 If you're one of those people who can't enjoy a movie with an unsympathetic protagonist, then go ahead and skip Listen Up Philip. Jason Schwartzman once again inhabits the skin of a smarmy hipster douchebag and turns the dial up to 11 in the latest comedy from writer/director Alex Ross Perry. Perry's previous film, The Color Wheel, took audiences on a road trip with a pair of intolerable siblings cut from the same annoying cloth.
In Listen Up Philip, Perry takes us on a journey through the obnoxious underbelly of intellectual literati in New York City. Our focus is on author Philip Lewis Friedman, a textbook example of narcissism, pretension, and an inflated sense of self-importance. The movie opens with Philip meeting an ex-girlfriend at a quaint corner diner ostensibly to give her an inscribed copy of his second novel, Obidant. When she arrives a few minutes late, Philip berates the former flame for her lack of support and boasts how his life has turned out so much better. Emboldened by his ego trip, Philip calls up a college friend to give him a similar tongue lashing. The kicker? The poor guy is now in a wheelchair. Perry has emphatically established that Philip is nothing short of a world class dick.
Luckily, Perry realizes that Philip can only be taken in small doses. As such, the film is as much about the title character as it is about the damaged people left in his wake. In the second act, Listen Up Philip shifts focus to Philip's long-suffering girlfriend Ashley (Elisabeth Moss), a photographer whose career has been stunted by Philip's jealousy and insecurities. Out of the blue, Philip decides to continue his writing at the upstate cottage of his idol Ike Zimmerman (Jonathan Pryce), a prolific author based on Philip Roth. It turns out to be the best thing to happen to Ashley, who is freed from the suffocating nature of their toxic relationship.
On the flip side is the almost parasitic relationship between Philip and Zimmerman, a prickly misanthrope who is likely to be where Philip's future lies. Zimmerman leeches off Philip's youth in an attempt to jumpstart his own stagnant career while also attracting much younger women. At the same time, Zimmerman allows his already strained relationship with daughter Melanie (Krysten Ritter) to crumble piece by piece.
With its focus on trendy bourgeois New Yorkers, Listen Up Philip feels like the type of film that could have sprung from the mind of Noah Baumbach, Whit Stillman or Woody Allen. Cinematographer Sean Price Williams utilizes a slightly jittery handheld approach that calls to mind Allen's Husbands and Wives or the early work of John Cassavetes. Perry adds to the literary feel with voiceover narration by Eric Bogosian. Narration is often used as a crutch by less confident filmmakers, a way to spell out what the audience should be able to infer. However, Perry weaves the narration seamlessly into the story to round it all out.
Video/Audio: 7
The video is presented in anamorphic widescreen with an aspect ratio of 1.85:1. Listen Up Philip was shot on Super 16mm so the transfer has a grainy quality that gives it a vintage cinematic feel.
The audio is presented in both Dolby Digital 5.1 and 2.0 Stereo. Since this is a dialogue-heavy indie flick, there's not a lot of difference between the two tracks nor is either of them overpowering. Sound is evenly distributed and comes in crisp and clear.
Extras: 4
The DVD includes an audio commentary by Alex Ross Perry, who talks about a mile a minute. He goes through what inspired him to make the movie, shooting on location in the Big Apple, and his cast and crew.
Behind the Scenes (12:13) presents raw footage of the making of the film.
Featurette (3:27) is a quickie that serves as little more than an extended trailer.
Rounding out the extras are deleted scenes and a gallery of mock book covers that resemble 70's paperbacks.
Film Value: 8
Jason Schwartzman is at his most unctuous best and it almost breaks your heart to think that this might be the fate of Max Fischer. If you can get past the loathsome personalities of the main characters, you'll find Listen Up Philip to be a sharply written comedy.