The following entry is one Agent's guide on how to game on the cheap.
While I'm primarily a PC gamer, I'll try and cover some stuff for the consoled among us.
A couple months ago, I wrote this piece about how it's just so damn expensive to beek a geek these days. There's just an endless torrent of content to consume. More content usually = more money you have to spend. Initially, the piece was supposed to turn into tips on how to mitigiate the pocket damage of an expensive geek lifestyle, but it ended up becoming a bitch session.
That's where this article comes in. This was supposed to be a section of the second part of that initial article. After finishing that initial post, I said to myself, "I should write a followup article about how to mitigate the pocket damage of an expensive geek lifestyle." It just… took me a while to remember it. Now that it's been remembered, though, here I am writing an article!
Hopefully, you'll find a nugget or two that might help you out.
1. Be patient
I suppose that it might go without saying that if you wait until that brand spanking new release sits around on the shelves for a while, it'll eventually hit a price drop. I know, this might be too long for some of you to wait. Even then, sometimes it's not much of a price drop. But, if you do wait, eventually people start selling back their copies – some in as little as a few days, and used game prices are a bit easier to swallow . Additionally, if you wait a week or so, discounts on the deal sites start popping up, as do ads on sites like Craigslist, or game swapping sites. But ok, I get it… you're more of a online multiplayer guy and if you don't get the game at launch, you'll be light years behind everyone else.
I guess… disregard this point. Seriously though, if you can wait, I say do so. Look, there's an entire subreddit dedicated to it: http://www.reddit.com/patientgamers
2. Keep abreast of deals
Here are a few places I use to keep informed on gaming deals. I try and keep it down to this four sites. After all, if I spend all my time looking for deals, that kind of defeats the purpose looking for them in the first place. Time is money, friend! Some of these deals overlap, but that's not always the case, so it's worth it to check the other sites. Haha. I said "breast."
https://twitter.com/cheapassgamer
http://www.reddit.com/r/gamedeals
http://slickdeals.net/?tagid=9377&tag=video+games
http://www.techbargains.com/catsearch.cfm/1_2_0
3. Look for package deals
This is a bit of a subdivision of the previous point, but it's worth mentioning, I think. If you happen to be in the market for new computer parts, look out for these packages. Earlier this year (2013), AMD was doing a promotion with some of their products (mostly their video cards, if I remember correctly). Anyone that bought a product that was part of the promotion received digital download codes for Tomb Raider 2013, Bioshock Infinite, DMC, and Crysis 3 for FREE-99!
4. Try gameswapping
Don't have a large circle of gamer friends in the immediate area? Well, luckily, there are other gamers in the same perdicament, looking for an e-friend to reach across the digital divide and share the gift of gaming. I'm sure there are a few other sites out there, but this is the one I frequent:
http://www.reddit.com/r/gameswap
5. Some people just give away freebies!
Yes, there are people out there that are just plain awesome.
http://www.reddit.com/r/playitforward
http://www.reddit.com/r/randomactsofgaming
http://www.reddit.com/r/randomactsofamazon
6. Check the digital delivery sites
This means, all the digital download services, like GOG, Green Man Gaming, Origin, and of course, Steam. A lot of the time, they'll randomly run limited time deals on titles, and pretty good discounts. I'm not super well versed with the others, but you can even set Steam to send you an email alert if a game on your wish list goes on sale. It's evil. Evil but oh so good. You know what's even more evil – the Steam Summer Sale. It's a week long digital Black Friday. If you're a PC Gamer, Christmas actually happens in June. Just about everything in Steam's expansive catalog goes on limited-time sale at some point during the week for really insane discounts. During the last sale, they had the entire Tomb Raider collection up for $12.50, for one day. That's like, a 75% discount. They also had Half-Life 2 for $2.50, and Skyrim for $29.99, if I remember correctly. Know it. Love it. Steam Sale.
7. Gamefly
If you play through a lot of games quickly, Gamefly could definitely be worth it. Additionally, every so often, they get rid of their excess copies of certain titles at a pretty good discount. This usually happens after the hype/demand of a new release starts to drop. I'm not sure if you get the case/manual… but that's never usually mattered to me. I just want the game experience, yo.
8. Humble Bundles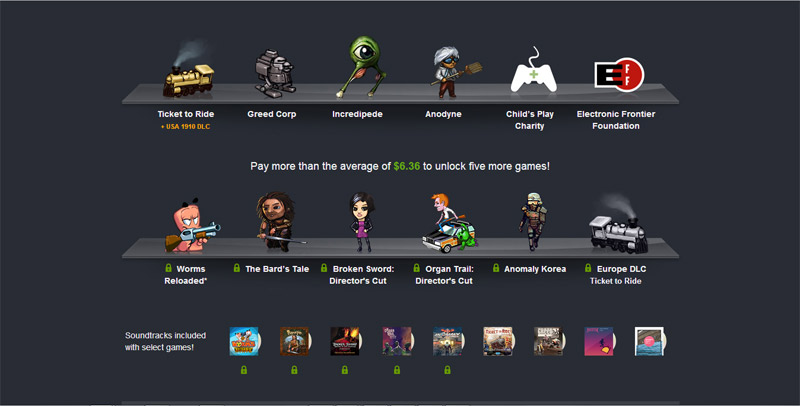 If you've never heard of Humble Bundle, you can thank me later… or hate me, depending on how often and how much you spend here. Basically, Humble Bundle puts together a package… er, bundle of games, DRM-free, a lot of the time with extra content, like soundtracks and such – and you get to choose how much you want to pay. Yes, you read that right… it's pay what you can/want gaming. Sometimes, it's mostly indie titles, other times, they're AAA titles. It runs the gamut. If you pay greater than the average, they usually throw in a few more items as well. What happens, is they'll take your payment/donation, and split it 3 ways. One portion goes to the game developers, a second to Humble Bundle itself, and a third goes to their current charity. Currently, it's Child's Play and Electronic Frontier Foundation. You can even decide how you want your payment split. You can give it mostly to the charity, or to the devs, or all to Humble Bundle if you want.
Oh, and they don't just do games.  There have also been e-book humble bundles, and comedy album humble bundles as well.  It's bangarangtastic.
9. Make a friend that works at a developer or publisher
This is actually not as hard to accomplish as it sounds. Just because you work for a dev or a publisher doesn't mean you're a dev, yourself. So this point covers anyone that works admin, or security, or HR, or even down to the temp employees, like the game testers. All of them get pretty awesome discounts on any titles released by that company. When I was a tester, I worked for Activision at first, and then Treyarch. Depending on the title, the discount ranged anywhere from $5/game to $15/game, which is a pretty awesome perk. So, when the new WoW xpac, Mists of Pandaria, came out while I was testing. Copies for everyone. Just kidding. Copies for me, and me.
10. Start a review site
Why, you ask? Because you can start hitting up the PR reps of companies for review copies of the game. Of course, you're going to have to be pretty consistent at reviewing the titles they send you and have decent writing skills. Now, this might not pay off in the beginning, as I'm sure some companies will want a site with a good flow of traffic, and will take a look at your website rankings through Alexa or a similar tool. But, there will be other companies that might not care about the hits quite as much. And you'll get responses from them, hopefully. Either way, it's worth a shot because sending that email probably cost you nothing. Well, unless you count electricity, and broadband, if you're sending it from home, or your mobile data if you're on your phone…
Come to think of it… perhaps I should get in contact with some PR reps, myself.
Hopefully, something was learned by someone after all that. Any tips you have for saving money on games? I'd love to hear them. Perhaps I'll just add them to the list, with credit of course.