Hey everyone! Justin here and today I'm presenting to you a special document. With the release of Baz Luhrmann's The Great Gatsby this week,  I thought I'd present to you all a report from a Reserve GUARDian who's done his own inlet on this man called Gatsby. So, let us give Andrew Linde our attention and read his report….
In my younger and more vulnerable years, I'd read a book that I've been turning over in my mind ever since. The Great Gatsby by F. Scott Fitzgerald. I seemed to understand it better than my classmates for some reason. I took to reading it faster than any other book assigned to me in that high school English class. Something about it appealed to me, perhaps the complex narrative or the complicated characters. Nick Carraway, the narrator, couldn't be classified as a good guy per se, but he isn't some kind of villain. He feels human and so the story feels more real than, say, The Adventures of Huckleberry Finn by Mark Twain. Huck's adventures feel exactly like the moral parables they are. Gatsby and his quest for lost love invoke the sloppiness of being human(and I'm not just talking about that car crash!).
It may have been something like this that inspired Baz Luhrmann to make his latest 3D epic version of the classic novel. Or it could have been money. Either way, I've been looking forward to the 2012 version of The Great Gatsby. Oops, I mean 2013. It was originally set to be released in December of 2012, but was pushed back to May of 2013. This ruined my plan to have a "Year of Gatsby", where I would consume as much GG related material as I could get my hands on. It would turn out to be mostly movies.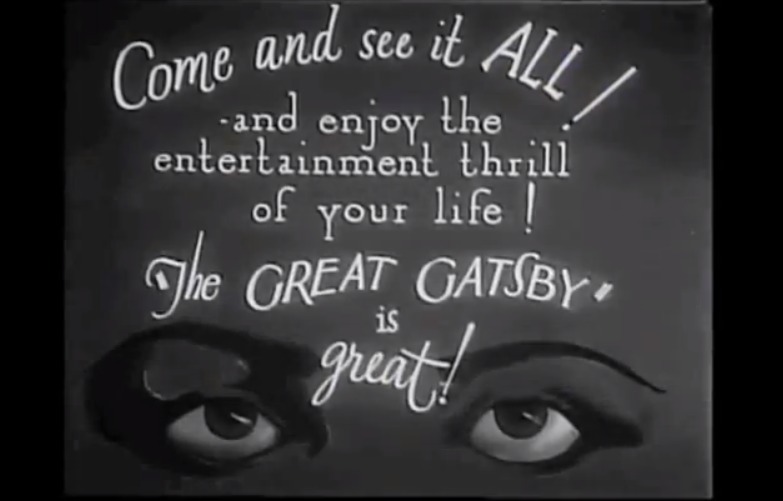 There have been GG related adaptations happening ever since the book was written. A 1926 silent version has been lost to the world, so the earliest I could find was from 1949 with Alan Ladd as Jay Gatsby! Alright, so you probably don't know him, but I found this version to perhaps be the most faithful. Not that faithfulness is always important to an adaptation, but it helps when the source material is so good. Unfortunately, the film mostly makes Gatsby's downfall about him being a real gangster and moonshiner!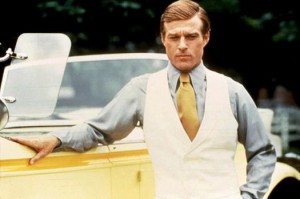 The most well known adaptation so far stars Robert Redford as the mysterious host and Sam Waterston as Nick. Redford certainly has the look for Gatsby but most of the passion is gone from the story. I did particularly enjoy an appearance by Edward Herrmann as Klipspringer, a guest who stays many weeks at Gatsby's house. Herrmann is better known to me as Richard Gilmore of Gilmore Girls(probably my favorite TV show).
Paul Rudd plays Nick Carraway in the 2000 made-for-TV version of the story, which is probably all I need to say about that.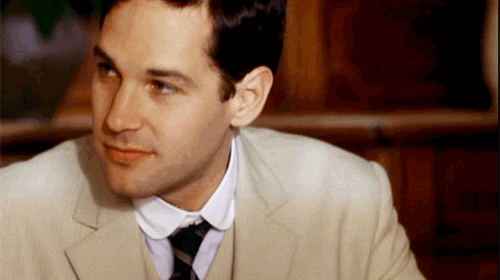 As for its telling, whoever adapted it decided to show all of Daisy and Gatsby's backstory before even truly introducing the characters to each other in the present.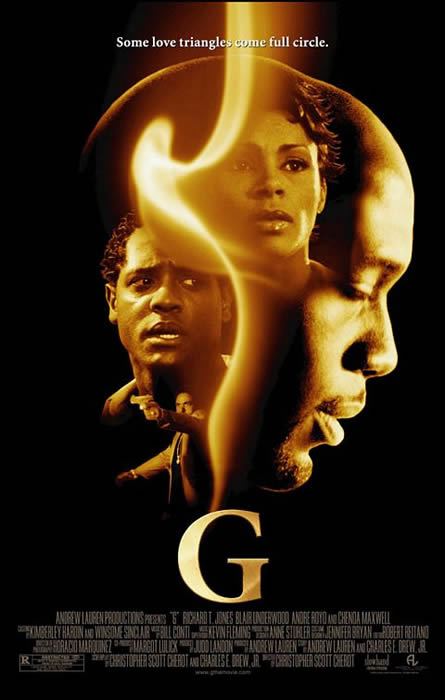 Probably the most humorous "adaptation" was a film called G released in 2005 but filmed in 2002. It concerned mysterious rap artist Summer G who rented a house in the mostly white owned Hamptons. He then reconnected with his old college sweetheart who was cousins with a reporter who was interviewing him. It managed to separate the single love triangle into two distinct love triangles, yet still overlap them. If that doesn't make sense, think about the irony of a character asking every other character not to call him "Tre" and then the credits do just that. Overall, G manages to be so not Gatsby that it doesn't have to give credit to the original, but without that original story, it makes no sense.
I had read about and found online an all female opera style version of The Great Gatsby, but it would cost me something like 8000 yen to buy, so I decided I could live without. Also teasing me at the end of my orgastic year is a new storyline on the TV show Smash(it's about the making of a Broadway show). Julia Houston, played by Debra Messing, gets the rights from Fitzgerald's estate to do a musical based on the novel! Instead she writes it as a play for her new boyfriend. But I believed in the musical. It eluded me then, but that's no matter- tomorrow I will have more hope, close my eyes….And one fine evening-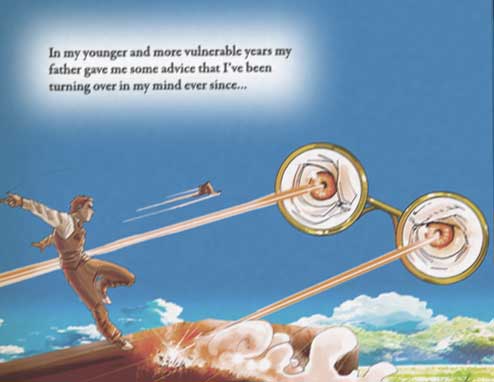 Andrew Linde is the cofounder of The Benview Network with Matt Benson. He hosts weekly pop culture/movie podcast Nerd's Eye View and Community recap podcast shut up, leonard.