WHOA! This week is a bit on the heavy side. Seven new movies will be coming out, and one is a giant sequel to a very beloved (and scrutinized)  franchised. But, it does seem to be an eclectic week. Pick your poison folks, because May 17 seems to have a little bit of everything.
Director: Noah Baumbach
What's it about? Greta Gerwig stars as Frances, an apprentice in a dance company who wants so much more than she has but lives life with unaccountable joy and lightness. This modern fable from Noah Baumbach ("The Squid and the Whale," "Greenberg") explores youth, friendship, class, ambition, failure and redemption.
TRAILER link below:
http://www.youtube.com/watch?v=y9YKHRQkf7k
My thoughts? Whenever I hear that Noah Baumbach has a new film, I'm always interested in seeing them. Baumbach just seems to have a knack to create interesting, off beat, yet relatable characters. His first film, Kicking and Screaming, remains to be one of my favorites of his.
While I did enjoy his film The Squid and the Whale, I honestly haven't connected to any other films he's made. His previous films, Margot at the Wedding and Greenberg were well made, but the need to have a nearly unlikable central character became tiring for me.
Frances Ha has gotten my interest, as Baumbach (and his leading lady Greta Gerwig) seemingly created what appears to be an interesting character, with realistic flaws, but a character that I want to be around.
This looks to be beautifully shot in black and white, and I do love Greta Gerwig. She is the current indy darling(or queen of the subgenre films called mumblecore…yeah, I know, I know…what the hell is that? Click HERE to find out), but she has such a natural presence and charisma that's so prevalent in every character she plays. Baumbach previously worked with Gerwig on Greenberg, and I really enjoyed her work there. This looks like they crafted a great role for her to play in this one. Also happy to see a small role for one of Baumbach's stars from Kicking and Screaming, Josh Hamilton.
Reviews seem to be really good so far, and it seems to be a good film to see if your the mood for a strong character piece.
 Director: Craig Zisk
What's it about? Linda Sinclair (Julianne Moore) is a 40-year-old unmarried high school English teacher in the small town of Kingston, PA. Her simple life turns an unexpected page when former student Jason Sherwood (Michael Angarano) returns home after trying to make it as a playwright in New York. On the verge of abandoning art and pressured by his father (Greg Kinnear), to face reality and go to law school, Linda decides to mount his play—a dark, angst-ridden, ambitious work—as a Kingston High production, with flamboyant drama teacher Carl Kapinas (Nathan Lane) directing. Now well out of her comfort zone, Linda takes further risks in life and love, the stage is set for a highly comic downfall. With the play, her reputation, and teaching career on the line, Linda finds an unlikely ally in herself. Amidst the ruins of her formerly perfect life, can she find a way to her own unique storybook ending?
TRAILER link below:
http://www.youtube.com/watch?v=3x4_BImJGnk
My thoughts? I feel like a movie like this would have had a bigger push if it was released ten years ago.  Even with that exact same cast (minus Michael Angarano and Lily Collins of course…they would have been WAY too young.) I felt that they were willing to release more adult themed comedies back then. Not saying that this film looks amazing, but it seems to be a decent and fun distraction. It looks like it will have GREAT roles for Julianne Moore and Nathan Lane, two performers who NEED to be used more. It's directed by a fellow who's directed a TON of great TV comedies. This might be a pleasant surprise.
Director: Katie Aselton
What's it about? Three childhood friends set aside their personal issues and reunite for a girls' weekend on a remote island off the coast of Maine. One wrong move turns their weekend getaway into a deadly fight for survival.
TRAILER link below:
http://www.youtube.com/watch?v=pCrjq3B0h10
My thoughts? First off, this trailer was a bit much for me. The way it was edited came off as the editor saying "Hey man! See! This is a THRIIIIIILLLLER! Look how much ominous music and big sounds I can put in!" It was like the trailer was hitting EVERY SINGLE thriller trailer (say that five times fast) cliche. BUT, that's the trailer. The film itself seems like it could be ok, but reviews have not been kind so far. It's a shame because I like the director Katie Aselton (who wrote/directed the very nice indie film The Freebie) and was written by Mark Duplass, who made some pretty great character piece films like The Puffy Chair, Cyrus and Jeff Who Lives at Home. But, those were small intimate character drama/comedies. Maybe Black Rock was pushing them a little bit TOO much out of their comfort zone. We'll see.
Director: Ki-duk Kim
What's it about? Winner of the Golden Lion at the 2012 Venice Film Festival, Pietà is the acclaimed film from the celebrated and controversial Korean director Kim Ki-Duk (Bad Guy; Spring, Summer, Fall, Winter… And Spring; 3-Iron). In this intense and haunting story, a loan shark living an isolated and lonely existence uses brutality to threaten and collect paybacks from desperate borrowers for his moneylender boss. He proficiently and mercilessly collects the debts without regard to the pain he causes his countless victims. One day, a mysterious woman appears in front of him claiming to be his long-lost mother. After coldly rejecting her at first, he gradually accepts her in his life and decides to quit his cruel job and seek a decent, redemptive life. However, he soon discovers a dark secret stemming from his past and realizes it may be too late to escape the horrific consequences already set in motion from his previous life.
TRAILER link below:
http://www.youtube.com/watch?v=MebVzBdz0OI
My thoughts? If I have learned anything from watching a lot of Korean cinema is this…PRAY that no one wants to get revenge on you if you're in a Korean film. Man, can they do vengeance. It will be brutal, but it will also be shot beautifully.
Ki-duk Kim creates hauntingly beautiful films. 3-Iron is a film that is  expertly put together, made by a filmmaker with a steady hand. PIETA looks to be strong and tough subject matter, but judging  by the pedigree of the filmmaker behind it, it will be a film that will be worth seeing.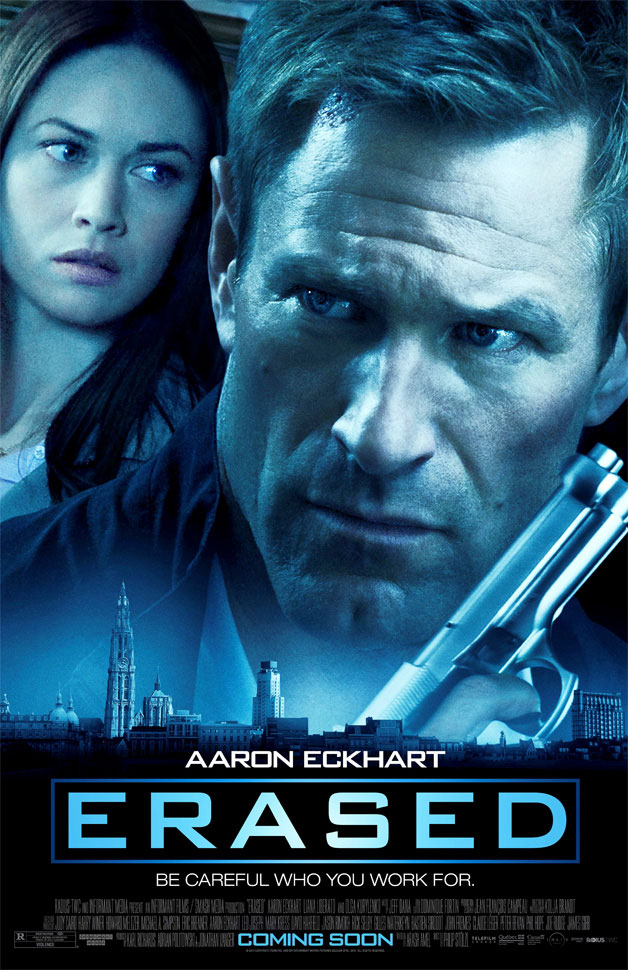 Director: Philipp Stolzl
What's it about? When ex-CIA agent Ben Logan (Aaron Eckhart) discovers that he and his daughter have been marked for termination as part of a wide-reaching international conspiracy, a dangerous game of cat-and-mouse ensues as Logan tries to outsmart his hunters and uncover the truth.
TRAILER link below: 
http://www.youtube.com/watch?v=lFHw9T56eIY
 My thoughts? Bad guys, STOP kidnapping action heroes daughters! It will NEVER end well for you.  All that aside, I do like Aaron Eckhart, and I am a bit surprised that he isn't used more often in action roles like this one.  The man has got that superhero butt chin after all. Besides that, this film seems a bit too middle of the road. This mixture of the Jason Bourne series plus the Taken films just doesn't inspire any real excitement for me. Maybe it will be a fun movie, but I seem to doubt that. I wonder if anyone will think this is a sequel to the Arnold Schwarzenegger film Eraser? I wonder if anyone else REMEMBERS Eraser? Ehh…probably not.
Director: Paul Bunnell
What's it about? Shot on black-and-white Kodak film stock, Paul Bunnell's 1950s throwback dials up the weirdness of the already surreal genre of sci-fi B movies with showstopping musical numbers, over-the-top dialogue, and hilariously hokey special effects.
Banished to Earth for intergalactic juvenile delinquency, Johnny X and his gang of Ghastly Ones set off in search of a piece of alien technology that could change the fate of the universe forever—the so-called "resurrection suit." Soon, the extraterrestrial nogoodniks are embroiled in a wacky scheme involving a femme fatale named Bliss, a shifty concert promoter with schemes of his own, and a recently deceased musician who won't let a little decomposition stop him from rocking.
TRAILER link below:
http://www.youtube.com/watch?v=eH22hqmAW9c
My thoughts? What kind of insane wackiness did I just find? Originally I was going to be writing only about six movies, but after viewing one of the trailers on this list,  I caught a YouTube link to this film and decided to give it a quick glance. Boy was I glad that I did. Aiming to make a cult film is a tricky thing. The kind of cult films that this film seemingly is paying homage to only became cult because the filmmakers who were making them back then weren't intentionally making bad movies. To make this kind of film now, the film has to be made with sincerity, and NOT a ton of winking at the camera ("See how CRAZY our movie is?") That being said, I do feel  I'm getting the vibe that the filmmakers here are making this film with the right tone and eyes.  I would love to know how this film turned out, and hopefully it will be a blast of a film to watch as a whole and not just a really cool trailer.
This film is gonna start touring art house theaters this week, starting at these two locations:
Dark Matters Film Festival
Albuquerque, New Mexico
May 17th – 11pm
The Guild Cinema
Digital
Laemmle Theatres
Opens May 17th – late shows
Music Hall 3 – Beverly Hills
DCP
If you're interested in seeing it, check here for future screenings and hopefully it will land near you. Also I feel that this will be a movie that you should bring a large group of friends.
Director: J.J. Abrams
What's it about?  In the wake of a shocking act of terror from within their own organization, the crew of The Enterprise is called back home to Earth. In defiance of regulations and with a personal score to settle, Captain Kirk leads his crew on a manhunt to capture an unstoppable force of destruction and bring those responsible to justice.
As our heroes are propelled into an epic chess game of life and death, love will be challenged, friendships will be torn apart, and sacrifices must be made for the only family Kirk has left: his crew.
TRAILER link below:
http://www.youtube.com/watch?v=wyck3fFDK-s
My thoughts?  The 2009 Star Trek film was one of the most addicting films I saw that year. The relentless pace. The amazing chemistry of the cast. The incredible score. The great directing. This was the sci-fi/fantasy film that we didn't get when the OTHER Star____ films were being made. And…it reignited my interest in Star Trek again.
I waited very patiently for the next film. I wanted to see the next voyage. I wanted to explore new worlds and new civilizations with this cast.
When I saw the first trailer for Star Trek Into the Darkness, I'm not gonna lie, I was a bit concerned. Instead of exploring, we got a terrorist attack on Earth. Instead of new aliens, we got a vengeful man. What we got was a great looking sci-fi action film…but something that I felt that wasn't really new Trek material. Instead, I fear of a slight retreading of THE classic Star Trek film, Star Trek II: The Wrath of Khan.
That's not saying I'm not looking forward to this film. Oh god no, but I felt that the exciting thing about the rebooting of this universe, was the new things they could be doing with it. Instead, we got another revenge film.
But, fear not, I am still very much excited for this movie. Benedict Cumberbatch is going to be an amazing villain, and he looks to be having fun tearing into the screen with  his performance.  And that cast. That great cast. It's a shame this reboot wasn't a TV show. I would be watching this new cast every week. BUT,  instead we get big  exciting movies.
It's funny, I feel like Chris Pine hasn't been used to his full advantage, outside of Star Trek. This man is ready for so much more leading man roles, but I guess I should feel lucky that he hasn't over stayed his welcome yet and started staring in a dozen films by now.
Also, I still find it crazy that I live in a world were the director of Star Trek is now on his way to direct a new Star Wars film. Lets face it, we're just a bit jealous of J.J. Abrams. He's living the fanboy dream. He calls Steven Spielberg a friend. And he gets to play in the biggest sandboxes in the world. Lucky talented bastard.
So what films got your attention? Are you a Trekkie that HATES the Abrams take? Did The Ghastly Love of Johnny X get your attention? Or you more in the mood to laugh and The English Teacher seems more like your cup of tea right now.
Comment below and let us know!