March we're right smack in the middle of March, and the new movies keep a coming!
We got muppets, dystopian futures, crime dramas, drama dramas, and a couple of films that are trying to be throw backs to some older movies.
Lets see what's on the menu this week.
What's it about? New York, 1974. Fifty-year-old Chris (Clive Owen) has just been released on good behavior after several years in prison following a gangland murder. Reluctantly waiting for him outside the gates is his younger brother, Frank (Billy Crudup), a cop with a bright future. Chris and Frank have always been different, and their father, Leon (James Caan), who raised them alone, seems to favor Chris despite all his troubles. Yet blood ties are the ones that bind, and Frank, hoping that his brother has changed, is willing to give him a chance — he shares his home, finds him a job, and helps him reconnect with his children and his ex-wife, Monica (Marion Cotillard). But Chris' inevitable descent back into a life of crime proves to be the last in a long line of betrayals, and after his brother's latest transgressions, Frank banishes him from his life. But it's already too late, as the brothers' destiny is bound together, forever.
My thoughts? Big city crime movies from the 1970's are still some of the most influential films ever made. It's always interesting for me to see how so many filmmakers who want to put their stamp on films that are like those, films like The French Connection and Mean Streets.  For some filmmakers, to evoke those crime films, the easiest thing for them to do is to just flat out set the flick in the '70s. While the film has a great gritty look, I'm not sure if it's enough to grab my attention. It's a shame too, because the cast is great. I think Clive Owen and Billy Crudup are good examples of extremely talented Leading Men who should be bigger stars then who they were. I'm definitely not writing the film off, but I don't know if this film will be anything more then decent, not great, crime drama.
What's it about? David Portnoy (Kodi Smit-McPhee), a 15-year-old birding fanatic, thinks that he's made the discovery of a lifetime. So, on the eve of his father's remarriage, he escapes on an epic road trip with his best friends to solidify their place in birding history.
My thoughts? Another coming of age style movie coming at ya, but I think this one has a bit of a sharp wit and some strong performances. No one seems to be talking about this one, but I suspect that this movie might be a quiet little surprise if you're in the mood for it.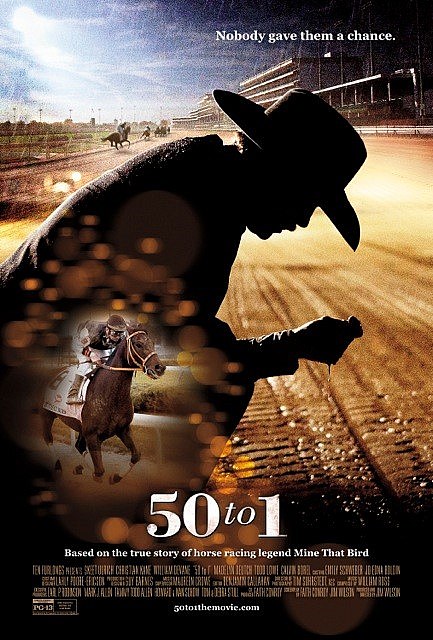 What's it about? '50 to 1′ is about a misfit group of New Mexico cowboys who find themselves on the journey of a lifetime when their crooked-footed racehorse qualifies for the Kentucky Derby. The cowboys face a series of mishaps on their way to Churchill Downs, becoming the ultimate underdogs in a final showdown with the world's racing elite.
My thoughts? Did anyone else notice the trailer pointed out that one of the producers of this movie produced a shit load of Kevin Costner movies? Wanna take any bets that Costner was offered this film and turned it down? Costner or not, this looks like harmless little flick. Skeet Ulrich is god damn unrecognizable in this thing, but fans of Joss Whedon's Angel will recognize Christian Kane as the other lead.
What's it about? A devoutly religious college freshman must debate the existence of God with his skeptical philosophy professor in order to earn a passing grade in this faith-based comedy-drama featuring Kevin Sorbo and David A.R. White. Josh Wheaton (Shane Harper) is a Christian who never thought his faith would get in the way of his higher education. As a result, he is deeply shaken when, on the first day of his Philosophy class, Professor Radisson (Sorbo) begins the semester by demanding that each of his students deny the existence of God in order to earn a passing grade. Although Josh tries his best to graciously refuse, Professor Radisson informs him that in order to continue in the class, the disagreeable student must make an air-tight argument for the defense. Not only that, but the semester will culminate in a debate between teacher and student on the subject. Should the class still remain unconvinced of God's existence, Josh will fail, sending his entire academic future up in flames. Duck Dynasty's Willie and Korie Robertson have cameos.
My thoughts? Is this film a movie with a story because the filmmakers have a story they want to tell….or is this a message film made by Christians? It CAN be both, and if it doesn't hammer the message of God with the subtly of a jackhammer, it could work. This flick looks surprisingly slick, and even Sorbo seems to be doing a decent job in this. While this might have a better home as a TV-Movie of the week,  this film's audience will know for sure to check it out. I just hope they made a full and well rounded film.
What's it about? A daring new film from internationally acclaimed multimedia artist Carter, 'MALADIES' charts the struggles of an unstable former soap opera star (James Franco) in 1960's New York as he tries to restart his floundering creative career. Hoping to find clarity and new purpose as a writer, he holes up with his eccentric sister (Fallon Goodson) at the seaside home of their best friend (Catherine Keener). But as he disappears further into his own mind, reality begins to slip through his grasp.
My thoughts? Super intriguing, with an almost Charlie Kaufman like tone in it's story and characters. Really stylish, and very cool looking, I'm just  hoping this movie doesn't trap it self in trying to be "clever".
What's it about? Eliza Hittman's powerful debut feature tells the story of Lila (Gina Piersanti, in a stunning debut), a fourteen year old spending a hot summer in a blue-collar Brooklyn neighborhood far removed from the bustling city. Awkward, lonely, and often playing the third wheel, Lila is determined to emulate the sexual exploits of her more experienced best friend. She fixates on Sammy, a tough older guy, when she hears that "he'll sleep with anyone." Deluded in her romantic pursuit, Lila tries desperately to insert herself into Sammy's gritty world, but in doing so she puts herself into a dangerously vulnerable situation.
My thoughts? While I'm not really all that interested in the film itself, actress Gina Peirsanti has got this naturalistic performance that reminds me of the first time I saw Ellen Page in Hard Candy. I suspect we will get to see more from her in the near future.
What's it about? Falcon Song is 1980s style contemporary western in which a guitar-playing drifter helps a rancher's granddaughter find her true calling. The film explores themes of land conservation and soul searching beneath a whimsical, quirky world full of colorful characters and magical realism.
My thoughts? If they are going for a film that feels like it was made in the 1980's, they got it. Nailed it to a TEE, down to casting Martin Kove (who played the evil bastard in charge of the Cobra Kai from The Karate Kid.). The problem is, they made a movie that looked like a FORGETTABLE movie from the 1980's. And since it was made recently, it doesn't have the charm of actually being from the '80s. That being said, I had a small kick of realizing that one of the actors, James Storm, is someone I know. I went to film school with his son, and I got to work him while on set of his son's thesis film. James Storm is an awesome guy to talk to with a great sense of humor, as well as being an extremely talented performer. I hope to see this movie on Netflix…if only to just skip straight to James scenes.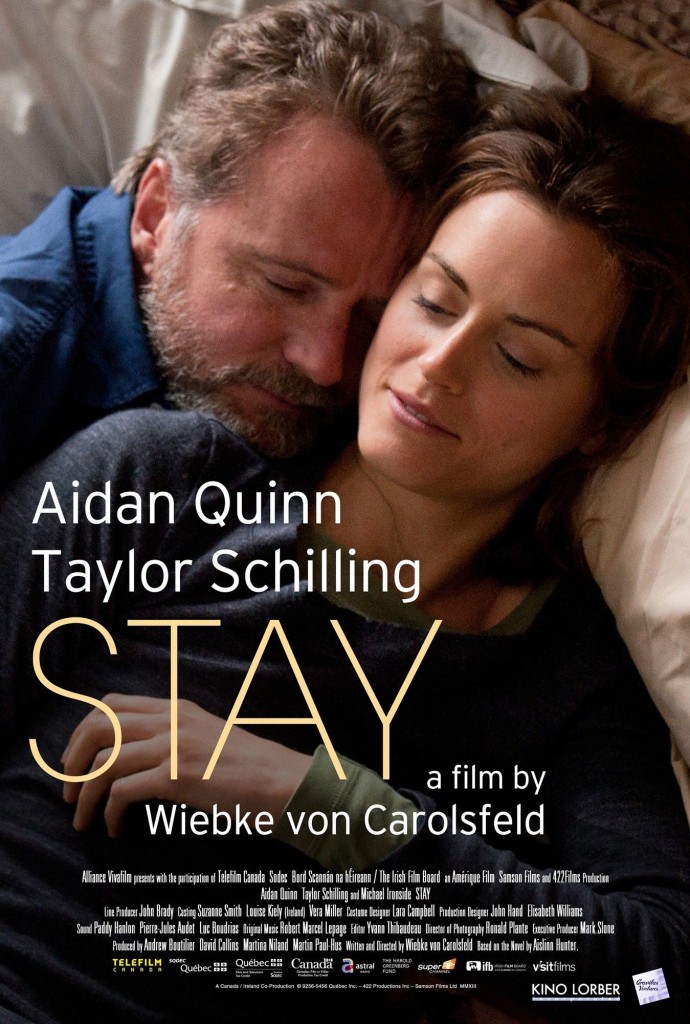 What's it about? Taylor Schilling and Aidan Quinn deliver heartfelt performances as Abbey and Dermot, a couple struggling to find their way in life. After retreating to the rugged expanse of the Irish countryside, their happy existence is upended when Abbey discovers she's pregnant. Dermot, a long-since disgraced professor, has no interest in being a father. With their lives now at a crossroads, Abbey and Dermot's relationship hangs in the balance. They must both face the truth of who they are and which path in life to take that will finally lead them home.
My thoughts? Personally, I felt that this trailer was a bit awkwardly edited. If that was the intent, then good on them…because I felt it was pretty awkward. No real feelings on this movie. I kinda dig seeing Michael Ironside in a none military, non asshole role. That was kinda neat.
What's it about? Filmmaker Frank Pavich explores one of cinema's great "what ifs" in this documentary detailing Alejandro Jodorowsky's aborted feature adaptation of Frank Herbert's celebrated sci-fi novel "Dune". With the release of El Topo (1970) and its psychedelic follow-up The Holy Mountain (1973), Jodorowsky became not only a pioneer of psychedelic surrealism in film, but also the father of the "Midnight Movie." Following the success of those two films, the Chilean director began focusing all of his energies on translating Dune to the big screen. The film was to star Jodorowsky's own son Brontis along with a stunning cast that included Orson Welles, David Carradine, Mick Jagger, and Salvador Dali, with Pink Floyd providing the score, and art direction by H.R. Giger and Jean "Moebius" Giraud. Two years into the massive production, however, the film was suddenly and unceremoniously cancelled. Yet even today, numerous relics of that ambitious production — including thousands of enticingly vivid storyboards — still exist. In this film, Pavich offers movie lovers a tantalizing glimpse at a masterpiece that was never meant to be.
My thoughts? I need to see this documentary…like, yesterday. Jodorowsky is a brilliantly insane filmmaker, and to learn more details about his equally brilliant and insane adaptation of Dune just sounds like a sci-fi/film buff treat. I don't know if Jodorowsky's version of Dune would had a strong narrative , but man, what an piece of eye candy that film could had been.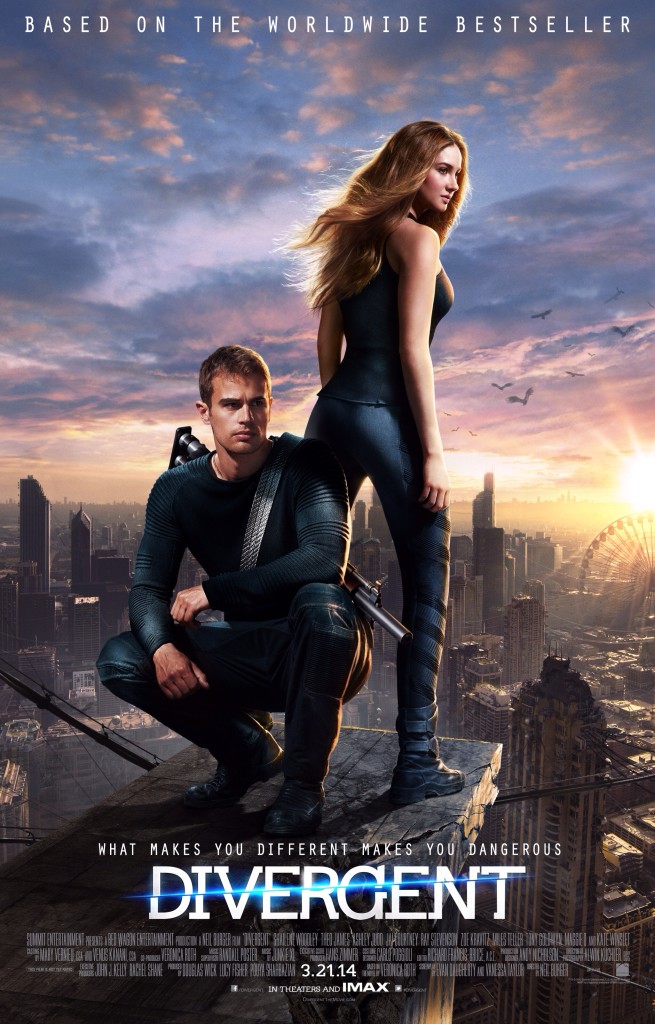 What's it about? Set in a world where people are divided into distinct factions based on human virtues, Tris Prior is warned she is Divergent and will never fit into any one group. When she discovers a conspiracy by a faction leader to destroy all Divergents, Tris must learn to trust in the mysterious Four and together they must find out what makes being Divergent so dangerous before it's too late.
My thoughts? Are movie going audiences ready for a film that, on the surface, looks a hell of a lot like The Hunger Games? Hard to say, but I understand Summit Studios seeing if lighting can strike twice. Like The Hunger Games, this is the first of a series of films based on a very popular YA book series. While Neil Burger isn't like the first Hunger Game director Gary Ross in terms of style and films, they both share the fact that they are not "safe" and "easy" choices to be the directors of their respected movies. And finally, both films have the fortunate luck of casting a young, and incredibly talented female actor as the lead. I've been a fan of Shailene Woodley for a while now, and she seems just as charismatic, likable, grounded, and  believable as the heroic action lead in this film. The sad truth is, I'm just not that interested in seeing this movie. I'm not quiet sure where the separation of interest comes from for me. Maybe I'm that audience member that isn't interested in seeing a movie a film that looks way too much like The Hunger Games to me. If you have read the book, what do YOU think of the trailer to this? Is it working on you? Are you excited? Comment below, I would love to hear from you.
What's it about? Disney's 'Muppets Most Wanted' takes the entire Muppets gang on a global tour, selling out grand theaters in some of Europe's most exciting destinations, including Berlin, Madrid and London. But mayhem follows the Muppets overseas, as they find themselves unwittingly entangled in an international crime caper headed by Constantine-the World's Number One Criminal and a dead ringer for Kermit-and his dastardly sidekick Dominic, aka Number Two, portrayed by Ricky Gervais. The film stars Tina Fey as Nadya, a feisty prison guard, and Ty Burrell as Interpol agent Jean Pierre Napoleon.
My thoughts? More Muppet's means me being happier. I love these guys, and I felt the last film, The Muppets, was a nice reminder to everyone else why we loved these characters so much. It seems like this film is modeled similarly to the other classic Muppet movie, The Great Muppet Caper, much like how The Muppets was modeled after The Muppet Movie. Theres nothing much more I need to know about this flick. It's got the Muppets. It's got some great comedic talent involved (Tina Fey, Ricky Gervais, Ty Burrell and all the crazy cameos) it's got the Muppets…and you know….it's got the Muppets. The Muppets director James Bobin and his co-writer Nick Stoller  return to this one, which I'm glad as I truly did like what they did the last time. I hope that they not only can recapture the humor, the heart  from their last film but actually push it further to make a better movie.
So what films this week got your attention? Comment below and let us know!