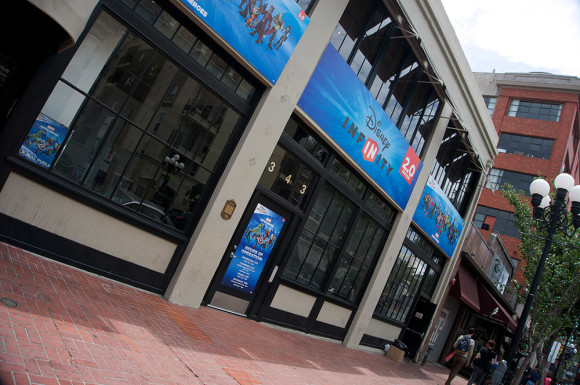 This is Agent Andrew checking in from San Diego Comic Con 2015. I know it's only just begun, but I had a fun experience on Wednesday night, known as Preview Night.
Disney Infinity 3.0 had a pop-up shop open at 815 J Street, just a five minute walk from the San Diego Convention Center. I love both Disney Infinity games and am eagerly awaiting the release of the third one. For those who don't know, Disney Infinity is a video game available for most consoles where the player uses a toy to access in game characters and items. As much as this sounds like a money grab, it's actually really fun.Disney Infinity 3.0 will be bringing Star Wars characters to the game, including Darth Vader, Luke Skywalker, Anakin Skywalker, Boba Fett, and Han Solo. Also, new Disney characters from films such as Inside Out and Frozen will be added to the game.
While I was at the pop-up shop, I was able to play through a new game mode where the player must defeat all of the villains who have taken over the Toy Box. The level I played was inspired by Pirates of the Caribbean with a boss battle against Davy Jones at the end. A new element is the leveling up of sidekicks, who are now recognizable Disney properties such as Robin Hood from the 1973 animated film and Mabel from Gravity Falls. These sidekicks are small caricatures of their originals who help the player fight the bad guys and use healing powers.
This level was not randomly generated and the mission seemed to be led by Merlin from The Sword in the Stone. This is a huge step up from Disney Infinity 2.0 which only included randomly generated levels with no real goal besides defeating all of the enemies.
I played as both Sam Flynn from Tron Legacy and Fear from Inside Out. Sam controls as expected with his power disc zinging from enemy to enemy. I was told that Fear moves faster than the other emotions from Inside Out. Fear's melee attack involves him running forward with his arms flailing and for his ranged attack he throws a memory sphere. I was a bit worried since the characters in Pixar's Inside Out don't really have attacks, but Fear played well and I had tons of fun.
If I return to the pop-up shop and play the Star Wars playsets, I will update this article.