Friday September 20th, 2013
Weeksauce brings you all the news in geekery, genre fiction, and nerdy celebrities you may have missed this week while you were learning how to heal Tom Hank's crotch at Cold Mountain Penitentiary. With a huge heaping dose of snark and more than a little yellow journalism, Weeksauce is here to educate/patronize you and the things you love.
Television

Walking Dead Spins Off in 2015
Get your lobos ready – the flesh-chomping walkers are about to double in number. According to pretty much every news source, AMC is currently developing a spin-off of their popular/awesome "The Walking Dead" TV show. Original comic-book creator Robert Kirkman is wrist-deep in the writing and creation of this new series, which is reported to focus on a completely different group of characters in another part of the world. Expect harrowing escapes, main characters being devoured in gruesome ways, and the knowledge that there is no "Rick" character they have to keep alive. Should be interesting, no? Plus you could make the characters British or Californian or even Canadian – those zombie motherfuckas LOVE poutine.
Robert Kirkman had this to say about the new series: "I couldn't be more thrilled about getting the chance to create a new corner of The Walking Dead universe. The opportunity to make a show that isn't tethered by the events of the comic book, and is truly a blank page, has set my creativity racing."
Many are speculating that AMC is trying to make sure its evil robot-like fingers of excellent programming stay firmly latched around your throat. "Malcolm in the Middle" sequel "Breaking Bad" is ending, which they're also spinning off into a show about Walter White's orthodontist or something. I don't actually watch "Breaking Bad."  This new Walking Dead spin-off is set to air in 2015, which would put "The Walking Dead" in its sixth season. Five seasons isn't even a guarantee anymore, and most shows don't go past seven; It looks like they'll have the spin-off ready to launch just as "The Walking Dead" begins to wind down.
Here's hoping AMC will announce a spin-off to "Mad Men" called "Peggin!" about Peggy Olsen and former Sterling-Cooper art director Salvatore Romano trying to start their own agency in 1970's San Francisco.
The Lannisters Make Sesame Street Run Red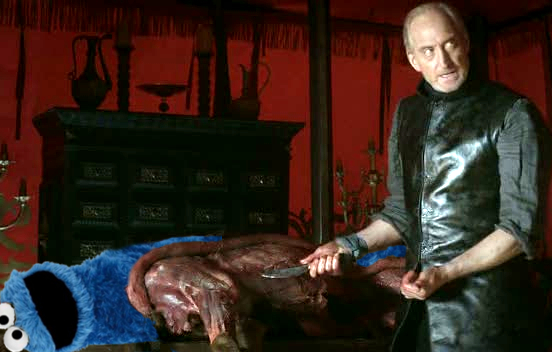 Are you familiar with HBO's "Game of Thrones" television series? I really hope so, because all these jokes are not going to hit otherwise. So, Tyrion Lannister (aka "The Best Thing About the Show") and Cersei Lannister (aka "Thundercunt") took a break from killing Starks to take a stroll down "Sesame Street." Clothing mandatory. Incest . . . sort of a gray area.  Actor Peter Dinklage sings a song about everyone have to do what he says. Combine that with his haircut in the video below, and I'm fairly certain he's actually in character as Tyrion. Actress Lena Headley is clearly not in character, because it's obvious the muppet she's interacting with is irritating her, and yet she doesn't murder its entire family. Take a look below for some genuine cool moments for kids. Considering that "Lannisters Always Pay Their Debts," I'm assuming both actors had some sort of court-mandated public service to clear off their dockets.
 Movies
Marvel and ABC Collaborate to Steal More of My Damn Time
This story is more rumor than the zombie-related announcement earlier, but both "Playlist" and "Deadline" are reporting the news: ABC and Marvel are developing a TV show based around the heart-cracking adventures of Agent Peggy Carter. Carter was portrayed by pants-ruiner Hayley Atwell in Marvel's "Captain America" movie, and there's still some contention on whether or not she'll return to reprise the role on the small screen. In times past I may have been skeptical, but television nowadays ain't the same as it used to be – big time movie stars ping-pong between the small screen and the big screen with nary a whisper of career scandal. Television features some of the finest writing around right now, and cries of a "Golden Age of Television" don't sound as silly as they might normally.
The show would presumably be a period-piece companion to the "Agents of SHIELD" show set to air this month, potentially showing how the organization was formed back in the Hilter-punching days. Expect lots of anachronistic-but-rad technology, Nazis, and nerd-boners. Or just regular boners. Dicks. Whatever. She's great.
Some (me) are also wondering whether the whole thing is a smokescreen, and Agent Carter is going to be eventually serving on the "Agents of SHIELD" TV show in a time-traveling capacity.
 Ben Affleck Talks Bat with Jimmy Fallon, Unfortunately Doesn't Dangle Fallon From Skyscraper Roof
Actor, Director, and Backlash-Enthusiast Ben Affleck appeared on Jimmy Fallon this week to have a bit of a chit-chat. Oh you, know. Talking about their kids, how good everything tastes when you're rich, that kind of stuff. Eventually Jimmy Fallon mumbled his way into actually asking the fucking question everyone wanted to ask while he was grinning like Salacious Crumb perched on Jabba's corpulent tail: "So, you're like, uh, the Batman now, right? Huh huh." Ben seems rather zen about the much-discussed ballyhoo. It shouldn't really be a surprise – if he can survive "Gigli," "Daredevil," "Armageddon," and "Jersey Girl" fan-rage, I don't think any amount of internet ink is going to make Ben Affleck sweat. He went on to say that he wasn't sure about taking the part because he "wasn't 25," but his own love of the character and Snyder's pitch changed his mind. Apparently the WB execs even expected the "sharknado of shit" (to quote sex-machine B.C. Johnson) they would get when the announcement hit, and tried to coach Ben on how to handle it. Check out the video below for the rest of the bat-interview.
Video Games
Long-Time Nintendo President Dies
This week, Hiroshi Yamauchi passed away from complications of pneumonia. Yamauchi served as the head of Nintendo from 1949 to 2002, and only stepped down because he was exhausted from making the world so much better. He took over the Nintendo company at age 22, which at the time wasn't much more than a playing card company that developed Japanese "hanafuda" cards. Under his hand, the company entered the toy business, and eventually settled on crushing the video game business. Though he was more of a businessman than a video game developer, he nonetheless made certain Nintendo would never be forgotten. It was his idea to create the "only good games" policy that Nintendo still follows: Make only a handful of games, and make sure they kick ass. Not only did the policy lower development costs for the company, but it also maximized profitability.
If any of your childhood involved Mario, Link, Zelda, Metroid, or Pokemon, than you at least have Hiroshi Yamauchi to thank for making sure these games got into your grubby, Ecto-Cooler stained hands. A moment of silence, dear friends, for the man behind the Mario.
Celebrity
Justin Bieber Trolls Planet Earth
I'm keeping this one short, because I don't like to give any attention to pop culture anal polyps like the Biebster pictured above. However, he did pull a fast one on the geek community by posting an Instagram picture of himself holding the "Batman Vs. Superman" script and implying that he'd been cast as Robin, the Boy Wonder. With many fans already up-in-arms about Ben Affleck being cast as the Dark Knight, I'm surprised Beiber didn't actually kill anyone by making their fragile hearts explode. I love my community, but we all (including myself) could afford to lose weight and maybe eat less chili dogs and not get so angry about Batmen.
On his twitter later that day, the Biebs went on to say "I'm about to do something funny . . . or die," implying that the whole thing was part of a "Funny or Die"  comedy video, likely meant to parody the furious fan reaction to the Batffleck.
In other news, FUCK YOU JUSTIN BIEBER. Ahem. Sorry. I'm okay. I'm fine.
Gotta Google . . . nearest Wienerschnitzel . . .