A Walking Dead Quitter Tries the Mid-Season Finale, "Hearts Still Beating."
Spoilers up to episode 7.8 of "The Walking Dead."
Today, a former-Walking Dead fan gives the Mid-Season finale a shot and asks the question . . . is it a good time to get back into the show?
Why You Quit, Quitter?
In my last article about AMC's hit mega-hit "The Walking Dead," I swore off The Walking Dead Totes 4EVER. The show had gone from "must see, gather around the TV" to "this show can eat roughly 100 dicks" all with the execution of one incredibly dumb and bad cliffhanger, which a panel of multi-discipline scientists concluded to be "the worst."
I haven't seen a single episode of season 7, but I have been reading spoilers and summaries to keep an eye on the show. Why? Probably for the same reason you haunt your ex's facebook page. Anyway, I read a summary of Sunday's big "mid-season finale," and it sounded, dare I say, not-terrible. I thought to my self, "Self, I know you've sworn the show off, but what if you could get back into it? What if you could feel the way you felt before? What if the show is lonely and misses you and is sitting by herself in those little boy-shorts you like so much?"
So I called her late at night and asked her if she was busy. This is the ex-girlfriend metaphor, it's still going. And like calling up your ex-girlfriend, or executing an extended metaphor, it was a bad idea.
Why Now?
The next question is thus – why didn't I check this season out until now? What kept me away? Spite, for one. But also, the episode summaries I was reading online were doing nothing for me.
Episode 1 – takes 30 minutes to find out who died, it's exactly who you thought would die, and the rest of the episode is Rick crying like a hungry baby. Conclusion – Nah, bruh. Nah.
Episode 2 – Carol meets a new community, there's a tiger. Conclusion – Ehhh, so they don't touch on the emotional aftermath of the first episode? They're still stretching that shit out? Tiger? Pass.
Episode 3 – 45 minutes of Daryl being tortured. Conclusion – Wow, they're really dragging this bad boy out. I'm all good, I've seen Daryl's "angry sad" face, I can just imagine that for 45 minutes.
Episode 4 – Negan shows up to Alexandria and acts like a wang to everyone for 60 minutes. Conclusion – That sounds like literally the most boring story of all time.
Episode 5 – Hilltop episode. Trevor from GTA acts like Trevor from GTA, and the most suspensful part is "Which closet is Maggie hiding in?!" Conclusion – Literally fuck no.
Episode 6 – A Heath and Tara episode. Conclusion – Hahahaha
Episode 7 – Carl, the only character who has balls, cries multiple times because Negan is mean to him. Conclusion – Fart noise.
So Why Was the Mid-Season Finale Bad?
Because, if you couldn't tell from that list above, this season has been nothing but filler and padding. I'm not sure if filler and padding are really different things but I'm listing them both. For filler and padding purposes. So, what happens in the Mid-Season finale?
The Escort Mission of Daryl Dixon
Daryl escapes from his prison cell at Savior Central. When I read the summary, I was like, "Hey, I could watch that!" What actually happens in the show is that someone else gives Daryl a key, he opens his cell, and walks out of the Savior compound with absolutely no resistance. He runs into exactly one person, the one who happens to have Rick's revolver, and kills him without a fight. He then escapes because Jesus is there with a motorcycle, thus robbing Daryl of any actual agency the entire episode. You could not write a more boring escape from the villain's hideout if you had set out to write the most boring escape from a villain's hideout.
The entire point of the Saviors is "omg ho shit look how many there are," which is even made a plot point IN THIS VERY EPISODE, and yet the Sanctuary is a ghost-town when it's time for Daryl to stroll out? Sometimes the Saviors are ultra-competent whistling forest ninjas who know everything you're doing, and other times they're all the mookiest dudes in all of mookdom. So, what happened?
What happened is the writers needed to fill the first half of the season, so they locked up the most volatile character who would actually be pushing the group to do something. Once it came time for filler-season to end, the writers quietly unlocked his cell and let him out. The note that came with his key might as well have said, "Dear Daryl, Have a great time! All the Best – AMC."
I think anyone would have enjoyed an episode of Daryl escaping super-jail (with actual consequences and conflict) over a Tara episode about how sand is scary.
The Mouth Flaps
Is bad. As a dialogue enthusiast, it's a legitimate struggle. There is not one line of dialogue spoken by any character that resembles words that would come out of a real, human face. The entire cast speaks in homilies and speeches, and it's exhausting. The writers go for "vague and poetic-sounding" instead of "actual words" everytime. Mad Men, a far superior show, occasionally had the characters dip into this kind of "interpret for yourself" dialogue, but A) it wasn't every goddamn line and B) the characters were all over-educated creative types or people putting on airs. For the most part, every character in Walking Dead is a blue-collar normie from the South.
The dialogue is so deep-fried in attempted-allegory that there's an entire scene between Michonne and a female Savior that is indecipherable. I have no idea what the Savior was saying, and Michonne's responses were vague enough to have been written by a computer that speaks solely in Mad Libs. Then they both look at something really far away that the audience can't really see, and the Savior says "there's a silencer in the glove compartment." Then they drive away and we don't see the Savior again.
So the Savior was suicidal? And Michonne capped her in the face at her vague request? If someone asked me to kill them, I'd need a little more than "there's a silencer in the glove compartment" to convince me that was REALLY their intention. And the scene suffers from it – they were going for quiet desperation and achieved loud eye-rolling. When the character doesn't seem real (the female Savior who's apparently suicidal but I can't tell because she speaks like she has to pay by the word), the sad things that happen to them don't seem real, so they don't connect with the audience.
Example: Marvel movies. Marvel movies are great and also ridiculous. Thor is a Norse God who hangs out with a weather scientist. Why does Thor work? Because the people around him talk like normal people. They react to crazy things like a normal person would. They have normal-people wants and desires, and it sells the ridiculous aspects of the movie. Zombies, by contrast, are also ridiculous. In the early seasons of the Walking Dead, the characters actually talked to each other. They told funny stories. They sang around the campfire, they went on quests for booze. So when they were suddenly fighting a one-eyed pirate with a tank, you could buy it, because the world AROUND the one-eyed pirate seemed real.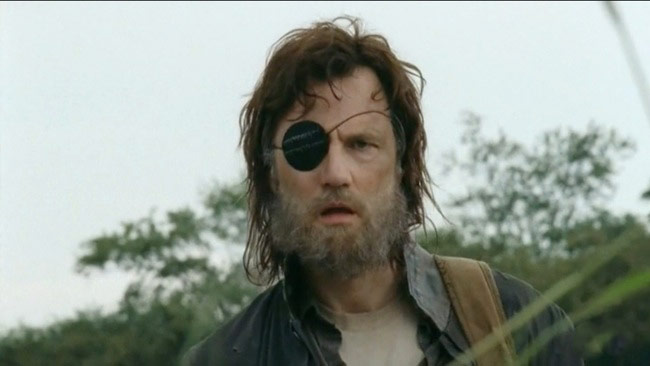 Now we've got a guy praying to his evil baseball bat in the middle of what is supposed to be a dramatic scene, and because nothing "real" has happened, and all of the characters are jokes, the whole thing collapses in on itself.
The Jeffrey Dean Morgan Of It All
Let me freeze-frame and do a big jumping '80s high-five here – I love Jeffrey Dean Morgan. He's incredible in Watchmen, he's great in Supernatural. The dude can act. He's a known quality. So when I rip into him right now, know that I'm not really blaming him – either he made a bad choice and has to stick with it, the higher-ups are pushing this comic-book Negan thing, or the writers are simply giving him nothing to work with. But, let's get real: Negan is bad.
Not "baseball bat your friends' craniums into strawberry yogurt" bad. More like, "I'm embarassed to be seen watching this show" bad. Negan, as presented on the show, is ridiculous. He's too skinny to be intimidating, he's too subdued to be audaciously funny, he's too juvenile to be likable, it's a mess. A villain needs to be scary, fun, or relatable, and Negan hits none of those notes. He's just kind of a dumb corny asshole who can play one trick, which he plays badly.
They're pulling his lines wholesale from the comics, "I guess the guts were inside you the whole time!" without realizing that some things that play in print don't work in live-action. For instance: The Governor, in the comics, is a cartoon character. He's an R-Rated Cobra Commander, basically, a completely off-kilter psycho with no redeemable qualities or even an ounce of realistic motivation. This is fine in a comic book, because your brain tends to see written dialogue and spruce it up or gloss over it.
That Governor, if transported 1-for-1 in to the show, would have ruined it. Instead, we got a nuanced portrayal of pride and rage tearing a man's mind apart. And in so adapting, they made the Governor work for their show, which has always played at being a realistic drama in spite of the zombies.
JDM has also picked up some weird character ticks and is playing them full tilt without a break. The "Leanin' Negan" meme is no joke – Negan performs what I'm calling the "Negan Maneuver" roughly twenty-five times in the Mid-Season Finale. The Negan Maneuver goes like this:
Negan says something shitty / cornball.
He grins.
He leans back and pops his knees.
Optional: Swings Lucille vaguely at the end.
The Negan Maneuver represents roughly 75% of Negan's body language. He also delivers every line in exactly the same smarmy, grinning tone, but it's too relaxed to have any impact. For a pro like JDM, it's inexcusable. Negan can work one of two ways in live-action: A) make him more serious and sinister or B) make him the Joker. Just a loud, insane, unhinged maniac dropping stupid jokes and butchering people – but, then you can't make him leader of a thousand hardasses and a wannabe emperor.
Grim, sinister Negan could manage something like the Savior organization, but cackling-insane Negan couldn't. The writers are trying to have their cake and beat it too, and it tears any sense of reality right out of the show. No one would actually follow a baseball-wielding murderer who steals your wives and makes fun of you all the time. A Savior who got tired of Negan sticking it to his wife would gently place a grenade in Negan's bed while he was sleeping and call it a day.
It's not good. I hope it's danger-sirens and frantic meetings at the AMC headquarters right now. To put it plainly – every scene with Negan subtracts roughly 50 points from an episode.
The Timely Re-Penising of Rick Grimes
By the end of the episode, Rick has located his testicles (and his Colt Python) and is ready to fight Negan. For . . . reasons. Killing Abe and Glenn didn't seem to motivate him, but the deaths of Spencer (the guy who hates Rick) and the character whose name is I THINK Olivia finally pushed him over the edge. You could say, "Well, Rick thought if he behaved that Negan wouldn't kill anyone anymore," but that only makes Rick look like the dumbest motherfucker on the planet. You mean the grinning psycho who bashes brains in and takes photos of their bashed brains and threatens to make you cut your son's arm off isn't a TRUSTWORTHY GUY?! Ho-lee-shit, stop the fucking internet presses everybody.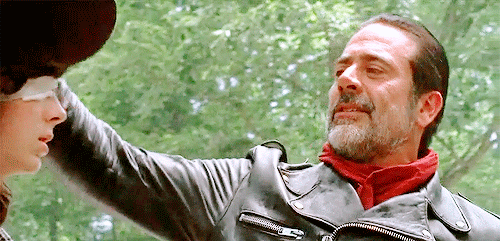 Then why, why oh why, is Rick suddenly becoming effective again? Because the plot calls for it. After 8 excruciating episodes of Rick being a total poo-swah, they have to start progressing the story. Even they know that 8 episodes of filler is a little fucking much for most audiences. So instead of an organic in-story reason for his dramatic turnaround, it's just "shrug, okay, let's be my ACTUAL character again."
Considering they're planning on stretching this arc out into two seasons (Jeffrey Dean Morgan even said as much), don't get too excited about the back-half of season 7. Though things are FINALLY starting to move, bet your ass these next seven episodes are going to be more of the same (except with slightly fewer shots of Rick weeping).
How Can they Fix It?
If I were to be arrogant enough to suggest a solution (and I were), it would be this: back off the comics a little. The past season or so has featured the TV show hewing closer to the comics than ever before, with whole scenes lifted line-for-line. If the Walking Dead subreddit is anything to go by, the comic fans are loving it. If the perilous drop in ratings (and the comment section of every review on the internet) is to be examined, then it's clear the casual fan is getting bored.
The problem with cleaving to the comics is this: the show hasn't really been doing that up until now, so the scenes and characters aren't matching up. Watch the pilot episode and ANY episode from season 7 back-to-back and tell me they're even the same show anymore. Where began a thoughtful character-study in the apocalypse there lives now a goddamn cartoon. Okay, so the comics had a CGI tiger in them – that's not this show. It doesn't fit. It's weird and silly. So Rick caved to Negan in the comics – who cares?
Rick in the comics and Rick in the show are completely different people. It makes sense for Rick in the comics to play it more carefully – he's missing a hand. His people are less competent than show-Rick's people. He doesn't even have a Daryl. Comic-Rick fought like four "hunters" and it was a harrowing experience. Show-Rick and his team slaughtered AN ENTIRE TOWN of well-organized cannibals at Terminus. They're not the same people, they haven't gone through the same shit.
Show-Rick, if he was acting in-character, would have never submitted to Negan. This is the guy who, at Terminus, was belly-up to a  cattle trough, a knife at his throat, a baseball bat to his head, and yet  still promised to kick their asses. And for all he knew THEY WERE GOING TO KILL AND EAT HIM AND HIS SON. But the idea of someone cutting off Carl's arm is his breaking point? What the fuck? "You can kill and eat my kid and I'll still be a badass, but threaten his arm and HERE COME THE WATERWORKS."
It doesn't make sense. Rick didn't cry and weep when Joe and the Claimers were literally about to rape Carl. He bit Joe's fucking throat out, even though they were outnumbered and overwhelmed. Show-Rick is a certified badass psycho-dad. Show-Rick is not the kind of guy that breaks, he's the kind of guy that snaps.
Having him suddenly "break" to Negan's dumb theatrics when he's faced WAY worse is nonsense. It's "following the comics" when it no longer makes any sense to follow the comics. Show-Rick would have hatcheted Negan to death in the RV, grabbed his machine-gun, and sneaked out the back of the RV and jumped the Saviors from behind.
Hell, show-Rick would have just machine-gunned the first Savior roadblock and roared through it on his way to the Hilltop.
So, What's the Plan?
I really, REALLY wanted to be seduced by the Walking Dead again, but after a half-hearted tug job and some mutual weeping, I left the apartment unsatisfied and slightly disappointed in myself for the relapse.
I won't be continuing. If the season finale sounds inviting I MIGHT check it out, but considering we probably won't see Negan's inevitable downfall until the finale of NEXT season, I'm not expecting a lot from this show.