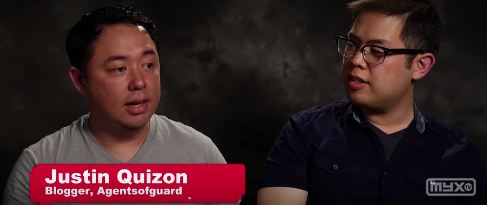 So….this needs some explanation.
A few months back, my good friend Quincy Surasmith (an actor, musician and self taught cook.) asked me to be a part of a reality cooking show as his co-chef. I've never done anything like this. I don't do a lot of work in front of the camera, but since I was doing this with a friend I figured why the hell not.
The show we ended up doing is called Eat Your Words and it's describe as such….
"Eat Your Words" is a culinary competition series, where amateur food bloggers are challenged to cook the same dishes they negatively reviewed online from professional restaurants. They have one hour to cook their version of the dish that will impress the judges and if they succeed, they walk away with the judges' respect, validation for their sassy online opinions and a gift card from a participating restaurant. If they fail to impress the judges, they must "eat their words" and change their negative online review. "Eat Your Words" is executive produced by Thirsty Tiger Television and hosted by Kara Birkenstock"
Our challenge for this episode? Ramen….the real kind, not the Top Ramen stuff.
Like Quincy, I'm a self taught cook as well. I've been cooking in one degree or another most of my life. I watched a lot of TV as a kid so it's probably due to all the cooking shows  I caught on the Food Network that I just wanted to imitate what I saw.
Granted, I really didn't do anything fancy in this episode. Quincy devised the whole recipe, I just followed his lead. The week before the shoot, we did a practice run to cook the Ramen bowl, and folks let me tell you, I thought the Ramen that Quincy designed was delicious.
To tell the truth, I was really nervous going in to this on the day of the shoot. I wasn't sure how much I should have talked, where I should look. You can probably see how nervous I am simply by seeing how many times my eyes darted around.
But, it was fun. Once the competition started, and me and Quincy started to get into the groove of what we were doing the time flew by…which was actually a bad thing. I won't reveal the outcome, (you're gonna have to watch the episode to find out) but doing this was NOT easy.
Check out the episode yourself by clicking HERE!
And when you're done watching the episode, see Quincy's side of the story  by checking out his blog post on his site, Eat Kune Do! Click HERE!
Oh, and sidenote? It was really weird seeing myself in a bunch of commercials and ads this week.
Hell even the Myx TV Twitter page changed their cover page to this….

….Gezz….weird.
Thanks to MyxTV and the people behind Eat Your Words for the unique experience and also thank you guys for allowing me to plug this site!