If you know absolutely nothing about Bucky Barnes and/or don't want any part of Captain America: The Winter Soldier spoiled then maybe wait on reading this until after you've seen the movie but if none of that applies to you then keep reading to find out why I find Bucky such a babe!
Name:
James Buchanan Barnes
History:
Orphaned at a young age by an overly enthusiastic military man Bucky pleaded with Camp Lehigh to let him become a ward of the state and unofficially a mascot for the Army.  Growing up on the base meant he was casually and affectionately trained from a very young age until he was unintentionally turned into somewhat of a boy assassin.  Later, he was assigned to tag along with Captain America to soften the image of the star-spangled hero but secretly was incredibly deadly underneath those youthful, chubby cheeks and teenage acne.
What Makes Him a Babe:
Remember those guys in high school who seemed like they were really good at everything even though they didn't really try, like, at all?  Females teachers blushed around them and male teachers treated them like a star.  Jocks and nerds alike looked up to them and all the girls even the ubergoth ones harbored a serious crush on his winning smile and effortless confidence?  That is Bucky Barnes before he died.  While the Army trained him in standard exercises and tactical protocols he was taking in all that information like the Karate Kid.  He learned how to read people and feel comfortable in his own skin.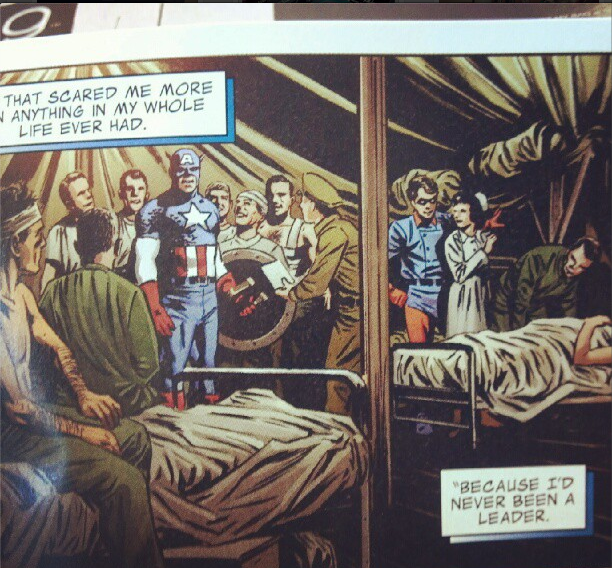 After he became Winter Soldier and realized all the awful atrocities he committed he tried not to wallow or turn bitter or listen to countless hours of The Smiths, he worked twice as hard to overcome his past and become the kind of hero that Steve would be proud of.  When it seemed that Steve had died Bucky took his place behind the shield but knew he could never really replace him so he wore a different suit and used his trusty guns.  Bucky knew the shield was enough of a signal of hope to inspire the people over time.  He moved past the angst and stepped up.
Evolution of Sexiness:
Once a cocky, boy assassin he became a flawed hero.  And while his cockiness never truly disappeared it grew into a more mature and sexy confidence. As a non-sleeper agent he was charming and mysterious without losing that sly wickedness of a man who knows just how attractive he is.  When it came to his status as a superhero or as a moral man he was unsure and yearned for redemption but around friends he was able to let go of that anguish and show signs of the spunky teenager he once was.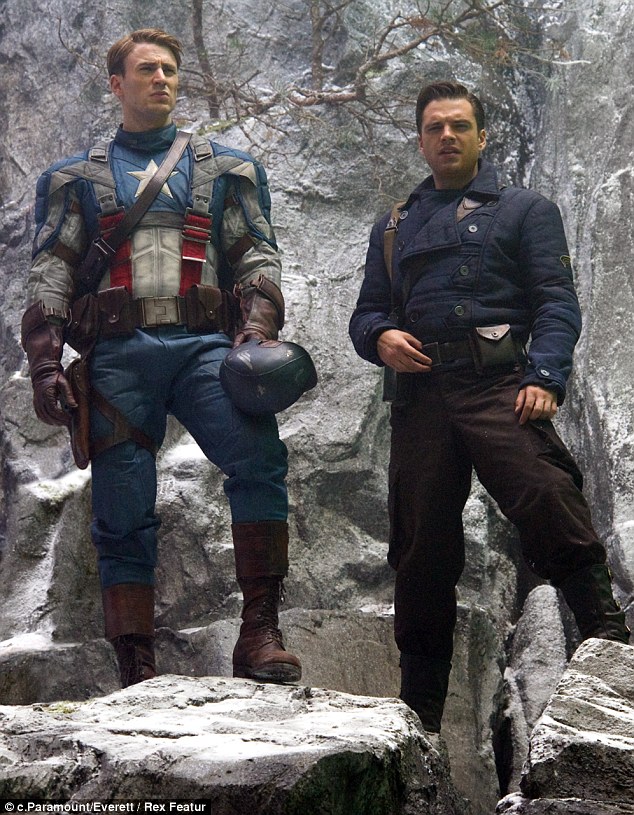 Physically it's a whole different story.  Bucky was a fit teenager who basically spent a few decades in a murder-y coma and woke up with a mighty fine grown up body and the kind of stubble that would make Batman jealous.  It's really no surprise that one of the sexiest, most deadly chicks in the Marvel Universe fell for him, twice.  But we'll get to that later.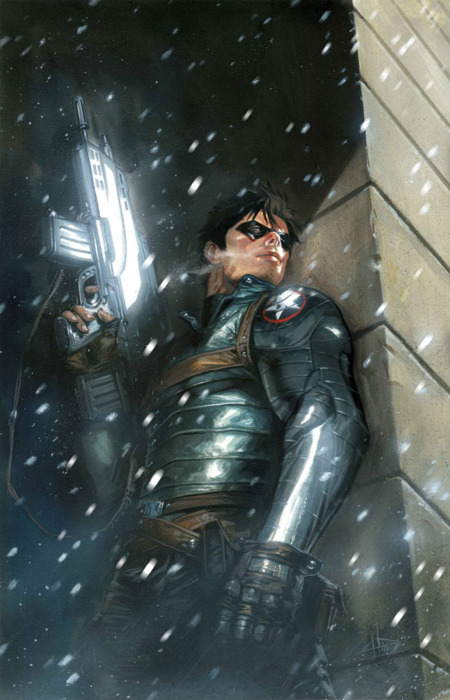 Favorite Rendition:
There was a point in New Avengers when Bucky almost felt comfortable in his own skin again.  He had been Captain America for awhile and his team had not only accepted him but welcomed him into their sarcastic family.  He was finally able to crack a smile and not immediately feel guilty and he was letting himself trust others enough to form real friendships.  I like to fondly look back at these times, these are much happier times than what Bucky has been facing as of lately.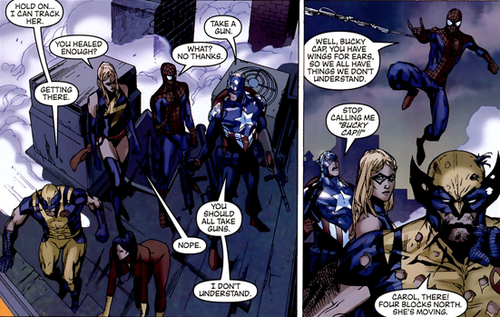 MCU Bucky Barnes is also fantastic.  First of all Sebastian Stan was such spot-on casting.  I was already a HUGE fan of him from back during his Kings days and every role since then has only been preparing him to step into the Winter Soldier boots.  During Captain America: The First Avenger Bucky is seen as a loyal friend and quite the ladies man, very true to comics.  I understand why they aged him and in the long run I don't think it was that big of a deal.  It's a lot less creepy to perv out on an adult sex bomb than a teenage one.  I think Stan did a phenomenal job of playing up Bucky's slightly arrogant protectiveness and then later the subtle manic terror after being rescued from Zola's experiments.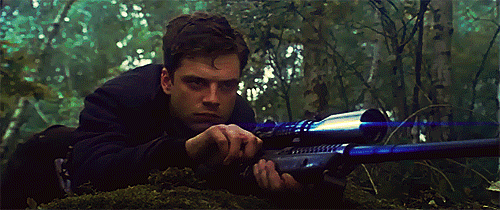 Without giving away any spoilers from this week's mind-blowing sequel, Captain America: The Winter Solider, I'll leave it at this: Stan's performance is top notch.  Knowing that he is signed on for quite a few more appearances should leave audiences thrilled.
Relationship Status:
Quite possibly the ship of all ships for me is Bucky Barnes and Natasha Romanoff.  Talk about a meet cute!  Here are a couple of regular assassins brain-washed to work for the KGB and they just happen to fall in love.  I mean, if that's not rom-com gold I don't know what is.  They first met when Black Widow was still training and why wouldn't the Soviets use their greatest weapon to level up their next great endeavor?  Of course if you put two smart-ass babes near each other, getting all physical it's not surprising they end up developing feelings for each other.
I can always tell when I'm truly smitten with a couple when I'm not sure who I'm more jealous of.  Am I jealous of Natasha's chance to be with such a caring and deliriously good-looking man?  Or am I more jealous of Bucky's opportunity to be with the dime piece of a century?  But what really got me hot and bothered is just how perfectly compatible they are.  "Oh woe is me!  I was so young and impressionable and the Soviets used my skill to turn me into a merciless killer!  No one understands my agony!"  OH WAIT.  Not only do they share the same tragic experiences but they are both fighting for the right side now, even when they have to make some morally questionable decisions.  They are sweet and beautifully earnest while still have practically pornographic, furniture-wrecking sex.
F*ck, Marry, Kill:
Marry.  In a goddamn heartbeat.  Bucky is everything DC won't let Nightwing be.  He's exactly the kind of guy who would let me live my own life but drop everything if I needed him.  He's supportive and encouraging without smothering or manipulating.  Personally, I'm intrigued about how strong that metal arm really is.  Pick me up and spin me right round, bitch.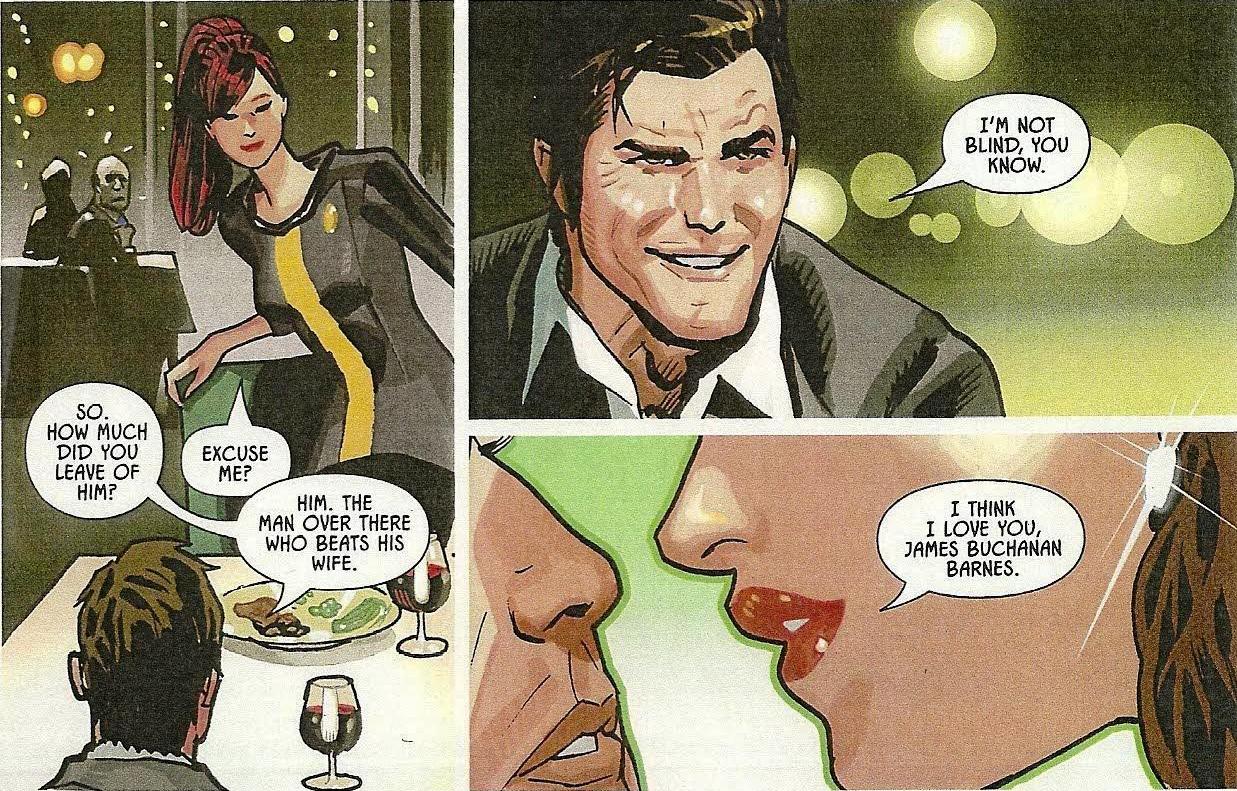 Denise Compatibility:
I love him.  I absolutely love Bucky.  He is super dreamy and just old-fashioned enough to be a sweet angel baby.  Of course if I was ever in a room with him I wouldn't make a move though because I would be trying to get him and Nat back together.  Because they are perfect.