I'm not gonna lie…I was a bit worried about this one.
"Huh?!" You might be asking yourself, how could I lose faith with the Russo Brothers after their great work directing Winter Soldier?
Well, it isn't so much I was worried about them as so much I was worried about how much Marvel Studios wanted to cram in with this film. As of now, most fans know that pretty much most of the Avengers will be in this movie as well as introduce a new villain AND introduce Black Panther AND Spider-Man.
For a movie with Captain America in the title I was starting to feel that the film will start forgetting about him.
Thankfully, the trailer does a good job of easing my worries.
It's amazing how well the Bucky storyline seems to work when you look at all three movies together. It's a testament to the work on the first two films, and the work from Sebastian Stan, that I grew to care about Bucky and his dark path as the Winter Soldier.
I love how the trailer is keeping the focus on Cap and how his relationships affect everyone in his decisions.How Sam Wilson feels about sticking by Steve Rogers even if that means he risks his life. How his hope to save Bucky effects (and probably destroys) his friendship with Tony Stark. That final line exchange with Steve and Tony is pretty much giving fans all the "feels".
I also want to take a gander at Caps Team for a second.
First…remember that I called out my Scarlet Witch theory back in JUNE! I might not be 100% accurate, but I at least called out that Scarlet Witch will have a huge part as the catalyst for the events of this film and the fact that she's on Cap side goes with my assumptions. It also makes sense to have Hawkeye on Caps team simply because of the fact that he can understand where Bucky is coming from. Being forced by the bad guys to do some terrible things and not being in control of yourself? Clearly, Barton can relate to Bucky on that (I.E. Hawkeye was mind controlled by Loki in the first Avenger film).
But that's just simply the character stuff…..how about all that great action? Specifically this shot….
I mean…that alone is just amazing.
But for me, I'm most excited about the glimmers of Black Panther we're getting in the trailer.
He looks perfect. One of the best comics-to-screen adaptations of a character's costume. I can't wait to hear him speak!
There are have been several posters for this new Cap film…but this one might be the best poster Marvel Studios has ever done….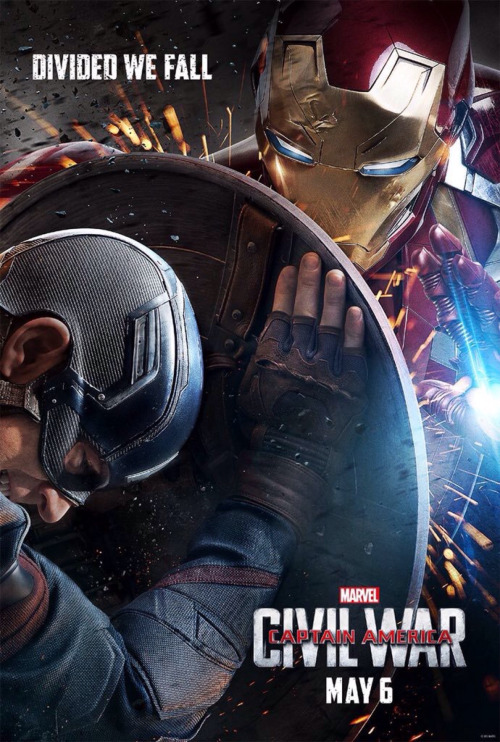 If they nail this movie it will hurt emotionally…but in a good way. I can't wait.
Captain America: Civil War will be out in theaters May 6, 2016.