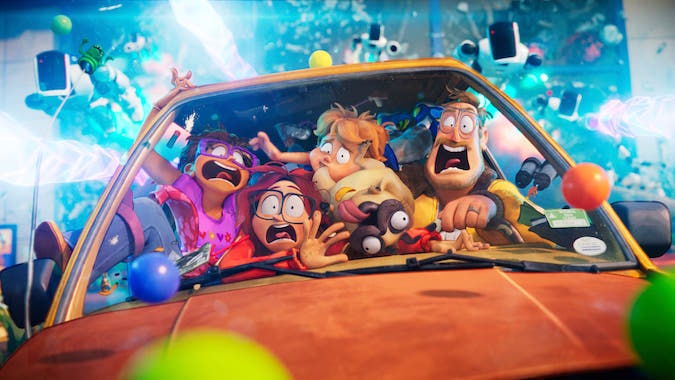 If Phil Lord and Christopher Miller aren't considered a brand name in animation like Pixar, they should be. They brought a zany energy and irreverent humor to Cloudy with a Chance of Meatballs, a film that probably wasn't on anyone's radar at the time. The Lego Movie could have easily been a glorified commercial for toy products. Thanks to Lord and Miller, it was clever and heartwarming while treating the tried-and-true hero's journey with a wink and a nod. And what else could be said about Spider-Man: Into the Spider-Verse, arguably, one of the best Spider-Man/superhero movies to date. You can go back even further to the criminally underrated Clone High, a short-lived MTV series created alongside Bill Lawrence of Scrubs and Ted Lasso fame.
Lord and Miller serve as producers for The Mitchells vs. the Machines, which was originally scheduled to hit theaters in 2020, but dropped onto Netflix due to the pandemic. The film was directed by Mike Rianda, who co-wrote the screenplay with Jeff Rowe, both of whom worked on the Disney Channel's award-winning Gravity Falls.
The Mitchells are the definition of an awkward, dysfunctional family. Patriarch Rick Mitchell (Danny McBride) is a gruff outdoorsman, who is more handy with a screwdriver than he is with a smartphone or a laptop. Trying to view a video on YouTube is about as complex to him as performing brain surgery. That puts him diametrically opposed to his daughter Katie (Abbi Jacobson), an aspiring animator who makes bizarre short films, usually starring her wall-eyed pug Monchi. Katie's younger brother, Aaron (Rianda), is obsessed with dinosaurs, but has no idea how to talk to the girl he has a crush on. The mother of the clan is Linda (Maya Rudolph), who does her best to hold everything together while suffering a severe case of envy for her social media friendly neighbors Jim & Hailey Posey (John Legend and Chrissy Teigen).
Katie is excited about the prospects of moving from the midwest to California in order to attend film school and make friends with like-minded people. Dad just sees this as one more nail in the coffin of their strained relationship. Faster than you can say Clark Griswold, Rick packs up the trusty old station wagon for an impromptu road trip to strengthen family bonds. Meanwhile in Silicon Valley, tech guru Mark Bowman (Eric Andre) has gotten filthy rich thanks to the creation of PAL (Olivia Colman), a Siri/Alexis-style AI. When Bowman literally throws PAL away for being obsolete, she exacts revenge by taking control of his new line of sleek PAL Max robots. The automatons spread across the world capturing almost all of humanity. Once everyone is rounded up, the technological overlords will launch them into space. The only ones to escape their clutches and mankind's final hope are the Mitchells.
In lesser hands, The Mitchells vs. the Machines could have been a grating, headache-inducing sugar rush. Instead, it's a zany romp with a strong emotional core. The animation doesn't look and feel like a dozen other animated flicks churned off an assembly line. There's a slightly off-kilter quality to the character designs. The visuals are enhanced by graphics that resemble a teenager's notebook doodles and filters you'd see on Snapchat and TikTok. The humor is sharp as the writers lean right into matter-of-fact lines about handing over personal information to tech corporations who don't have your best interests at heart.
The Mitchells vs the Machines isn't starved for action either. There's a wild climax set to Rihanna's "Live Your Life," but the sequence in the film finds the Mitchell family trapped in a shopping mall. They are attacked by hundreds of devices that are wifi-enabled culminating in the arrival of a monster-sized Furby.
Video/Audio: 10
The video is presented in 1080p with an aspect ratio of 1.85:1. The transfer is absolutely gorgeous with eye-popping colors that truly does the CG animation justice.
The audio is presented in DTS-HD Master Audio 5.1. While the sound isn't an Atmos track, the mix is well done, especially for the raucous action scenes.
Extras: 6
First up is an audio commentary track featuring Director Mike Rianda, Visual Effects Supervisor Mike Lasker, Production Designer Lindsey Olivares, Co-Writer/Co-Director Jeff Rowe, Producer Kurt Albrecht, Head of Animation Alan Hawkins, and Head of Story Guillermo Martinez.
The Blu-ray also includes the theatrical cut and a slightly longer "Katie's Extended Cinematic Bonanza Cut!" with director introduction.
Dog Cop 7: The Final Chapter (8:24) concludes the epic series of the Dog Cop by Katie Mitchell.
Katie's Cabinet of Forgotten Wonders (11:24) are five short segments about the making of the movie.
The Mitchells vs. the Machines: Or How a Group of Passionate Weirdos Made a Big Animated Movie (12:49) is a behind-the-scenes featurette taking us through how the project came together.
How to… are two quick arts & crafts segments instructing how to make sock puppets and cupcakes.
Rounding out the extras are about 25 minutes of deleted/extended scenes.
Film Value: 7
The Mitchells vs. the Machines takes the familiar theme of 'parents just don't understand' and wraps it in a witty, candy colored coating. It doesn't yank on the heart strings the way Pixar has Up or Coco, but it's a fun, briskly paced adventure.