Are you playing Uncharted right now?
No, of course not. You're reading an article.
This is the kind of bullshit I'm talking about! I've been guilty of these kind of mistakes too (I'm writing this article instead of playing Uncharted), which means we all need to have a little chat.
The Uncharted franchise is a video game series born on the PS3, and it currently spans three games. I've recently replayed Uncharted: Drake's Fortune, and Uncharted 2: Among Thieves.
I plan on replaying Uncharted 3: Drake's Deception as well, because I enjoy things that are fucking awesome. As I was going down the docket of various nerderies I could write about for this week's article, my brain kept drifting back to Uncharted. Now, that in itself isn't odd – my brain drifts to Uncharted constantly. When I'm eating. Going to the bathroom. At work. During my vigilante excursions. After my vigilante excursions.
I kept thinking, "Well, Bobby, you can't just write a big sloppy love letter to a video game series you like" and then I was like "Wait, why the shit not, Other-Bobby? Did we suddenly throw the Constitution in a garbage disposal? Did we exorcise the ghost of George Washington from our hearts? Are we in Soviet Russia?"
After checking my Thomas Guide, I realized we weren't in Soviet Russia, and I can write about motherfrakkin Nathan Drake whenever I want. I'll do it ALL DAY.
So you're not playing Uncharted? Why not? Tell me your reasons, and we'll sort it all out right now . . .
5.) I Don't Know What Uncharted Is Because You Didn't Explain it Very Well in the Intro
Alright, good point. Maybe you've never heard of Uncharted, or you think it has something to do with seventeenth century pirates (ahemmybrotherahem). In the immortal words of author Thomas Pynchon*: "Shut your burger-chomper and listen up, Jimbo."
Here's the elevator pitch: Uncharted is "Indiana Jones" meets "Young Indiana Jones" meets "Joss Whedon" meets "Tomb Raider."
The game stars Nathan Drake, a handsome, dashing smart-ass who claims to be a descendant of famous sailor/adventurer/privateer Sir Francis Drake. Drake is a fairly enigmatic character despite his charming personality – he's highly educated, something of a thief, and much more of a self-centered treasure hunter than Indiana Jones. However, he can always be counted on to do the right thing in the end, which usually involves him getting the living hell beat out of him and barely escaping alive.
In the first game, Nathan Drake and his long-suffering partner Victory "Sully" Sullivan are after El "Goddamn" Dorado purely for the gold. They aren't interested in putting anything in a museum or keeping ancient secrets buried. I ain't saying they're golddiggers. But they ain't messin with no broke, broke.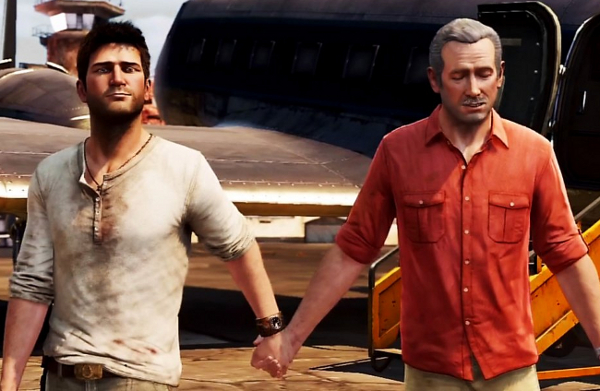 The gameplay is third-person, a mix of cover shooter, climbing/platform jumping, and VERY mild puzzling. You explore ancient mysteries, you shoot bad guys, you make death-defying leaps – the whole shebang.
Alright, now that you know what it is, you might say . . .
4.) Yeah, I Don't Really Play Video Games
Okay, to be fair, that's a pretty damn good reason not to play a video game. In fact, if I were pitching any other game series, I'd say we could end the article right now. In fact, that's it. It's over.
.
.
.
..
.
..
.
.
.
.
.
.
.
.
.
.
Ah, I'm just fuckin' with ya. The article continues! Why? Because the Uncharted games are as cinematic as Steven Spielberg and Bob Zemeckis making love to a film projector. Which, actually, I don't really want to see. Ever.
How's that supposed to convince you? Well, you like movies, don't you? Of course you do. Everybody loves movies. Saying "I hate movies" is like saying "I hate movies." It's repetitive. And stupid. Everyone loves having their eyeholes crammed with excellence. Everyone loves a cinematic romp. Everybody loves Raymond, is what I'm saying.
Those amazing, organic acting scenes? Completely 100% motion captured by the VOICE ACTORS, who are all in the same room acting the scenes out. Don't believe me? Take a looky right here for how Naughty Dog makes those amazing Uncharted cutscenes.
The Uncharted games are basically movies you can play. That awesome thing that just happened on screen? You just did that. That heart-wrenching moment of human fallibility? That wrenched your heart. That dude jumping from truck to truck as he races up a snowy mountain, fending off mercenaries and saving the girl? YOU ARE THAT DUDE.
Oh, you don't want want to be that dude. Guns? Explosions? Trucks? Yawnsville dude-bro, because . . .
3.) It Seems a Little Dude-Bro for Me
Explosions and guns and treasure? Is the soundtrack by Pennywise? Is there a level where you buy a raised truck?
Hell no, because romance, son. No swashbuckling pulp adventure is complete without a little romance, and Uncharted brings it in spades. There are huge chunks of all three games devoted to the burgeoning relationships between Nathan Drake and the lady-adventurers that get swept up in his malarky.
One of the longest-lasting romances is with intrepid reporter Elena Fisher. A sassy, smart lady who can throw a punch as well as Nate, Elena is a wonderful counterpoint to Nate's "boys with toys" attitude.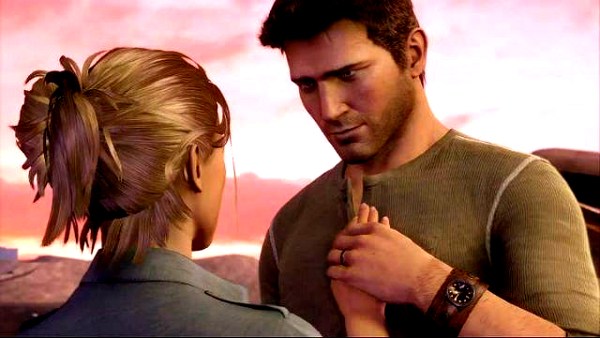 A "will-they, won't-they" of Ross-Rachel proportions runs through the story, punctuated by tender words on cliff-sides, near-death experiences, and honestly hilarious banter between voice actors Nolan North and Emily Rose.
Okay, so they're bathing each other in candlelight, or whatever. What about the sexy? Where, Agent Bobby, is the sexy? Enter Chloe Frazer.
Chloe Frazer is the dark counterpoint to Elena, and is introduced in Uncharted 2 as a bad girl whose loyalties are highly questionable. The supernal shape of her ass, however, elicits no questions whatsoever. She's a hero-straddling, sarcasm-whipping, stunt-driving semi-British morally gray love interest you'd expect to find climbing through Malaysian ruins. She's like if Lara Croft had grown up on the wrong side of the tracks and maybe spent a few years somewhere as a pole dancer.
"Oh," I hear you say. "Say Nathan Drake is James Bonding is way through games? New chicks, no connections, no consequences – "
Shut the yap, because love triangles abound, my friend. They abound. Don't believe me?
Chloe and Elena are constantly running into each other, making Drake's life a living hell, if your hell involved two asskicking gorgeous goddesses exuding sexual tension you couldn't cut with a diamond chainsaw.
It's the kind of "Team Edward," "Team Vomit-face" triangle that will spark much angry debate. I'm a "Team Elena" man myself, but by gum if Chloe doesn't, on occasion, rope-swing into my heart.
"Wait, dude, Twilight comparisons? Oh what the dick. I believe you mentioned this game had great writing? If it's all smooching and hot rock massages and mouth Caesarians . . ."
2.)  I'm Not Really Into Romance. What About Other Relationships?
The writing for Uncharted is delectable. It's not "video game" good. It's actual writing good. It has some of the finest dialogue and witty repartee I've ever heard, and I'm sort of a dialogue connoisseur.
But beyond that, the non-romantic character development and relationships (an oft-overlooked area) are truly phenomenal. The characters don't exist in a vacuum. Sure, Nathan Drake and Sully are partners, and have been for a long time. But it's not just "oh, they go waaay back." The entire third game is devoted to how they met, their complicated relationship, and how Sully managed to coach a thieving street urchin kid into a pretty damn amazing adventurer like Nate.
Nate and Sully have a bromance, sure, but it's also much more than that. Like real relationships, it isn't so easy to define. Sometimes Sully is Nate's brother, and sometimes he's his cool uncle, and sometimes, without warning, he's Nate's dad, laying down the law. It's an incredibly nuanced relationship, and one that's well worth experiencing. On the surface it's all dirty jokes and ribbing, but like many male-male relationships, these only serve to conceal the depth of emotion the friendship really has.
"Depth. Of. Emotion? You used the word nuanced, dude. NUANCED. I thought I remember you mentioning that Uncharted was awesome. Awesome isn't a word to throw around lightly if you don't mean it you know . . ."
1.) I'm Unconvinced That Uncharted is Awesome
Sorry about that. Got a little off track there, didn't I? Well allow me to retort.
You ever wanted to be in a running gun battle on a train roof?
What about hanging out of a cargo plane, trying to climb back in so you can save your mentor/father figure?
Or escaping a capsized cruise ship as it rotates in real time. Escaping rushing water, climbing upside-down hallways, the music swelling . . .
RIDING A HORSE THROUGH THE DESERT WITH A ROCKET LAUNCHER AND BEING FUCKING AWESOME ALL DAY
That's a lot of awesome, right? Probably too much. There's an eighty percent chance those pictures just made you pregnant. So, sorry about that. Unless you wanted a kid then MAZELTOV!
So, now that you'll soon be home on maternity leave, you have a lot of time to kill, right?
Then go Chart things, dammit. Chart that shit like crazy.
.
Footnotes:
*Thomas Pynchon's middle name was "Ruggles." True story.