It's officially September and this means the return of possibly my two favorite things ever: Season premieres and pumpkin spice everything.  Fall is a season of hope and optimism, maybe the weather will finally cool down and my neck won't be sweaty all the time or maybe this show that has an awesome cast and hilarious writing staff won't get cancelled after four episodes.  This month I've decided to spotlight 18 new and returning shows out of the 3 dozen that I'll be keeping my eyes on.  Yes, you read that right, 3 dozen.  And that doesn't even include all the midseason replacements.  What I lack in friends I sure do make up for in DVR and Hulu usage.
THE GOOD
Basically these are shows I trust to keep me attention for all the right reasons, be it a good cast, good writing, good acting or an almost unheard combination of all three!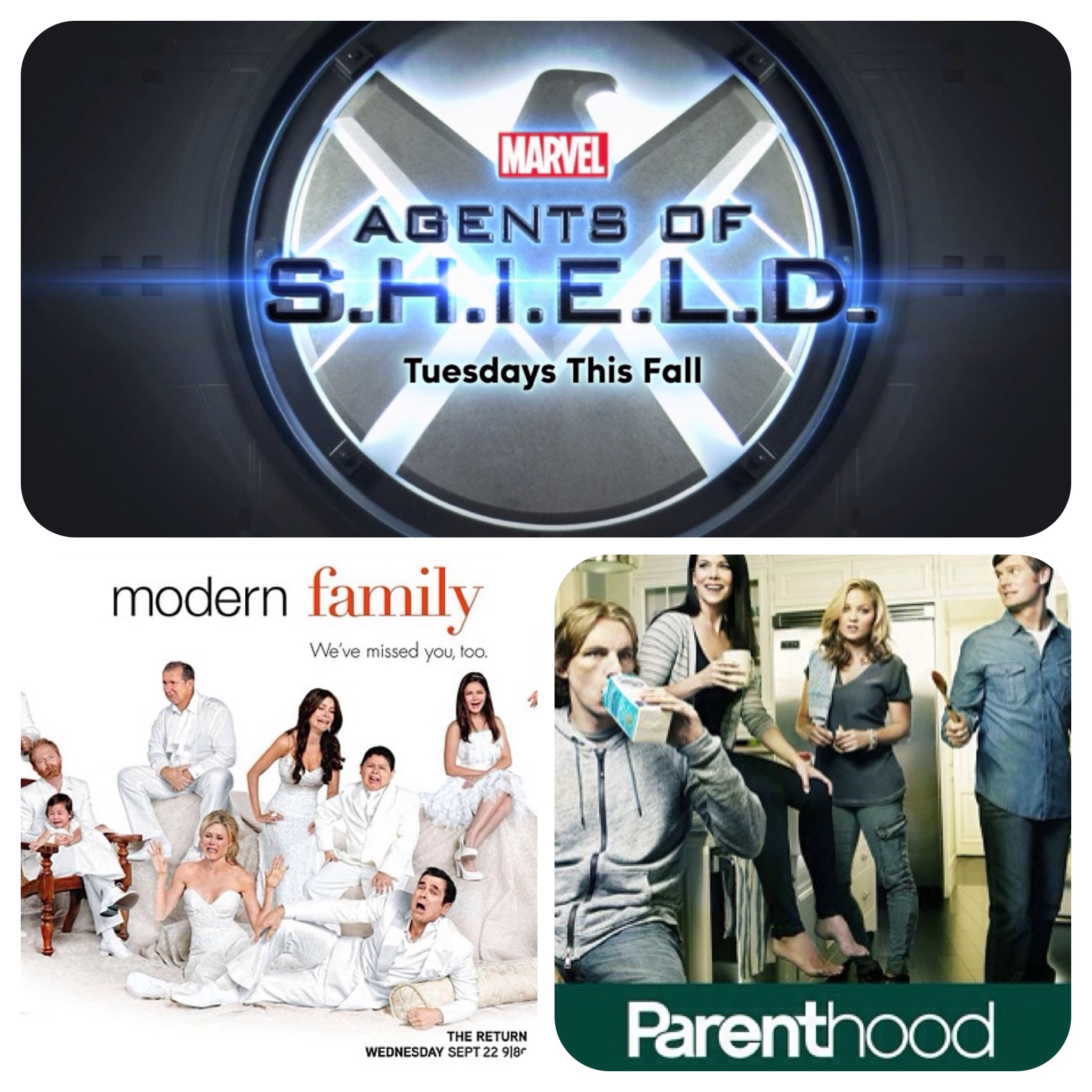 Marvel's Agents of S.H.I.E.L.D.
5 Word Premise: Marvel SHIELD agents starring Coulsen.
Do you really need any more information than that? I'm pretty sure everyone is hoping this show is going to be awesome including ABC/Disney/Marvel.  But if you want something to please the fans put a Whedon on it.  It's still unclear about how much this show will tie into future movies and if we can expect a lot of cool cameos but either way, I'm already hooked.
Premieres: September 24 (Tuesday), 8pm ABC.
5 Word Premise: Funny family mishaps; surprisingly heartwarming OR Denise laughs & cries a lot.
Not only has this show won a buttload of Emmy's but I honestly feel like it keeps getting better.  If you're unfamiliar with the premise then it's about a multi-generational, multi-racial, and unconventional family who, despite constant fighting and annoyance, love each other unconditionally.  While most family sitcoms get old and tired, Modern Family seems to build on itself and instead of relying on played out jokes it stays fresh and totally loveable.
Premieres: September 25 (Wednesday), 9pm ABC
5 Word Premise: Big family, lots of problems.
Whereas Modern Family is a lot of laughs closely followed by heartwarming moments, Parenthood is the fraternal twin highlighting all the drama with snippets of hilarity.  The writing and acting is phenomenal.  Who knew I would care about the well-being of a character played by Dax Shepard? This show features a lot less hijinks and a lot more realistic problems without feeling like an afternoon Lifetime special.  I am so in love with this show even though every episode has me in tears by the end of it.
Premieres: September 26 (Thursday), 10pm NBC
THE BAD
While these shows might not be terrible some could definitely call them "guilty pleasures".  I could pretend to only like these shows ironically but, no, there is just no turning back now.
5 Word Premise: DC anti-hero saves city.
You know, from that brief explanation you would think it would be a show about Batman. It's not though! It's about Oliver Queen! But the CW version of Ollie, which means he's broody and angsty and so very, very attractive.  If this season is anything like the last then we can expect lots of awesome cameos from fan favorite characters and a ton of well-choreographed action scenes with plenty of forced intrigue.  Not to mention Stephen Amell will have his shirt off for 70% of the show.
Premieres: October 9 (Wednesday), 8pm CW
5 Word Premise: Awesome Nathan Fillion solves crimes.
This show will start its sixth season and while it's not incredible, it is entertaining.  Nathan Fillion is perfection and the supporting cast grows on you.  I'm a sucker for procedurals and this one is fairly funny.  TNT is running reruns now and if you ever find yourself needing background noise turn on one of the many Castle marathons, you'll probably be moderately hooked within a few episodes.  I have watched enough where I can tell what season it is by the Kate Beckett's hair style.  Feel free to judge me.
Premieres: September 23 (Monday), 10pm ABC
5 Word Premise: Seth Green returns to television.
While I am also really excited to see Giovanni Ribisi, let's be real here: Seth Green is the sun and we are all just lonely geek planets trying to stay in his orbit.  The premise is simple: two guys + their dads.  Expect some over-the-top Seth MacFarlane humor and while this might not be a show that has you sitting at the edge of your seat but I can imagine it making me laugh a bunch.  The most important thing to remember is that it has Seth Green.  SETH. GREEN.
Premieres: September 17 (Tuesday), 8pm FOX
THE EMBARASSINGLY BAD
I'm not proud of myself but at the same time I'm not really ashamed to be so invested in these shows.  I mean obviously there has to be something that has me tuning in every week, it's not like I'm incapable of giving up on a show after it's gone sour (looking at you Once Upon a Time.)
5 Word Premise: Beautiful vampires love then die.
When I first started watching this show I expected to plow through it on Netflix as background noise, something I could pretty much tune out and not really miss much. NOPE.  Wrong.  I was instantly obsessed.  Granted, it is a CW show so everyone is annoying gorgeous, but at least the characters have some depth.  The main protagonist isn't an obnoxious pushover who dreams of being a vampire one day because her life is so gosh-darn boring.  She's strong-willed and stubbornly protective of her friends and family.  I can honestly say I can't wait for the show to start up again, it seems like each year there is an even bigger threat than the last and since they are quite fond of killing off characters it's actually a gripping storyline.  I know, I know, you're rolling your eyes at me.  I don't care, this column isn't called HELL-evision for nothing.
Premieres:  October 3 (Thursday), 8pm CW
5 Word Premise: Rapes with a plot twist.
If you don't know what this show is about you need a lot more than this article to help you out.  I have actually watched every single episode of this show.  It's disgusting, I know.  I tried giving up last season but on a whim I watched the season finale and got so hooked I went back and caught up on everything I missed.  While my heart breaks every time I remember how much I miss Christopher Meloni's Stabler what keeps me entertained it how much the writers have sort of given up trying to be edgy and provocative.  It's now like watching your family get drunk on Thanksgiving and slowly start losing all sense of decorum.
Premieres: September 25 (Wednesday), 9pm NBC
5 Word Premise: Andy Samberg 's a funny cop?
No one is more worried about this show getting the Fox ax than Andy.  At the James Franco Roast that aired Labor Day weekend the only joke that seemed to hit a really sensitive nerve for anyone on the dais was about how Brooklyn Nine-Nine wasn't going to last, like, at all.  I'm going to watch it because even though I want to hate Andy Samberg, I don't and maybe this show won't be like a bad SNL sketch that has gone too far?  Maybe it will be a sleeper hit like New Girl was!
Premieres:  September 17 (Tuesday), 8:30pm FOX
THE INTRIGUING
The following have piqued my interest and I am left wanting more.  Three very different shows that don't seem like they could be easily replaced. 
5 Word Premise: MTV's attempt at Diablo Cody.
While I absolutely LOVED the first season, the second season fell pretty flat for me.  I think the first time around you're following Jenna around and you can't help but want to like her.  The show was fresh and funny and full of potential.  Last season though? Oiy, Jenna starts making bad decisions left and right and you're sitting there thinking about how much you don't like her and you've stopped caring about the supporting cast as well.  It ended with a cliffhanger and I'm giving this one another shot before it ends up on my "Oh Yeah, That Show…" list.
Premieres: October, MTV
5 Word Synopsis: Robin Williams. Sarah Michelle Gellar.
Sometimes the casting overpowers any need for plot information.  Sarah Michelle Gellar plays Robin Williams' daughter and together they run an ad agency.  HIJINKS ENSUE!  Or at least I'm sure they do.  It looks cute and I really do love a controlled Robin Williams also Sarah is so good at comedy, it's finally time for her do to work on something really funny.
Premieres: September 26 (Thursday), 9pm CBS
5 Word Premise: This seems like a movie.
"A surgeon about to operate on the U.S. president is ordered to kill him by a rogue FBI agent who is holding her family hostage."  Now imagine if the Moviefone guy was reading that to you. You'd think, damn now that sounds like a killer action flick.  Except that it's not, it's a TV show.  How is this going to continue as a show??  How long could they postpone a surgery or keep a family hostage? For me, this has Prison Break written all over it.  Except that I'm suuuper into the cast: Toni Collette, Dylan McDermott, & Tate Donovan? Damn you.
Premieres: September 23 (Monday), 10pm CBS
I Don't Care If It's God Awful I Will Go Down With This Ship
Despite how excited I may be for them, these three shows don't look like they are going to last until November sweeps.  I really hope they do but it's looking grim.
5 Word Premise: Law and Order Chicago Style.
If you know me at all you have probably heard me gushing about Chicago Fire.  I only expected to be mildly entertained by it but it became all-consuming.  I have rewatched the entire first season maybe a dozen times?  It's pathetic.  I didn't think it would even make it to a second season but apparently it's average ratings steadily grew until it became clear that they could make a spinoff.  Chicago PD follows Voigt, the dirty cop featured in a large story arc from Chicago Fire.  It's totally going to be like old-school Law & Order but with deep-dish pizza and I am so excited.
Premieres: This was originally promoted as fall premiere but it's been downgraded to a midseason replacement. I am so invested I'm still putting it in this article.
5 Word Premise: Read the show title, assclown.
I want this to succeed so badly.  Firstly, I love Michael J. Fox.  I mean who doesn't?  Piss-swilling puppy-kickers, that's who.  Secondly, Michael J. Fox is still so funny.  If you happened to catch two episodes of Scrubs you could see that even though he is still so good at being loveable and a little crazy.  Thirdly, the sitcom doesn't dance around his struggle with Parkinson's; it highlights the disease and the effects on Michael's life.  To me, that sounds incredible but I'm worried that it might be too witty and not silly enough for a broad audience.
Premieres: September 26 (Thursday), 9:30pm NBC
5 Word Premise: Not really about ghosts anymore.
I am obsessed with this show.  Obsessed.  Like, I'm one of those crazies on tumblr that is actually considering getting the anti-possession tattoo in honor of the Winchester brothers.  SPN fans (or Supernaturalists, as some prefer to called) are a lucky bunch in that the cast is just as interested in playing these characters for the rest of their lives as we are.  Jared Padalecki and Jensen Ackles are the only two people on Earth who love the Winchesters more than the fans.  However, this will be the ninth season and it's unclear how much longer the CW wants to keep paying these men to fight demons and have all their friends die.
Premieres: October 8 (Tuesday), 9pm CW
Returning Favorites
There are a handful of shows that I love so much I plan the rest of my watch schedule around them.  I watch every episode when it first airs and then multiple times on Hulu in the following weeks. 
5 Word Premise: Fires are the easy part.
If you skipped over my love letter to this show in my Chicago PD blurb then you can read about it here instead.  This show is obviously over the top and in no way realistic however they do manage to make you care about every single character.  Every time I think I have a favorite a new storyline pops up and I am charmed by another firefighter.  This show is not for everyone but it's exactly what I look forward to: attractive people saving lives and making shitty decisions about their relationships.  Hell, those were the same reasons I love reading comics.
Premieres: September 24 (Tuesday), 10pm NBC
5 Word Premise: The Office but way better.
I'll admit, I didn't like the first six episodes when this show started.  I remember it feeling like an Office rip-off instead of a spinoff.  I let it go and walked away.  Luckily at some point towards the end of the second season I was convinced by a lot of my friends to give it a try again and thank the god of pizza for that because this show is pure gold.  There are so few episodes of the five seasons that haven't been knee-slappingly hilarious.  The relationships are so interwoven and it's incredible to look back at how everyone has changed since the pilot.
Premieres: September 26 (Thursday), 8pm NBC
5 Word Premise: Worst roommates but best friends.
I really wanted to hate this show.  I wanted to point at Zooey Deschanel and laugh at her for her failures.  But, no, I love this show so much it pains me when there are no new episodes.  I'll admit, Zooey's character Jess Day is by far my least favorite and the most forgettable but the men she lives with carry every episode with ease.  I'm convinced everyone on Earth is one of two types of people: 1) Nick Miller or 2) People Who Can't Help But Love Nick Miller.  By far the scene stealer is Winston though, he has all the best lines and always with the simplest story arcs.  He's the real gem and even if you are tired of Zooey you should give the show a try for him.
Premieres: September 17 (Tuesday), 9pm FOX
So did I manage to convince you to try a new show? Which show are you most excited about?