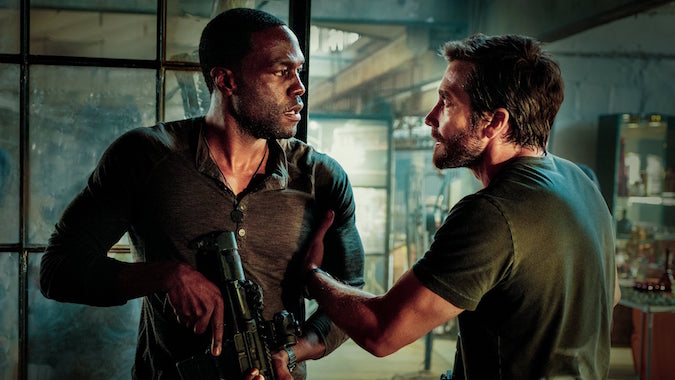 Only Michael Bay could dial the volume down a few notches and still be more excessive than your average action director. Bay's latest film, Ambulance, is a remake of a 2005 Danish film. It stands as one of his most well-rounded pictures, even if he doesn't give you full on Bay-hem.
Will Sharp (Yahya Abdul-Mateen II) is a war vet, who is struggling to get the money for a surgery that will help his cancer stricken wife Amy (Moses Ingram). Of course, the insurance companies are no help. Out of desperation, Will turns to his estranged, adopted brother Danny (Jake Gyllenhaal), a lifelong criminal whose father was a notorious and brutal bank robber. Danny just happens to be preparing to hit a bank in Downtown LA to the tune of $32 million. Plans go off the rails when Officer Zach Parker (Jackson White) swings by to talk with a bank teller he has a crush on. To top it off, the Special Investigation Section was already staking out the bank and burst into action. In the ensuing chaos, Will accidentally shoots Zach in order to save Danny. Unable to find another exit, Will and Danny hijack an ambulance carrying the wounded Zach and take EMT Cam Thompson (Eiza Gonzales) hostage. Leading the hunt for the brothers are SIS Captain Monroe (Garret Dillahunt) and FBI Agent Anson Clark (Keir O'Donnell), who actually attended criminology courses at university with Danny.
Ambulance is incredibly economic in terms of storytelling and budget. It was filmed over the course of thirty-eight days with a budget of $40 million, a mere fraction of the resources of any Transformers movie. The screenplay by Chris Fedak (Chuck, Legends of Tomorrow) wastes no time in introducing the main characters and jumping into the plot within the opening minutes of the movie. From there, Ambulance unfolds with the breakneck speed you've come to expect from a Michael Bay production. Just because he's not working with the gross national budget of a small country, doesn't mean Bay doesn't indulge himself. We get plenty of helicopters, cars flipping through the air, and sweeping shots of the LA cityscape. Fedak even throws in a few fly references to other Bay movies like Bad Boys and The Rock.
Ambulance also borrows liberally from other famed car chases set in the City of Angels. The protagonists attempt to hide from the cops using the back alleys and labyrinths of overpasses. There's also a nod to William Friedkin's To Live and Die in LA as the ambulance dodges oncoming traffic as it careens down the opposite way of the freeway. A chaotic shootout in the streets feels like the incredible shootout in Michael Mann's Heat on fast forward. Of course, if you're going to have a car chase in Los Angeles, how could you not shoot on the LA River, as seen in films like Drive, Gumball Rally, and Terminator 2.
Every scene in Ambulance is dripping with sun baked sweat and testosterone. Thankfully, Eiza Gonzalez is there to break up the sausage party, but it is Olivia Stamboullah who steals the movie in the scant scenes she's in as a sardonic tech expert. Jake Gyllenhaal and Yahya Abdul Mateen II, who has been on a hot streak following Candyman and The Matrix Resurrections, are excellent as the leads. They are compelling whenever on screen, in spite of playing characters typically seen in any heist flick. Gyllenhall is disarmingly charming as Danny and looks quite dashing in a turtleneck sweater.
Video/Audio: 9
The video is presented in 1080p with an aspect ratio of 2.39:1. Picture quality is practically perfect with a saturated look that accentuates the red sirens of the ambulance, along with the yellows and oranges of the sun and the multiple explosions. 
The audio is presented in Dolby Atmos. This is the disc you want to use to show off your sound system. Nothing could conform to the Atmos track better than a Michael Bay movie with dozens of police cars roaring through the streets and helicopters zipping overhead.
Extras: 4
Bayhem (6:14) features the cast and crew discussing what it's like to work with Michael Bay and how he brings his vision to life.
Pedal to the Metal (9:34) focuses on the making of the car chases, the practical stunts and the various ambulances used for interior and exterior shots.
Aerial Assault (5:08) is a featurette about the state-of-the-art drone technology Bay used for the film.
Finding Ambulance (5:34) is all about crafting the story and characters.
Chase Capital of the World (3:58) looks at the city of Los Angeles and how the streets and freeways were utilized.
A Tribute to First Responders (6:54) is a featurette about training Eiza Gonzalez to be an EMT and the respect everyone has for the real-life first responders.
Film Value: 7
Ambulance is a surprisingly entertaining film built around a simple, high-concept premise. There's plenty of action and drama as the story unfolds at a brisk pace. Best of all, no giant robots in sight.