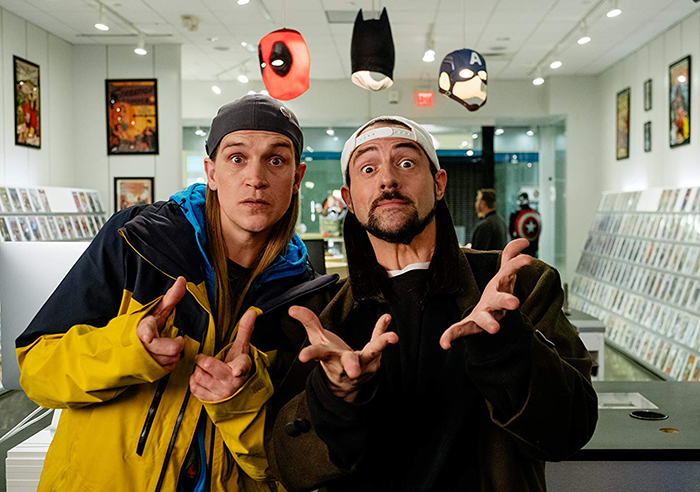 At one point in time writer/director Kevin Smith was ready to throw in the movie making towel and devote himself entirely to his growing podcast network. Ironically, it was podcasting that reignited his passion for filmmaking. Smith and producer Scott Mosier riffed on the idea of a man being turned into a walrus, which led to Tusk, featuring a bravura performance by the late-Michael Parks. Tusk was followed up by Yoga Hosers, starring Smith's own daughter Harley Quinn and Lily-Rose Depp, daughter of Johnny Depp, as convenience store clerks battling a cryogenically frozen Nazi scientist. It goes without saying that Smith smoked a ton of weed when he wrote these scripts.
Reinvigorated by a foray into original concepts, Smith looked to bring back the characters that put him on the map in the first place. Unfortunately, roadblocks derailed his attempts to produce Clerks 3 and Mallrats 2. So, Smith turned to the two characters he owned outright, everybody's favorite stoner duo (after Cheech and Chong), Jay and Silent Bob.
The pernicious pair were first introduced 25 years ago in Clerks as drug dealers loitering outside the Quick Stop. Since then, they've appeared as supporting characters in each of Smith's View Askewniverse films. Yes, long before Iron Man was a gleam in Kevin Feige's eyes, Smith was crafting a shared cinematic universe, but on a much smaller scale.
Jay and Silent Bob Strike Back placed the characters, played by Smith and best friend Jason Mewes, firmly in the spotlight. It was a screwball romp that followed the two in their attempt to sabotage Bluntman & Chronic, a superhero flick starring caped crusaders loosely based on them. In Jay and Silent Bob Reboot, they must do so again when they learn Hollywood mounts an all-new, grim & gritty version directed by, of all people, Kevin Smith.
A whole lot has changed since we last visited Leonardo, New Jersey in 2006's Clerks 2. The Quick Stop is still there and Dante (Brian O'Halloran) dutifully opens up as ever before. However, RST Video is long gone, replaced by Redbox kiosk and a chicken joint called Cock Smoker, which is actually a front for Jay and Silent Bob's marijuana business. After a run-in with the law, the titular twosome inadvertently sign away the rights to their names to Saban Films (yes, the Power Rangers people), who are rebooting Bluntman & Chronic. Faster than you can say, "Snootchie bootchies," they're off to Hollywood. A brief stop in the Midwest reunites Jay with former flame Justice (Shannon Elizabeth) and the shocking discovery that he has a long-lost daughter named Millennium Faulken (Harley Quinn Smith) aka Millie, for short.
As fun as it is to hear Smith riff on Hollywood's penchant for reboots, remakes, and requels, it would make for a rather one-note comedy. There's some surprisingly emotional moments as the director dips into real life experiences. Co-star Jason Mewes has also gone through significant changes due to his battles with drug addiction and his newfound fatherhood. Reboot serves as a treatise about becoming family men and finding a reinvigorated outlook on life. Millie and her burgeoning relationship with her prodigal father are the heart of the picture. Thankfully, Harley isn't here simply because of her dad. She's terrific in the role and brings a sardonic sense of humor in contrast to her more outlandish cohorts. Millie even has her own silent sidekick in Soapy, played by hearing impaired actress Treshelle Edmond.
Reboot is essentially the Avengers: Endgame of the View Askewniverse. It's chock full of inside jokes and references to previous movies, most of which will go over the heads of anyone who isn't a hardcore fan. Jason Lee returns as Brodie Bruce from Mallrats and even Matt Damon pops in for a brief, somewhat shoehorned, cameo as the angel Loki from Dogma. Perhaps, the most significant cameo is Ben Affleck, who had become estranged from Smith for several years. Affleck once again reprises his role as Bluntman & Chronic co-creator Holden McNeil in a scene that serves as a touching epilogue for Chasing Amy.
In addition to previous players, Reboot is littered with guest appearances such as Chris Hemsworth, Molly Shannon, Joe Manganiello, Melissa Benoist as the genderbent Chronic, and Fred Armisen as a delightfully square rideshare driver.
Video/Audio: 9
The video is presented in 1080p with an aspect ratio of 2.39:1. Reboot may not be a $200 million blockbuster, but the blu-ray still delivers an eye-catching transfer. Colors and textures like the yellow of Jay's jacket and the wool of Silent Bob's trenchcoat pop out. The climax riffs on JJ Abrams with a cool blue palette and a dash of lens flare.
The audio is presented in DTS-HD 5.1 Master Audio. Smith is all about the dialogue and every line comes in crisp and clear. On the rare occasions when the action does pick up, you'll get nice booming bass and multi-directional crowd noise.
Extras: 4
Cast Interviews (58:47) is a thorough behind-the-scenes look at the making of the film with a string of interviews with pretty much everyone involved in the production.
Kevin and Jay Interview Cast and Crew (29:44) features Kevin and Jason talking with various members of the cast and crew from Rosario Dawson to the line producer and the stand-ins.
Blooper Reel (9:37) is a montage of outtakes and flubbed lines
Hair Reel (1:43) is a quick montage of Kevin and Jason having their wigs dressed and adjusted.
Rounding out the disc are previews from other Lionsgate releases.
Film Value: 7
Jay and Silent Bob Reboot was made for a specific audience and Kevin Smith knows exactly what that audience wants – pure, undiluted Kevin Smith. His brand of self-referential humor is on full display. Not all the jokes land, but when they do, they're delivered with a wink and a nod to the viewer.