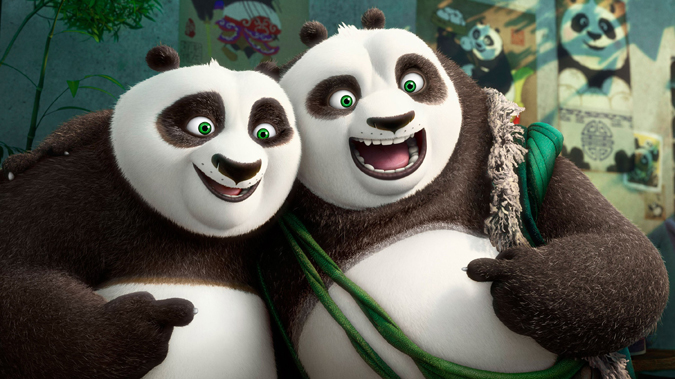 Dreamworks Animation has played second fiddle to Pixar for over a decade. Lately, Dreamworks has done a surprising job in establishing their own unique franchises. Sure, there are flops like Rise of the Guardians, but How to Train Your Dragon and Kung Fu Panda stack right up there alongside some of Pixar's best offerings. They may not have the emotional complexities of Inside Out, but the house that Katzenberg built outdoes Pixar when it comes to action/adventure.
The first film introduced us to Po (Jack Black), the unlikely hero who fulfilled his dreams of becoming a kung fu master. The second installment went into darker territory as it delved into the fate of the other pandas, which were seemingly slaughtered by a power-hungry villain. In Kung Fu Panda 3, we learn a dozens of pandas survived the purge and have hidden away in the mountains.
Po is reunited with his long-lost father Li Shan (Bryan Cranston), much to the dismay of adoptive father Mr. Ping (James Hong). Meanwhile, a ruthless ox named Kai (J.K. Simmons) has escaped from the spirit world with aspirations of conquering the mortal realm by stealing the chi from other kung fu masters. Kai may not be the most nuanced of antagonists, but he has the unique ability to transform fallen fighters into jade slaves.
Writers Jonathan Aibel and Glenn Berger return to the series for a third go-around. While their script doesn't break any new ground, the results are so charming and vibrant; it's hard not to devour the film like a plate of steamed dumplings. Kung Fu Panda 3 is blessed with a colorful cast of characters and there are a lot of great interactions between them. It's unfortunate that Po's comrades, the Furious Five, are shortchanged in this third outing, but what we are given is amusing enough. As Masters Crane and Mantis, David Cross and Seth Rogen share a handful of funny scenes, which makes it quite surprising they haven't worked more together in live-action. The one weak link is new addition Kate Hudson as the ribbon wielding Mei Mei. Hudson was a replacement for Rebel Wilson and often tries too hard to sound like her.
The indomitable James Hong is a scene-stealer as the goose that has raised Po since he was a cub. Hong brings a lot of manic energy to the role and serves as the emotional center of the story. At its core, Kung Fu Panda 3 is about Po finding an unconventional family in his friends and both his fathers.
Video/Audio: 10
The video is presented in 1080p with an aspect ratio of 2.35:1. Needless to say, the animation is absolutely exquisite with eye-popping colors and backgrounds that sometimes look photorealistic.
The audio is presented DTS-HD Master Audio 7.1. Dialogue comes in crisp and clear while fight scenes fully utilize the surround sound feature. The score by Hans Zimmer is also well served though I'd be happy if I never heard "Kung Fu Fighting" ever again.
Extras: 4
Everybody Loves a Panda Party (2:35) is a musical number set to "Kung Fu Fighting" with alternate karaoke option.
Po's Posters of Awesomeness (3:30) is a featurette with Po giving us a quick tour of Mr. Ping's noodle shop and the various posters adorned with his chubby visage.
Panda Paws (2:23) is a mini-movie starring Mei Mei as she auditions for the stage.
Make a Panda Party Paper Pal (3:38) is a tutorial on how to turn an insert with the disc into a paper panda.
Play Like a Panda (4:44) sees directors Jennifer Yuh Nelson and Alessandro Carloni intro footage of baby pandas, which were used to study their movements.
The Origin of "Skadoosh" (2:21) features Po explaining the origins of his catchphrase.
Rounding out the disc are a collection of deleted scenes, an art gallery, the film's theatrical trailer, and previews for other Dreamworks releases.
Film Value: 8
Kung Fu Panda 3 is just flat out fun. You'll find heart and humor underneath the vivid CG animation, alongside a message of positivity for younger viewers.