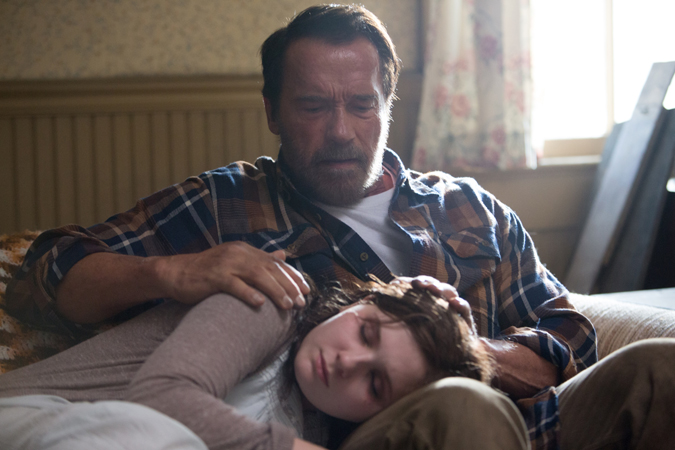 There are certain expectations when you tell someone that Arnold Schwarzenegger will star in a zombie movie. Visions of the Terminator mowing down hordes of the undead with a .50 caliber machine gun while tossing out a few choice one-liners dance in your head. Maggie subverts all those expectations in the best way possible.
The word low-key has never been used to describe any of Arnold's performances, but Maggie stands as his most low-key and somber role to date. Arnold is Wade Vogel, a midwestern farmer searching for his teenage daughter Maggie (Abigail Breslin). At this point, will anybody bat an eye at a muscle-bound Austrian clad in flannel and living in Middle America?
In any event, there are extraordinary circumstances surrounding Wade's search. A plague, dubbed the "Necroambulist Virus," turns victims all over the world into zombies. Authorities have ordered that those who are infected be sent to quarantine facilities. When Wade finds Maggie, she has already been bitten. Luckily, Wade is and old friend of the local doctor and he's given time to say goodbye before Maggie's condition deteriorates and he is forced to turn her over.
Maggie is the first produced credit for screenwriter John Scott 3 and was directed by first-timer Henry Hobson, a graphic designer who earned zombie cred for designing the title sequences to The Walking Dead and The Last of Us. The mood is set almost immediately with cinematography that highlights the mournful colors of gray and brown. The countryside is shot in a manner that combines George A. Romero and Terrence Malick.
Scott's screenplay has all the gloomy atmosphere of The Walking Dead as it tells a smaller, intimate story amidst the global scope of a zombie epidemic. And like all zombie movies, Maggie is a parable for larger issues in this case, a parent dealing with a terminally ill child. Arnold plays his part to a tee. He's utterly believable as a man who would defend his family with a shotgun and his dying breath. Yet, he's also able to effortlessly convey the burden of helplessly watching as his daughter's condition worsens.
As good as Arnold is, Maggie would have been a much stronger film had it focused on the title character. The movie's most affecting moments come from Maggie's own agonizing struggles with Abigail Breslin more than capable of handling the role. There's a gruesome moment when Abigail slices off her own finger and another frightening scene where Wade dispatches with two zombies that used to be their neighbors, one of whom is a girl younger than Maggie. The most tender sequence overall sees Maggie at a campfire with her friends and having a heartfelt conversation with a boy who is also infected.
Video/Audio: 8
The video is presented in 1080p with an aspect ratio of 2.39:1. The transfer is pristine with a faded look that adds to the mournful ambience. Blacks are really rich and darker night scenes sometimes appear murky.
The audio is presented in DTS-HD Master Audio 5.1. Sound is fairly straightforward with dialogue coming in crisp and clear. Ambient noises and a string-heavy score by David Wingo make us of the surround sound.
Extras: 3
Henry Hobson offers up a director's commentary track that's fairly dry with long stretches of silence. Every once in a while, he'll chime in with behind-the-scenes anecdotes about the cinematography, the score, and working on a low-budget.
Making Maggie (18:14) is a behind-the-scenes look featuring interviews with the cast and crew.
We also get additional interviews with Henry Hobson (8:16), John Scott 3 (6:34), Arnold (19:48), Abigail Breslin (7:19), and Joely Richardson (8:10).
Rounding out the extras are a deleted scene and the theatrical trailer.
Film Value: 6
With a budget of $1.4 million, Maggie is definitely the lowest budgeted project starring Arnold Schwarzenegger. At the same time, it's far more compelling than any of his recent mainstream efforts. If you want to see Post-Governator Arnold in action, check out The Last Stand. If you're interested in seeing a world weary Arnold in an arthouse indie flick, give Maggie a spin.