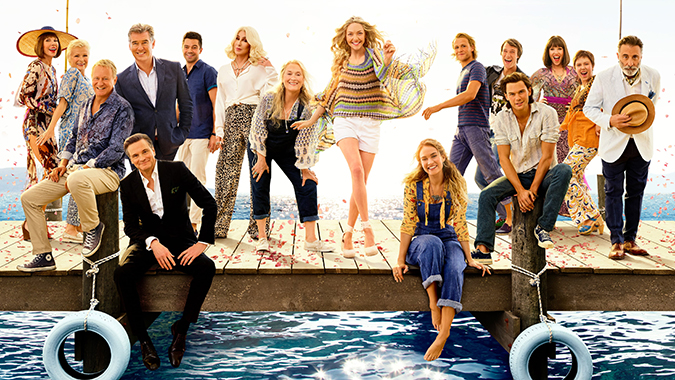 I wouldn't count myself as an ABBA fan, but I wouldn't change the radio station if one of their songs played. It's hard to deny they're one of the premiere earworm bands. Their brand of catchy pop tunes have a way of sticking in your head. When, Mamma MiaI, a musical based on ABBA's music was put into production, it's easy to see why it became a smash hit around the world and led to a new wave of jukebox musicals. Naturally, Hollywood took notice and Universal Pictures released a feature film version with Phyllida Lloyd (who directed the West End and Broadway versions) at the helm.
To recap, Mamma Mia followed the story of Donna Sheridan (Meryl Streep), the owner of a hotel on the fictional Greek island of Kalokairi. Her daughter, Sophie (Amanda Seyfried), searches for her real father and finds three possible candidates: architect Sam Carmichael (Pierce Brosnan), Swedish travel writer Bill Anderson (Stellan Skarsgard), and British banker Harry Bright (Colin Firth). Shenanigans followed, all of which were set to the music of ABBA, and all three men decided they were equally Sophie's father, regardless of biology.
The sequel, Mamma Mia! Here We Go Again, arrived in theaters ten years and a month later with all the main cast returning for another round. It's been five years since the events of the previous film and a year since the passing of Donna. Yes, that's right. Meryl Streep's character, who was noticeably absent from the trailers, has gone to the great beyond. Sophie is left to deal with the death of her mother and reopen the hotel. Present day is interspersed with flashbacks to a young Donna (Lily James), who has just graduated from Oxford. We see how she makes her way to Kalokairi and meets Harry, Bill, and Sam for the first time.
Ol Parker, of The Best Exotic Marigold Hotel fame, inherits the duties of writer and director though his biggest challenge is trying to build a coherent story around a selection of ABBA songs. Not an easy proposition when the first film used up most of the band's more familiar songs  There are a few repeats such as the titular "Mamma Mia" and "Dancing Queen," featuring boatloads of people getting their groove on. "Waterloo" was previously used over the end credits, but it's shoehorned into the story. Donna and a young Harry go to a French restaurant where the waitstaff all happen to dress like Napoleon. More fitting is the use of "One of Us" as Sophie and her husband, Sky, pine for one another while the latter is in New York for a business seminar. The biggest improvement of the sequel is Pierce Brosnan's singing or the lack thereof. Brosnan is a great actor, but crooning is not one of his strengths. His singing was widely panned by critics and this time around he's given very little to do musically. Brosnan's off-tune caterwauling is gratefully drowned out by his co-stars.
Here We Go Again is as much a popcorn film as any action blockbuster. It just doesn't have Jason Statham punching a giant shark. Instead, you get an ensemble of glamorous, sun-kissed actors and intricately choreographed dance numbers on an island paradise. Things go really over the top when Cher arrives, which is usually what happens when Cher arrives. In her first movie role since 2010's Burlesque, Cher is improbably cast as Donna's mother in spite of only a three year age difference. She looks far more like Lady Gaga's mom when she arrives via helicopter in an all-white outfit and platinum blonde hair. Fireworks explode in the sky as Cher belts "Fernando" to a swarthy looking Andy Garcia.
Video/Audio: 9
The video is presented in 1080p with an aspect ratio of 2.40:1. This is a gorgeous transfer with eye-popping colors from the bronzed skin of the cast to the brightly lit saturation of the outdoor sequences. And you have to love the ruffles on the bellbottoms.
The audio is presented in Dolby TrueHD 7.1. The sound is literally music to your ears with the musical numbers making great use of the sound design.
Extras:
The Blu-ray includes an audio commentary track with writer/director Ol Parker and one with Judy Craymer, the producer of both the stage and cinematic versions of Mamma Mia.
High Jinks (1:09) isn't quite a gag reel, but it is a very short music video with comedic bits.

Enhanced Sing Alongs (46:37) allows you to get your karaoke on with lyrics playing across the screen for 18 different music numbers. You can also access this during playback of the movie with the Sing-Along option.
The Story (5:33) looks at the journey of Mamma Mia from stage to screen.
Mamma Mia! Reunited (3:33) focuses on the original cast and their thoughts of getting back together for the sequel.
Playing Donna (2:28) looks at Meryl Streep and Lily James creating the character.
Sophie's Story (3:30) is a featurette about Amanda Seyfried and how her character has changed since the first film.
Meeting Cher (3:43) is all about the one and only Cher and how excited everyone was to work with her.
Costumes and the Dynamos (4:59) goes back to the 70's and how they were able to capture the look of the decade.
Choreographing Mamma Mia! Here We Go Again (7:25) is a profile about choreographer Anthony Van Laast
Cast Meets Cast are two short featurettes with the main actors meeting their younger counterparts. Here, you'll get Tanya Meets Tanya (3:10) and Rosie Meets Rosie (3:15)
Curtain Call (3:59) looks at the closing end credits number set to "Super Trouper"
Dancing Queen: Anatomy of a Scene (3:26) looks at the elaborate dance number on sea and land.

Cast Chats consists of Dynamo Chit-Chat (2:42) with the trio of Lily James, Alexa Davies & Jessica Keenan Wynn as the young Donna and the Dynamos and Dad Chat (2:19) with Jeremy Irvine, Josh Dylan & Hugh Skinner as the young Sam, Bill & Harry.
Performing for Legends (2:46) features the younger Dynamos going into the recording studio to perform the music of ABBA.
Class of '79 (3:48) is a featurette about the young actors portraying the past incarnations of the lead characters.
Today Interview with Cher and Judy Craymer (4:35) is an interview from NBC's morning show conducted by Kathie Lee Gifford.
Rounding out the bonus features are four deleted/extended songs and scenes with optional commentary from Ol Parker.
Film Value: 6
For those who like that sort of thing, this is the sort of thing they're going to like. Whether you like ABBA or beautiful people in a beautiful setting, Mamma Mia: Here We Go Again, will be right up your alley. The movie is light and frothy and the music is infectious enough to make you forget the paper-thin plot.