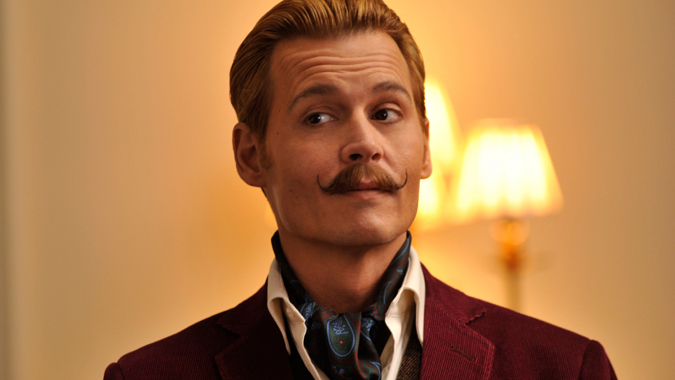 Oh, Johnny Depp, what have you done?
There's no doubting that Johnny Depp is an iconoclastic performer. He was always a well-respected actor who finally shot into the upper stratosphere of superstardom after Pirates of the Caribbean. Ever since the emergence of Jack Sparrow, Depp's track record has been rather iffy. His high-profile roles in Alice in Wonderland, The Lone Ranger, and Dark Shadows were criticized for being nothing more than one-note cartoon characters. Is he simply trying to recapture the magic of Captain Jack?
Depp doesn't do himself any favors with yet another overly mannered performance in Mortdecai, based on a series of novels by Kyril Bonfiglioli.
Lord Charlie Mortdecai is a renowned art dealer and a self-absorbed aristocrat. He also owes £8 million in back taxes to the British government, much to the dismay of his long-suffering wife Johanna (Gwyneth Paltrow). Meanwhile, a valuable Goya painting has been stolen during a restoration. As it turns out, the stolen painting leads to yet another long-lost Goya that would be priceless on its own. The artwork was looted by the Nazis during WWII and Hermann Goering himself was rumored to have written the numbers to his Swiss bank accounts on the back of the canvas. Now, a litany of ne'er do wells are after the paintings from a Russian gangster (Ulrich Thomsen) to notorious terrorist Emil Strago (Jonny Pasvolsky). MI5's Inspector Alistair Martland (Ewan McGregor) must enlist the aid of Mortdecai, who is reluctant to agree because Martland holds an unrequited torch for Johanna.
There's a part of me that actually admires that a film like Mortdecai was actually made. It's the type of picture no one makes anymore, a throwback to the old screwball comedies of Howard Hawks and Preston Sturges with a dash of The Pink Panther. Despite the best efforts of Depp and Paltrow, their dialogue has none of the same snap or wit. Chalk that up to screenwriter Eric Aronson whose last credit was the dubious On the Line starring 'N Sync's Lance Bass. Mortdecai's idea of humor revolves around Johanna gagging at the prospect of kissing her hubby's ludicrous mustache, a nymphomaniac played by Olivia Munn, and Mortdecai nearly getting his testicles hooked to a car battery.
David Koepp directed Mortdecai and he's a filmmaker who knows his stuff. He's written big blockbusters such as Jurassic Park and Spider-Man, along with directing psychological thrillers (Secret Window), rom-coms (Ghost Town), and action (Premium Rush). Koepp clearly drew inspiration from classics like Charade and How to Steal a Million in attempting to make Mortdecai a modern globetrotting caper. If you remember, Depp already starred in one of these (The Tourist) and the results weren't any better. Koepp is really let down by the flat material. The slapstick lacks any energy and the whole thing drags on interminably.
As Depp borrowed heavily from Keith Richards for his turn as Jack Sparrow, he draws from British comedian Terry-Thomas for his performance and look as Mortdecai, right down to the gap in his teeth. Sadly, Depp seems content with performing shtick than any sort of subtleties and it becomes tiresome in the long run. Paltrow gets to dust off her British accent, but her and Depp don't have the chemistry that she and Robert Downey Jr. do. The one highlight in Mortdecai is Paul Bettany, who clearly relishes the opportunity to do some comedy for a change. Bettany goes Cockney to play Mortdecai's manservant/bodyguard Jock.
Video/Audio: 9
The video is presented in 1080p with an aspect ratio of 2.40:1. Mortdecai was shot on digital using the Arri Alexa XT and Red Epic cameras. The transfer is full of bright and bold colors with fine details highlighting the fabric textures of Depp and McGregor's well-tailored suits and the sheen on Bettany's leather jacket.
The audio is presented in DTS-HD Master Audio 7.1. The sound picks up during the occasional action sequence with cars roaring through the streets and bullets whizzing back and forth.
Extras: 3
Stolen Moments: On the Set of Mortdecai (16:34) is a behind-the-scenes look at the film as the cast discuss how much they enjoyed working on the production.
The Art of Noise: Making Music for Mortdecai (12:25) is an interview with composer Geoff Zanelli who discusses working on the score and collaborating with Mark Ronson.
Rounding out the extras are the theatrical trailers for Mortdecai and other Lionsgate releases.
Film Value: 3
One can imagine Mortdecai working had it come along in the 60's with Peter Sellers or Terry-Thomas himself in the title role. Today, Mortdecai is an anachronistic bore. It seems as if all Johnny Depp hoped for was to amuse himself and on that level he succeeded.