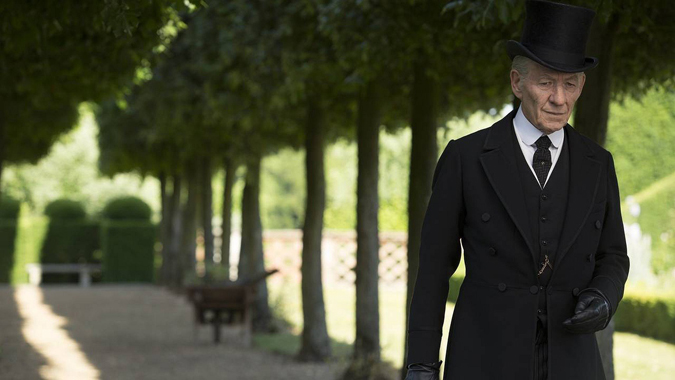 Was the world truly crying out for yet another version of Sherlock Holmes? We've seen Benedict Cumberbatch and Jonny Lee Miller bring Doyle's famed detective into the modern age. We've also seen Holmes become an action hero in Guy Ritchie's hyper-kinetic feature films. While Mr. Holmes isn't exactly a necessary incarnation, it does stand out as a fresh take. The script isn't based on any of the original stories, but on A Slight Trick of the Mind, a 2005 novel by Mitch Cullin.
Directed by Bill Condon and starring Sir Ian McKellan in the title role, Mr. Holmes serves as a spiritual successor to Gods and Monsters. In both pictures, McKellan plays an aging celebrity desperately searching for connection.
The year is 1947 and Sherlock Holmes is in his nineties and living in the countryside near the White Cliffs of Dover. Brother Mycroft, John Watson and Mrs. Hudson have long since passed with Holmes' only companions being his new housekeeper Mrs. Munro (Laura Linney) and her son Roger (Milo Parker). The aging investigator seems content to tend to his bees and pass on his apiary and deductive skills to the young boy. Meanwhile, Holmes flashes back to a recent trip and the tragic circumstances of his final case.
During the former, Holmes travels to Hiroshima, a city still scarred by the atomic bomb, in search of an herbal remedy for his failing memory. For the latter, he attempts to sort fact from the fiction concocted by Watson in his published journals of their escapades together. Shortly after WWI, Holmes was hired by a distraught husband to follow his wife Ann (Hattie Morahan), who hasn't been the same since two miscarriages.
Mr. Holmes may disappoint those seeking a rousing adventure. At its heart, Condon's film is a character study hinging on a masterful performance by Sir Ian McKellan. It's not just about Holmes dealing with the loss of his renowned faculties, but painfully discovering the importance of human connection and emotions, things he spurned so long ago. There's a tender bond forged between Holmes and Roger, an ambitious child who bears some resentment towards his mother's modest working class background. Milo Parker has natural chemistry with McKellan in their scenes together while never feeling overly precocious, a trap other child actors fall into.
In a fun bit of casting, a movie-within-the-movie version of Holmes is portrayed by Nicholas Rowe, the star of Barry Levinson's Young Sherlock Holmes.
Video/Audio: 8
The video is presented in 1080p with an aspect ratio of 2.40:1 and shot digitally with the Arri Alexa XT camera. The transfer features a rich color palette and deep black levels. The rich details in the old-age makeup of the elderly Holmes really shine through.
The audio is presented in DTS-HD Master Audio 5.1. Dialogue comes in crisp and clear with an even mix for the score by Carter Burwell.
Extras: 3
The Blu-ray from Lionsgate is disappointingly replete of bonus material. The disc includes two EPK-style featurettes in Mr. Holmes: The Icon (2:21) and Mr. Holmes: The Story (2:49), which briefly look at the cultural impact of Sherlock Holmes and casting for the film.
In addition, you'll get the theatrical trailer.
Film Value: 7
Mr. Holmes isn't close to being the best interpretation of the great detective, but it's worth seeing solely on the basis of Ian McKellan. Condon's take follows in the footsteps of revisionist films like The Seven-Per-Cent Solution.