In this era of binge watching, both Hulu and Netflix are battling to have original binge content. Its damn near a Roman vomitarium of entertainment out there. So what shows are worthy of we, as viewers, to call in sick from work and watch till our eyeballs screams for mercy?
I humbly submit this little gem supplied to us from Hulu from across the pond. You know, England? Where all that history is from? This show is a cross between Skins and Heroes called:
The energy of Misfits is miles away from many shows I watch. And the characters… are very, very human. Hell, the first season I wasn't even sure if I liked any of the characters. Which is the beauty of Misfits, actually.
Misfits centers around five characters: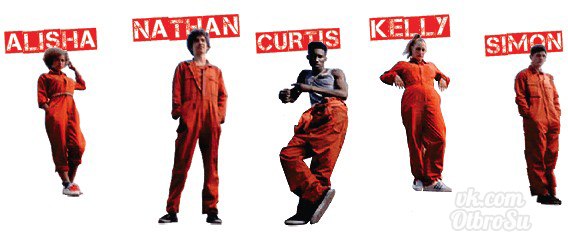 Let me save you a ton of time by telling you that these are FLAWED people. Seriously. Very young, very pretty, and very dumb. Curtis, Alisha, Simon, Kelly, and Nathan (hey, I know that name!) are people. Not especially smart and not esqecially gifted with common sense. Hence why you meet them while they are beginning their community service to pay for their previous misdemenours. Hence the orange jumpsuits, which was a really clever way to imply that they are a super hero team.
And then BOOM!
They are given powers! And in no way do there lives improve.
Sometimes its due to outside forces, but the real story is about how these ordinary, damaged individuals handle something extraordinary. Which is not well. Because the fact of the matter is that the very problems that made them human, also hold them way back as super-humans. The boxes that they, and society and the world as a whole, have put themselves in limit their ability to see what a gift and curse they've been given. Well, save for the character Simon, but I'll get to him.
Sometimes its infuriating to watch each of these characters completely muck up their lives. Or have such a narrow imagination and limited vision. Or just give in to the basest of desires. But that anger comes from seeing these Misfits as people. And honestly, didn't everything I just list that infuriated me infuriate you about someone (or everyone?) in your life? These five are the absolute last people you'd want to have superpowers.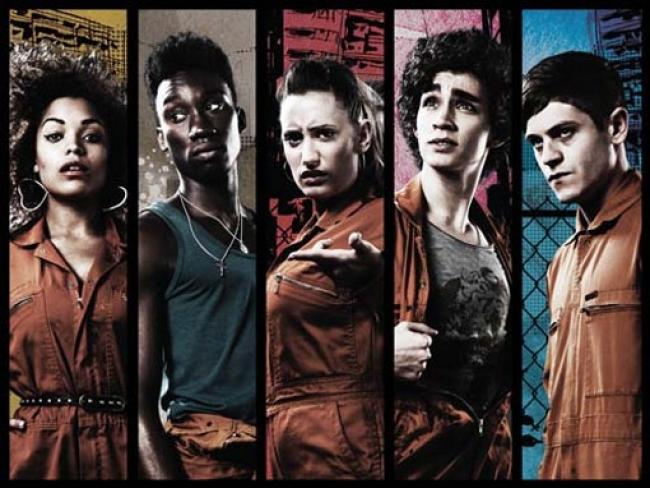 Alisha, the sexually manipulative, and manipulated, girl who hates everyone she seduces.
Curtis, the moody kid who blames all his bad luck on one bad decision, and never works to improve his life.
Kelly, the angry, physically abusive girl who hates being treated like a stereotype, yet takes comfort from it.
Nathan (why'd it have to be my name?), who uses his quicksilver wit to emotionally bludgeon and manipulate everyone around him to hate him because he hates himself. Not to mention his burning daddy issues running rampant through his veins.
And Simon, the borderline hero/serial killer, ignored and friendless.
These are our Misfits. Heroes or Villains in the making. And by Season 2, I loved everyone of 'em, god help me. As of this article, I am halfway through Season 4 of 7 seasons. The cast morphs, but its handled well, so far. I have suspicions that some actors will exit, and I'm not sure if I'm ready to watch any other group of Misfits completely bumble their way through heroics. For me, it will always be the original Five:
Speaking of cast, everybody is amazing. That I can like Nathan at all, is mostly due to the sheer charisma of Robert Sheehan, who somehow humanizes his character.
But the actor that really stole the show, for me, was Iwan Rheon, who plays Simon. You are more likely to remember him from Game of Thrones, as Ramsay Snow.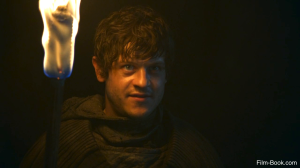 Yeah, the dude who did THAT thing to Theon Greyjoy.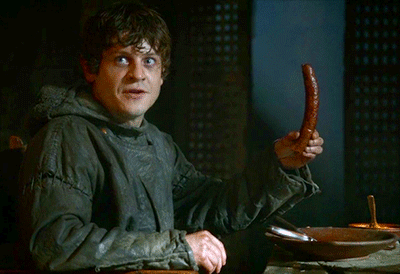 Rheon does so damn much with nearly no dialogue. Simon is soft-spoken, and in so much obvious pain that you want to hug the poor guy. And yet he's more kind and thoughtful than all four of the other characters combined, which is not always a great thing. Also, Iwan knows how to look intense, which is one trait that both Simon and Ramsay have in common.
Please, just blink once. For me.
That did not help. I always lose staring contests!
I can't really go into detail about Misfits anymore than I already have. Spoilers lurk around every corner, and I know I'll let something slip so I'll turn the attention to comic books. In particular, a comic book that felt like the spiritual ancestor of Misfits. An absolute great read called:
This book, written by Brian Wood and with art by the incredible Becky Cloonan, is essentially everything Misfits strives to be. Its stories about people with super powers, who are baffled, scared, or plain ill-equipped to wield these powers. Each story is excellent, with the concepts ranging from big and complicated, all the way to achingly personal. And there's one story in particular that has a character that is so Nathan, that I'm not sure if the creators of Misfits didn't straight up steal him.
…come to think of it, Misfits could easily have its roots in Demo. Who knows? Either way, these two go together beautifully.
So, go get Hulu. Go watch Misfits. And go get to commenting to tell me what you think!

Oh, and see how long you'd last in a staring contest with these three:
…I'm kidding.  These are pictures.  You'll lose.  …okay, fine, TRY and out stare them!  Geez!