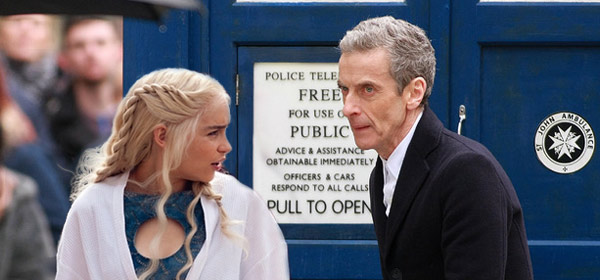 Exciting news on the Doctor Who, and I guess Game of Thrones front, folks! Emilia Clarke, who currently plays audience favorite Daenerys Targaryen, the Mother of Dragons on the HBO juggernaut, Game of Thrones, is set to to take over duties as the 12th Doctor's traveling buddy come the end of Doctor Who, Series 8 next spring.  She will be taking over for the awesomely lovable Jenna Coleman when she takes leave of the long-running series.
With most of the series already in the can, one of our special GUARD overseas operatives was able to snap the above shot from set earlier this week.  It shows new Doctor Peter Capaldi accompanied by Emilia Clarke as the Mother of Dragons, herself.
Our sources have informed us that yes, not only is Emilia Clarke the new companion, but Emilia Clarke as Daenerys Targaryen is the new companion.  We caught up with all the showrunners (impressive, I know), Stephen Moffat, David Benioff, and D.B. Weiss, and asked them about the sorta-rumor.  They all declined to state anything explicitly.  Moffat, however, did murmur under his breath that they "might be learning a thing or two from Kevin Feige."
Feige is the current president of Marvel Studios and has been widely credited with building the one universe model currently in place in the Marvel Cinematic Universe.
When asked about why Emilia was chosen to continue the companion legacy, Moffat stated something about companion-homonyms and that it would play into the plot in Series 9.
One has to wonder how Emilia is able to keep up with the rigorous production schedules of both blockbuster series.  In fact, we asked her, because we happen to go to Uni with her 3rd cousin. Apparently, flying between Cardiff and Belfast every other day was too taxing on not only Clarke, but the 2nd unit production crew.  Instead, both productions have built a joint base of operations on the Isle of Man. They call it the Galli-Twins, in reference to the Time Lord homeworld and Walder Frey's homestead in GoT. Aptly, actor Walder Frey actor David Bradley has portrayed characters is both universes. 

Well, I suppose it's the same universe now. Maybe he's a Time Lord.
Stay tuned for further bullshit.