Welcome to a new semi regular column I'm gonna start trying out.
Now…pretend that I run a movie theater (like Quentin Tarantino's New Beverly Cinema in Los Angeles or The Alamo Drafthouse in Texas) and every once in a while I will put together a double feature night. Sometimes the movies I pick will make sense (like today's choices.) and sometimes they will seem like an odd pairing. When we get to those odd pairings I will explain to you why I think those two will go great together. Either way I pick, I hope to think you guys will have fun watching them together.
Also, I'm gonna throw a few movie trailers that fit the theme (or matches the movies vibe) and you can watch those before the film to get the FULL double feature experience.
So, here's my plan for this column. You read what I'm suggesting to you guys (including the trailers) and treat them like a playlist. If you like the list, then go ahead, get the movies (I will tell you how you can either rent them or buy them at the end of the column). Then gather up you're friends at your place, get some drinks and have a fun time.
Now, allow me to present to you tonights Double Feature theme…..
POST APOCALYPSE THROWBACKS!
  First up the trailers that I will run before the first feature. These trailers aren't all Apocalypse movies, but I feel they will set the mood for the kind of film the first feature is.
https://youtu.be/FjKcuh8pZtE
And now our FIRST FEATURE!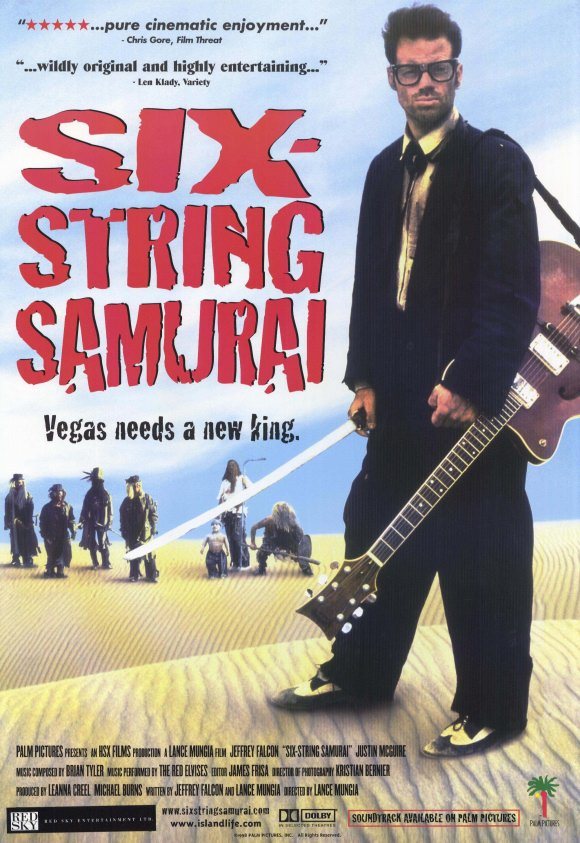 Six String Samurai is a personal favorite of mine. I remember reading about it online in 1998, and I was desperate find it. It was at the height of my martial movie obsession and when I found out about a low budget Mad Max movie that combines Hong Kong levels of Kung Fu and '60s rock and roll, I knew I had to see this crazy film.  When I finally found a VHS copy of the  movie at Suncoast Video store (my GOD am I showing my age right now) the flick did not disappoint. The movie is goofy as all to hell,  the acting is stiff, but man on man is it fun. The action is fantastic and the imagination is high. The filmmakers use the low budget to their advantage, and the film's confident hold of the '60s rock and roll world and post Apocalyptic setting is too infectious to not enjoy. And the score from the Red Elvises (a Russian American band)  and composer Brian Tyler (who would score Fast and Furious, Furious 7, Iron Man 3 , and Avengers: Age of Ultron) and is top notch.
It's a real shame the creators of this film (director Lance Mungia and star Jeffrey Falcon) didn't rise any higher than this movie. Director Lance Mungia last narrative feature film credit (the last few years he seems to have dedicated to making documentaries) was The Crow: Wicked Prayer. The Crow: Wicked Prayer is another film in the very unsatisfying Crow movie franchise this time staring Eddie Furlong and David Boreanaz. It's a mess of a flick, and while visually it's a bit interesting, the action is shockingly boring and the story is to put it simply…crap. As for Six String Samurai star Jeffrey Falcon (whose the spiting image of Guy Pierce), I don't know what happened to him.  He sorta disappeared. Maybe he gave up the movie biz  and is wandering the earth as a real bad ass hero.
The real bummer is knowing that they had more plans to further the cinematic adventures of Buddy. Here's an excerpt from an old post on Ain't it Cool News in which the director pitches what could have been.
"Six String is the first in a trilogy of films that is going to work itself backwards in time. In Six String, the last in the trilogy, Elvis dies and a new King of Rock and Roll is crowned. 
In the next, (previous) two filmic journeys, we'll see how Buddy became the badass he is and how Elvis came to power during the early Soviet Occupation. We'll be exploring a Rock and Roll Civil War called "The Guitar Wars," and an epic search for Elvis's magical "Blue Seude Shoes."
It's a universe I can't friggin' wait to further explore. It's just a chance to let your imagination do just about anything and have a hell of a good time doing it.
We're gonna see hordes of bowlers in their bowling alley headquarters, hitmen Soda-Jerks, and maybe even… "The King," himself. Rock and Roll never kicked this much ass!"
Damn… I wanna see ALL of those movies.
Well even thought I don't live in a world in which I can watch those three rockabilly-post-apocalyptic movies, at least have one awesome Six String Samurai movie.
Ok, so first feature is done, go ahead and take a break. Go to the bathroom, get some thing to drink or eat at the concession stand and we'll meet back here…..
…….
OH GOOD! You came back just in time! Your friends saved your seat, so get comfy because here's another round of trailers to get you ready for film number two!
Our second feature is now ready to begin!
This was one of my favorite movies from last year, so let me post what I wrote about the film in my Favorite Films list….
"Pastiche movies are fun in theory. They make great trailers, but the idea of the movie is usually better than the actual movie. Turbo Kid is the exception for me. Yes, it has fun playing in the aesthetic but the story is legitimately solid and the characters are legitimately entertaining. The characters of The Kid and Apple are sincere and really likable, and that's the element that makes it (in my opinion) more enjoyable to watch than Hobo With a Shotgun and Kung Fury (both I like but both are filled to the bring with crazy characters to hard to connect with). And it's the sincerity of those characters (and the strong performances of Munro Chambers and Laurence Laboeuf as The Kid and Apple) that makes watching their bloody, hyper violent, comic booky adventure tons of fun to watch. Oh…and the score kicks ass."
If you don't quiet get why I paired these two specific films, let me quickly explain. While both movies are set in an Apocalyptic future, they both seem to be set in the apocalypse that some how echos a decade from our past. For Six String Samurai it's the '60, for Turbo Kid it's the '80s.  It's that mild similarities that I feel would make seeing these two films together a ton of fun.
Now, how can you see these movies?
If you're willing to check it out, Six String Samurai is available for a pretty low price on DVD at Amazon, (click here.) while you can rent a streaming copy of Turbo Kid on almost all platforms (Netflix, Google Play, Amazon Prime etc.) You can also click here to rent the streaming straight from the folks behind Turbo Kid.
Well, I hope you guys dug the first Double Feature Ideas! As of now I'm only planning on having this column be once a month, but if the demand gets higher (and I start coming up with more Double Feature ideas) you might see this series for frequently.