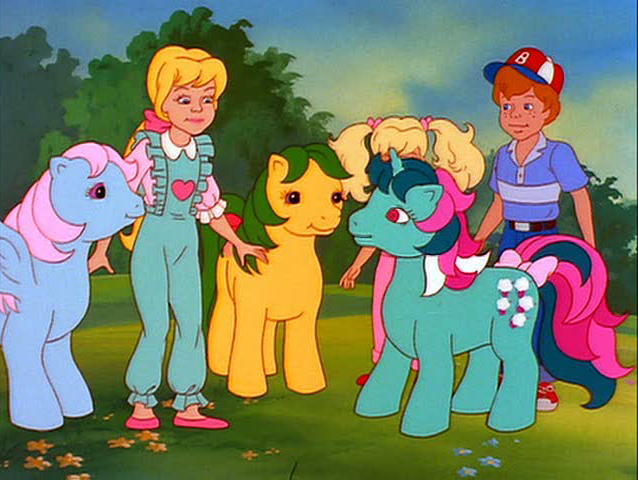 Yes, I have seen several episodes of My Little Pony: Friendship is Magic. However, I would not consider myself a 'Brony.' My level of fandom doesn't come close to that level. For those who don't know, a Brony is primarily an adult male who is a devoted follower of Friendship is Magic, a revitalized version of the 80's franchise.
Hasbro was rolling in the dough thanks to toy lines like G.I. Joe and Transformers along with their tie-in animated series. While those action figures were targeted a boys, Hasbro looked to My Little Pony to compete in the girls' market, an area that has been dominated by Mattel's Barbie. The popularity of these properties in the mid-80's were so high that Hasbro in conjunction with animation studios Sunbow and Marvel Productions planned to turn them into feature-length films.
My Little Pony: The Movie was released into theaters in June of 1986 with Transformers: The Movie would arrive in August. Kids and their families failed to turn up as expected and the box office failure of these pictures led Hasbro to release G.I. Joe: The Movie directly to video and cancel a big screen adaptation of Jem and the Holograms.
The Ponies live an idyllic life in their beautiful Pony Land. While preparing for a spring festival, young Lickety-Split (Alice Playten) wants to try out her own dance moves, but wipes out her fellow dancers during their rehearsal.  Harshly chastised, Lickety-Split, accompanied by baby dragon Spike, runs away forcing the other Ponies and their little hairy friends the Bushwoolies to search everywhere for her. Meanwhile, the evil witch Hydia (Cloris Leachman) and her mischievous daughters Reeka (Rhea Perlman) and Draggle (Madeline Kahn) are sickened by the Ponies' exceedingly happy existence and plot to ruin it. They gather a collection of nasty ingredients to create the Smooze (Jon Bauman), an oozing blob that covers everything in its path with gunk.
As the Smooze threatens to engulf all the land, the Ponies seek help from their human friend Megan (Tammy Amerson), the absent-minded mage Moochick (Tony Randall), and a new group of pixie-winged ponies known as The Flutter Ponies.
The creative minds behind My Little Pony: The Movie surely went into production with the best of intentions. However, let's not forget the primary purpose for the film's existence is to push toys. That crass commercialism is on full display with the introduction of a whole new subset of Ponies for parents to purchase. The Ponies' home of Dream Castle is smothered by the Smooze, but luckily there are gifted Paradise Estate, which will be available at all participating retailers near you. Thankfully, they didn't kill off beloved characters and traumatize a generation of children the way Transformers and G.I. Joe did.
The plot isn't exactly sophisticated material. The story is predictable and even at a runtime of 86 minutes, it still feels stretched out. The musical interludes aren't particularly memorable. Don't expect Alan Menken, though "Dirty Work" was a bit of fun thanks to the vocal work of Rhea Perlman and Madeline Kahn. In addition to celebrity voices such as Kahn, Perlman, and Danny DeVito, the cast also includes veteran voice actors like Charlie Adler, Frank Welker, Michael Bell, Susan Blu, and the future Bart Simpson, Nancy Cartwright.
Video/Audio – 6/10
The video is presented in fullscreen with an aspect ratio of 1.33:1. The transfer has seen its fair share of wear and tear with noticeable specks and grain. Still, the quality is just fine.
The audio is presented in Dolby Digital 2.0 stereo. Nothing overwhelming here either with sound coming through evenly and clearly.
Extras – 2/10
Despite being advertised as a 30th anniversary edition, the DVD is lacking in any significant bonus features. The only extras included are a sing-along option for four of the movie's songs.
Film Value – 6/10
Obviously, I am not in the target demographic for My Little Pony: The Movie. This is a release meant for young children and anyone who grew up in the 80's with a healthy dose of nostalgia.