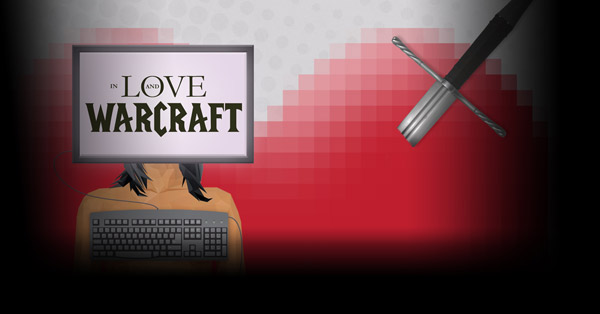 Being both an actor and a geek can sometimes be an interesting intersection. With so much comic book, science fiction, and video game media being produced these days, it's an awesome time to be a geek. With so much amazing television and film being produced, with roles for actors of all types, it's an awesome time to be an actor. As an actor/geek through, deep down I want to be involved in every possible comic book, scifi, and video game franchise out there. And maybe it stings a little bit more because it's not completely impossible. You're past the "Man, I wish I could be an actor and be in films!" stage and more in the "Man, if my agent would just pitch me for this breakdown that doesn't quite fit me, maybe I could just get my foot in the door and blow them away in the audition room. I could change their minds! It would be awesome!" Hehe. Oh, daydreams.
I am looking for theatrical representation, though, especially now that the Warcraft movie looks like it's going to happen again. Oh, if I just had a theatrical agent that would pitch me for one of those breakdowns, and while they don't exactly fit me, maybe I could get my foot in the door and blow them away in the audition room! I could change their minds! It would be awesome. Earl Baylon, Draenei Shaman #3.
Oh, daydreams.
Since we're on the subject of Warcraft and acting, there's another production happening at this intersection. This one, however, isn't happening on the silver screen, but on the live stage.
In Love and Warcraft, is a play by Madhuri Shekar. It's about a girl, Evie, and the aspects of her life that takes place IRL and in World of Warcraft. From the production website:
Evie is a master of relationships. Other people's relationships. That's why she has a waiting list of classmate clients willing to pay her top dollar to get their GFs and BFs back. How? She uses strategy, finds people's weaknesses, and then attacks with words weaponized with just the right amount of guilt, longing, and/or lust – whatever a relationship may need. You know, all the skills and tactics she picked up on the way to becoming one of the best World of Warcraft players in the world.

As for Evie's relationships? IRL (that is, In Real Life)? Well, all the action she's interested in is happening on the battlefields of WoW. When it comes to sex, Evie is a complete, er, N00b and she's just fine with that, thanks. Even despite the advances of Raul? Beautiful, smoldering Raul? Rhymes-with-grrraul Raul? He may just prove to be the most devious Boss she's ever faced.
A romantic comedy set against a WoW backdrop? Count me in. I know part of the concern with people of our geeky ilk beig portrayed in theatrical pieces is that they come of as caricatures rather than multi-faceted characters. I watched a production of this play a couple years ago, and I can say that's not the case. The characters feel like real people, relatable, and quite likable. And despite the fact that WoW is definitely an integral part of the play's framework, it still has broad appeal. Experience as a gamer isn't a requirement for enjoyment, but those that have it might appreciate the references that much more.  It's more is an exploration of the way relationships are evolving in a hybrid digital/real world space, and that's great.
Really, it's just refereshing to see a work targeted at a general audience that doesn't portray gaming and gaming culture as something to be ridiculed or otherwise other-ized.
While this production in particular is going up at the Alliance theatre (haha Alliance theatre! I just realized how apropos that is) in Atlanta, GA, hopefully it make its way here to the left coast sometime in the future. I, of course, will keep you updated.
Also, I guess that I have a bit of interest in this as well. I did provide "Nerd Consultant" services on the project. Nerd.
Alliance Theatre production page for In Love and Warcraft
Playwright Madhuri Shekar's site