This week, the Fourth of  July holiday is forcing the BIG budgeted films earlier this week which means this Friday, many smaller budgeted films are coming out. Once again, it's one of those weeks were it's a buffet of movies coming out.  Will any of these catch your interest? I definitely can say you guys have some variety to choose from.
JULY 3rd!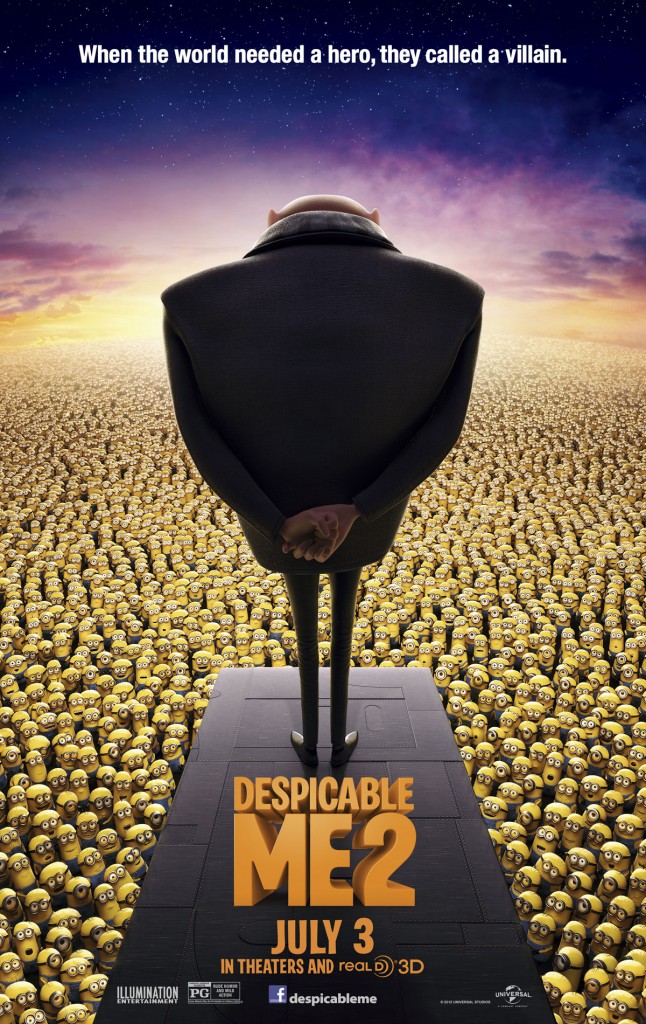 Directors: Pierre Coffin and Chris Renaud
What's it about? Universal Pictures and Illumination Entertainment's worldwide blockbuster, Despicable Me, delighted audiences around the globe in 2010, grossing more than $540 million and becoming the 10th-biggest animated motion picture in U.S. history. In Summer 2013, get ready for more minion madness in Despicable Me 2. Chris Meledandri and his acclaimed filmmaking team create an all-new comedy animated adventure featuring the return of Gru (Steve Carell), the girls, the unpredictably hilarious minions…and a host of new and outrageously funny characters.
My thoughts? So…confession time….I never saw the first one….what? Don't hurt me! Oh man, I'm sorry! It passed me! I wanted to see it! It looked really funny! And this new one looks really funny too! I'm sorry! Ok ok ok, I'll watch the first one this week! OK! Just…put my comic books down! Please…gently….ok…cool…thank you.  But yeah, this looks really funny.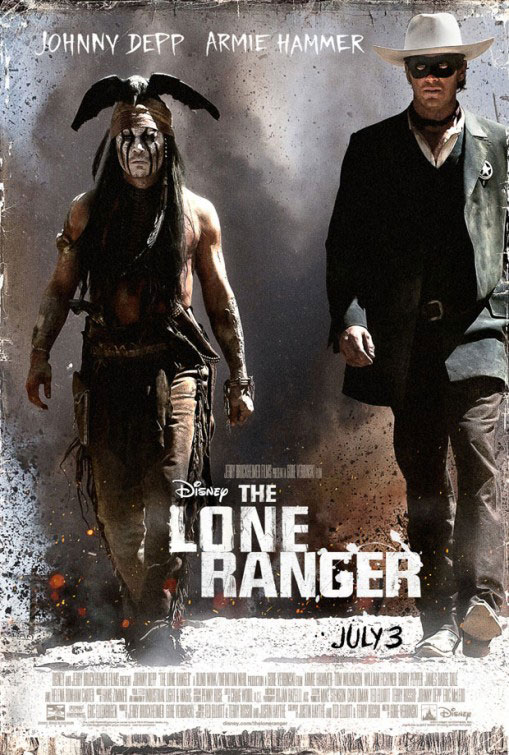 Director: Gore Verbinski
What's it about?  The Lone Ranger's origin story begins with a group of Texas Rangers chasing down a gang of outlaws led by Butch Cavendish. The gang ambushes the Rangers, seemingly killing them all. One survivor is found, however, by an American Indian named Tonto, who nurses him back to health. The Ranger, donning a mask and riding a white stallion named Silver, teams up with Tonto to bring the unscrupulous gang and others of that ilk to justice.
My thoughts? First thing, a SUPER nerdy note I wanna make.  Did you know, that The Lone Ranger AND The Green Hornet are actually related?  Yep! The Lone Ranger's John Reid is the uncle of Britt Reid, The Green Hornet! (Which makes a bit more sense time wise since The Green Hornet came out in 1936). For some reason, the Reid family likes to fight crime wearing a masking and teaming up with an ethnic bad ass partner.
While I doubt the recent Seth Rogen/ Michel Gondry version of The Green Hornet will be referenced in this film, they do share at least an actor as Tom Wilkinson plays a role in both films.
Alright, so that aside, I do hate to say this, but everything about this film is leaving me cold.
The reality is, I have very little emotional connection to the Lone Ranger character. I understand the significance of him, and yeah I know that he has left a big mark on pop culture since his appearance.  I know what almost everyone knows about The Lone Ranger. He's got a mask. He has a Native American partner named Tonto. He has a white horse named Silver (extra points if you know that the Ranger's main bullets of choice are silver bullets) . And the William Tell overture is his theme song.
Side note, they better use the William Tell overture in this film. The William Tell overture is to The Lone Ranger as cheese is to pizza. Get rid of the overture, I don't feel it's really the Lone Ranger right? And who wants to eat a cheese-less pizza.
There have been some other attempts to bring him back in a big way.
My favorite one was actually The Lone Ranger comic book that Dynamite comics came out in 2007. It was a really well written, well drawn comic that did a fantastic job of updating the character, but still told it straight.  Read trade paperbacks of Volumes 1 and 2 to give it a shot, because I really loved it!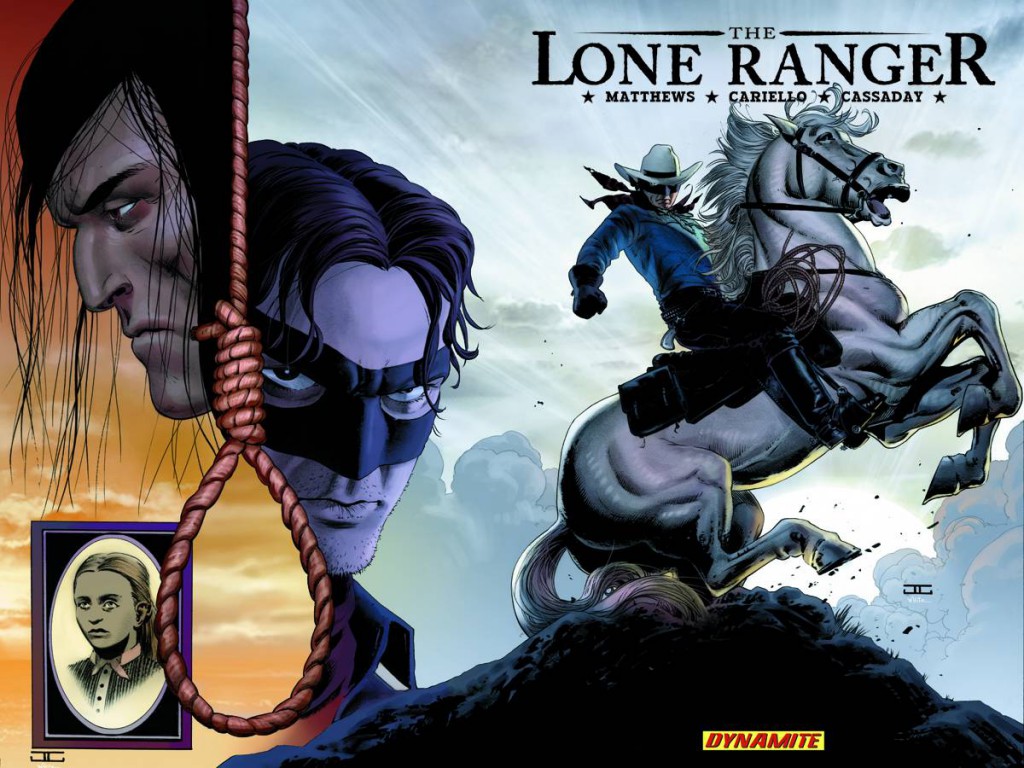 Then there was the 1981 film The Legend of the Lone Ranger which, personally bored me to tears even as a kid, and apparently has some massive amounts of controversy..(click HERE to read what that's about.)
And there was the  WB's attempt to Smallville-ize (uuuuugh) the Lone Ranger…
This new big budget version? Nothing really is exciting me. I think Gore Verbinski is a very talented visual filmmaker, but I almost sense that he's treating this is a paycheck film. The film looks nice, but none of the action seems to really pop for me. I feel like he'd rather do more films like Rango (which to me, has shown that Verbinski has already made a slightly off beat Western before this film) than commercial projects like this one, but hey, it pays the bills. Armie Hammer was very good in The Social Network, so I hope he does well playing the title character, though, looking at the marketing of this film, you wouldn't know if he was the lead since Johnny Depp is all over the posters and the earlier trailers.
Oh man…Johnny Depp as Tonto. Sigh. I get it Johnny, you think you "apparently" have Native American ancestry. But does that make it ok for you to play Tonto? It's not like there's a ton of work for Native American actors. And on top of that, your playing Tonto in your go to, I'm-an-oddball-character-mode. I'm sure he has a lot of passion for the character and the series, but I'm not really interested in this take.
All that being said, my interest in masked heroes will probably overtake me, and I'll check it out of curiosity. Will I be there on opening day? Probably not, but it might be a rental.
JULY 5th (and these are ALL limited releases.)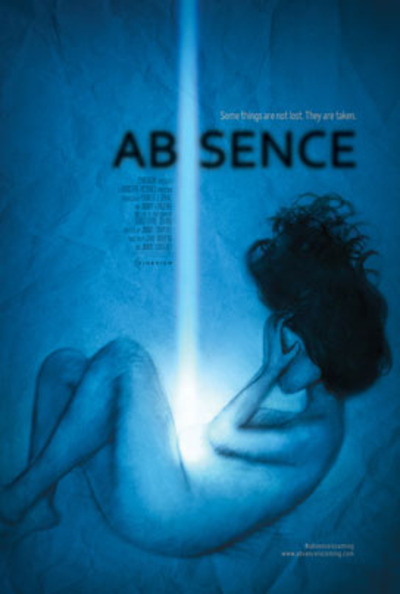 Director: Jimmy Loweree
What's it about? Expectant mother Liz wakes to discover that her unborn child has disappeared overnight. She travels to the mountains with her husband and brother to escape the attention of prying neighbors and police – and to try to make sense of what happened.
My thoughts? Are you bored of the found footage horror film? Yeah, me too. Does this look like it's going to be any better then the other POV camera horror films? Yeah, I didn't think so either. Wanna go to the next movie? Sounds good to me. If you DO love these kinds of movies, awesome, then this will interest you. Me? I'll take a pass.
Director: Farren Blackburn
What's it about? Set in Viking Britain in 871 AD, "Hammer of the Gods" is a visceral, intense tale set in a world whose only language is violence. A young Viking warrior, Steinar (Charlie Bewley), is sent by his father the king on a quest to find his estranged brother, who was banished from the kingdom many years before. Steinar's epic journey across terrifyingly hostile territory gradually sees him emerge as the man his father wants him to be — the ruthless and unforgiving successor to his throne
My thoughts? What do you think?  Are they trying to be Game of Thrones or is this still the residual effects of 300? I can't decide. The action looks decent, and I guess if I'm in the mood to watch armies yelling at each other again, then, sure, why not. I looked up the director, Farren Blackburn, and I found out that he directed a couple Doctor Who episodes. Well, I love Doctor Who, so I thought that was cool. Then I found out he directed two of my least favorite ones (The Rings of Akhaten and The Doctor, The Widow and the Wardrobe.) and I wasn't crazy about the directing in those, so that actually made me less interested.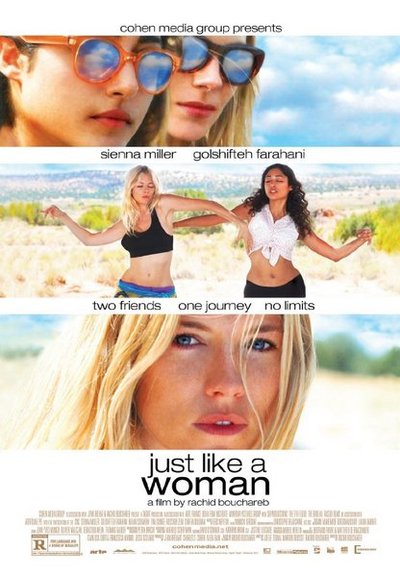 Director: Rachid Bouchareb
What's it about? "Just Like a Woman" tells the poignant tale of two women, barely more than casual acquaintances, who, upon escaping the prisons of their unhappy marriages, embark on a revealing journey of self discovery which leads them to the importance – and true meaning – of friendship.
http://youtu.be/N71QI_AIrsM
My thoughts? While the premise is not really ground breaking(and someone could joke that this the nonviolent version of Thelma and Louise) , the main thing I got out of this trailer is the naturalistic acting from Sienna Miller. I've heard great things about her performances in Factory Girl and Interview, but I really liked what I see in this trailer. It seems like she's a fully realized character in this film, and I think Miller is really excited to get a chance to play this role, and her performance shows even in a trailer. Her co-star Golshifteh Farahani isn't lacking the performance department either,I just hope they show her as a fully realized character as well and not just as a battered wife. I do think they have chemistry, and if the characters are truly written well, this could be a really nice character piece.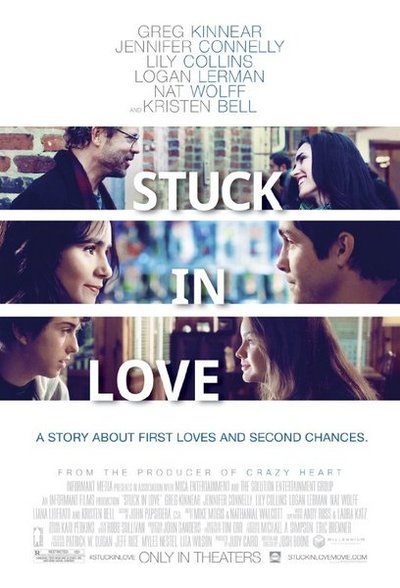 Director: Joshua Boone
What's it about? An acclaimed writer, his ex-wife and their teenaged children come to terms with the complexities of love in all its forms over the course of one tumultuous year in "Stuck in Love," the clever, funny, and touching tale of a fractured family trying to rediscover one another.
My thoughts? From the trailer alone, there is some really nice bit of witty comedy in this film. I also quiet like the cast here, as they seem to be really enjoying their characters. Much like Just Like Women, it doesn't seem to be breaking new ground, but if the characters are really well defined, are fun to watch and the cast is good, this could be another really nice character based film to watch. Another reason I want to check out this film? This films director, Joshua Boone will be a directing the adaptation of the John Green novel, The Fault in Our Stars. John Green is a very popular Young Adult novelist, and YouTube vlogger, and this will be the first time any of his books will be adapted for the big screen. So, if your a John Green fan (that means you're a Nerdfighter, so hello!…p.s. DFTBA…)  you might want to do yourself a favor and watch this film to see if Joshua Boone has the goods to bring The Fault in out Stars to life.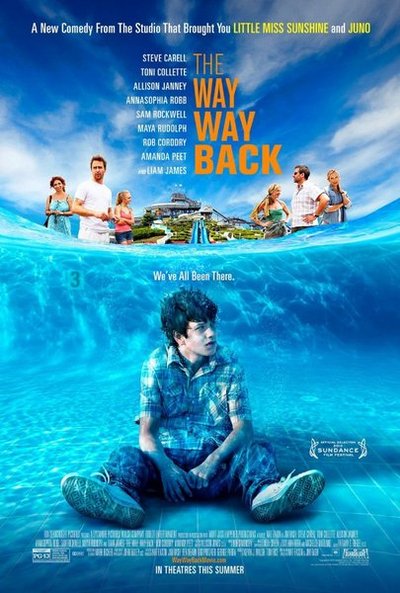 Directors: Nat Faxon and Jim Rash
What's it about?  "The Way, Way Back" is the funny and poignant coming of age story of 14-year-old Duncan's (Liam James) summer vacation with his mother, Pam (Toni Collette), her overbearing boyfriend, Trent (Steve Carell), and his daughter, Steph (Zoe Levin).
Having a rough time fitting in, the introverted Duncan finds an unexpected friend in gregarious Owen (Sam Rockwell), manager of the Water Wizz water park. Through his funny, clandestine friendship with Owen, Duncan slowly opens up to and begins to finally find his place in the world – all during a summer he will never forget.
My thoughts? Funny enough, Steve Carell's most evil man this week isn't Gru from Despicable Me 2, but Trent in this film. Who does rate a person a three? Assholes, that who.
Anyways, while this does look to be yet another coming of age film, this is written and directed by some very talented guys..scratch that Academy Award winning guys, and one of them is DEANariffic! Jim Rash, who's most famous for playing Dean Pelton in Community, co-wrote and directed this film with Nat Faxon (both also have parts in the film as well.)
Once again, a strong cast is the main appeal here, with Sam Rockwell at his most Sam Rockwellist in a while! There's plenty of laughs in the trailer, and but I do feel like the character of Duncan feels a little too similar the character of Craig from the film It's Kind of a Funny Story.
Hopefully I'm wrong, but with a great supporting cast as this one, and it's strong good writers behind it, I do feel it will be worth a look.
Man, I do think I've been a bit snarkier this week then usual. Sorry about that. But how about you? What films here are YOU interested in seeing? Comment below and let us know!