Last week was the week of small releases and one big one ( a release so big that no studio didn't want to even attempt to fight back). This week, there will be a bit more competition. (Three of them sequels!) Few more big studio releases, but each one going after a different audience. There are also two limited releases this week, thought one of them is extremely high profiled. Lets see whats in store for you guys this Friday….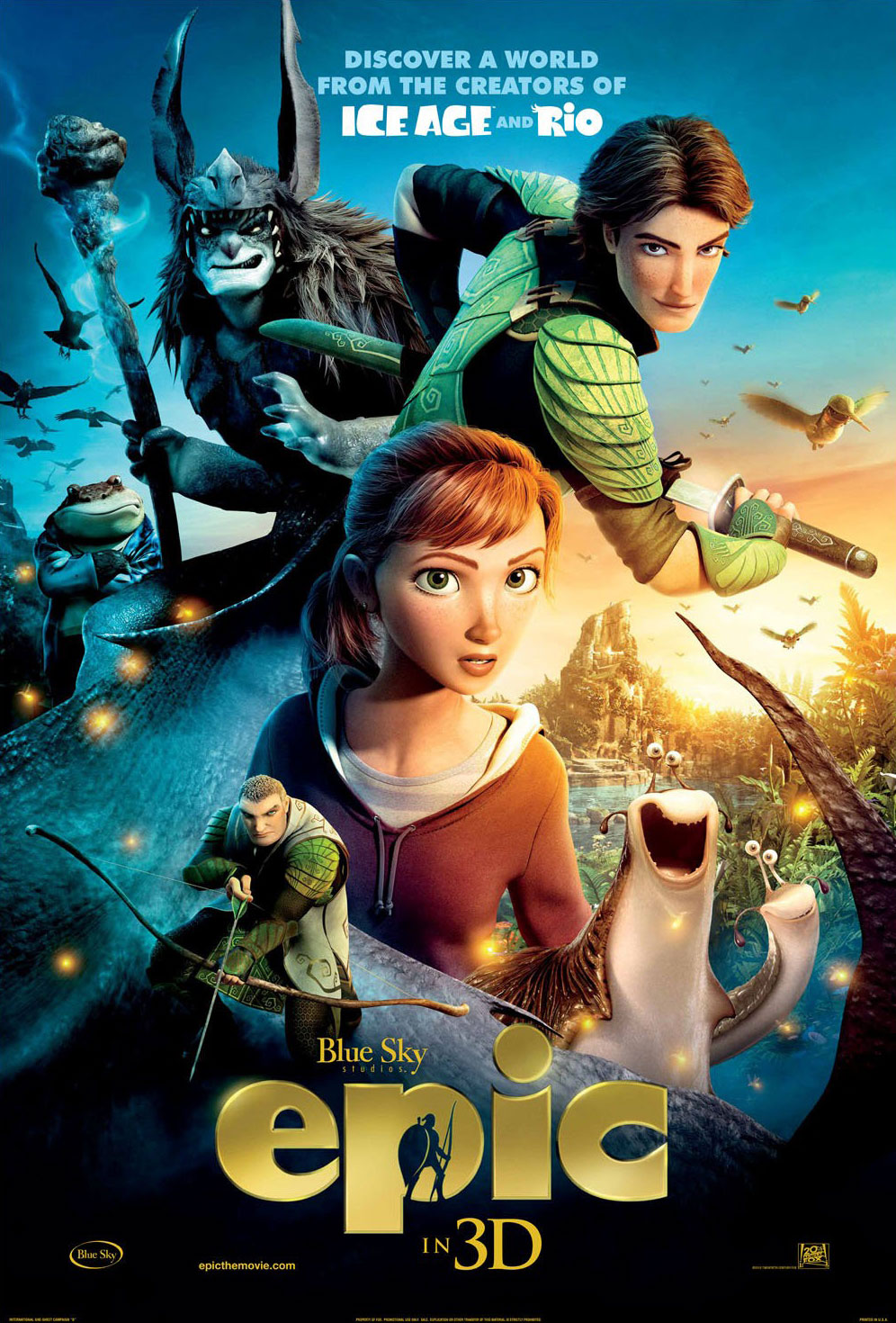 Director: Chris Wedge
What's it about?  EPIC is a 3D CG action-adventure comedy that reveals a hidden world unlike any other. From the creators of ICE AGE and RIO, EPIC tells the story of an ongoing battle deep in the forest between the forces of good who keep the natural world alive and the forces of evil who wish to destroy it. When a teen age girl finds herself magically transported into this secret universe, she must band together with a rag-tag team of fun and whimsical characters in order to save their world… and ours.
TRAILER link below:
http://www.youtube.com/watch?v=NPnSC4stKC4
My thoughts? Remember when Fox also released FernGully: The Last Rainforest? No? Well, I do. This film easily reminds me of that one. That aside, I do love the character designs in this. It looks fun and imaginative. As for the voice cast, I'm pretty indifferent. It's not a bad cast, just not one that will make me excited to hear their voice work on it (though I COULD listen to Christoph Waltz read the phone book…in which I'm sure he'll still win an Oscar for that performance.) That being said, I can't STAND the Aziz Ansari character in this thing. Mildly interested…though I wish it had a more interesting title. Originally based on the book  The Leaf Men and the Brave Good Bugs by author William Joyce (who also wrote and created the books that later became the film Rise of the Guardians) it was greenlit under the title Leaf Men. It's not really explained how it got even dumbed down to just the really generic Epic, but that's the era we live in now. Studios don't trust interesting titles any more, they want direct simple titles now. Sigh…
Director: Alex Gibney
What's it about? Filmed with the startling immediacy of unfolding history, Academy Award-winning documentary filmmaker Alex Gibney's "We Steal Secrets: The Story of Wikileaks" details the creation of Julian Assange's controversial website, which facilitated the largest security breach in U.S. history. Hailed by some as a free-speech hero and by others as a traitor and terrorist, the enigmatic Assange's rise and fall are paralleled with that of Pfc. Bradley Manning, the brilliant, troubled young soldier who downloaded hundreds of thousands of documents from classified U.S. military and diplomatic servers, revealing the behind-the-scenes workings of the government's international diplomacy and military strategy.
TRAILER link below:
http://www.youtube.com/watch?v=XjN8vKvE_XE
My thoughts? A story too crazy to be true? Perhaps, but these were  crazy series of events that feels completely false.  Yet, it happened. I'm intrigued with the almost, espionage style this documentary is going for. Truthfully, I haven't seen ANY of director Alex Gibney's previous work, I just know that his Enron documentary was well received. This looks like it could be very interesting.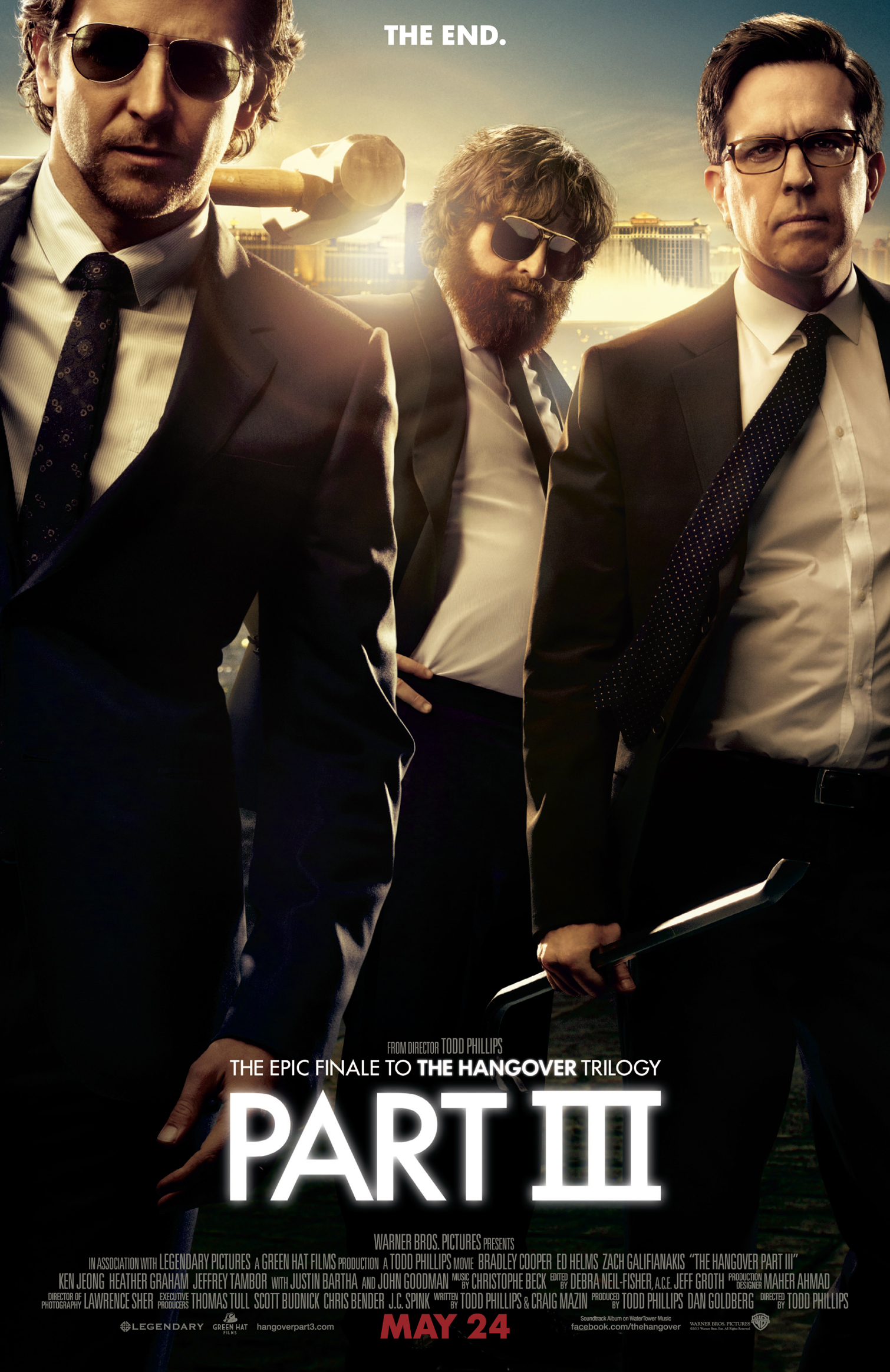 Director: Todd Phillips
What's it about? After breaking Alan out of a mental hospital for reasons currently unknown, The Wolfpack sets off a wild adventure that will take them from LA to Las Vegas to Tijuana. "The Hangover Part III" is the third and final film in director Todd Phillips' record-shattering comedy franchise. This time, there's no wedding. No bachelor party. What could go wrong, right? But when the Wolfpack hits the road, all bets are off.
TRAILER link below:
http://www.youtube.com/watch?v=KUUvJ3jGC4Y
My thoughts? The first Hangover was a surprise to everyone.  Todd Phillips was coming off of directing a few comedies that just didn't stick with audiences. Then all of a sudden, he got the script for The Hangover, and something came alive for the guy. He started shooting his movies with a tad more style. He got a cast that was just on the cusp of getting big, with one cast member who was just waiting for that comedic breakout role. Movie alchemy and boom, a successful and hilarious comedy. The mistake was probably trying to capitalize on that alchemy, and thus, they made a part II. Truthfully, I didn't see The Hangover part II. It felt like it was going to be a retread of the first one, and from what I keep hearing, it was.  Thankfully, this new one seems to want to avoid being the first two, but is it worth doing again? Maybe. I still like this cast, and I do have to hand to it Zach Galifianakis on his career choices. I'm glad he hasn't starred to a billion comedies since the first one, and that I've gotten sick of seeing him on the big screen. I'll have to hear word from more people, but right now, I'm in no rush.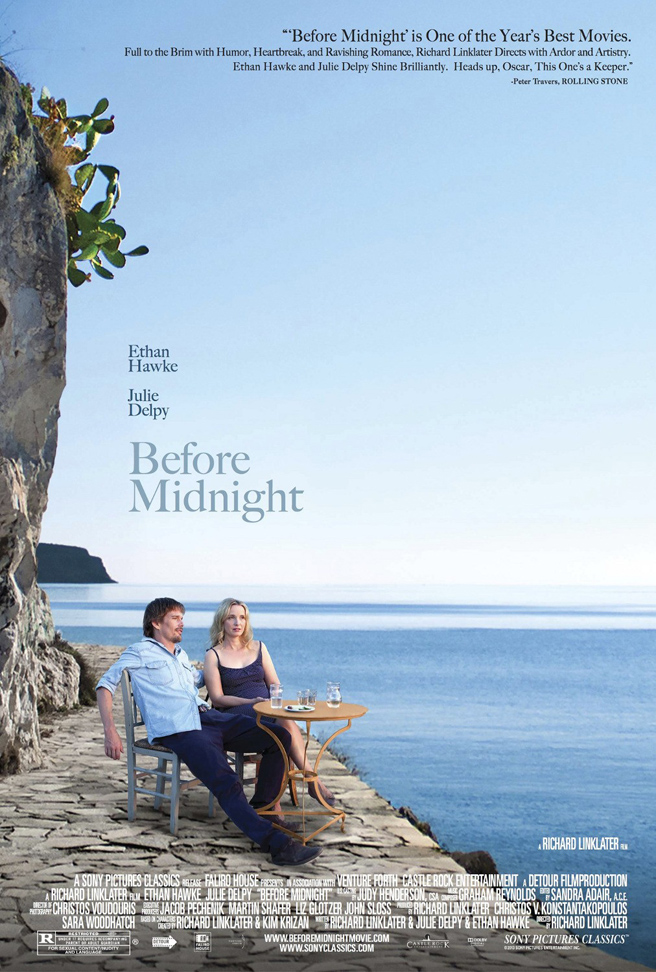 Director: Richard Linklater
What's it about? The sequel to BEFORE SUNRISE and BEFORE SUNSET. In BEFORE MIDNIGHT, we meet Celine and Jesse 9 years on. Almost 2 decades have passed since that first meeting on a train bound for Vienna, and we now find them in their early 40's in Greece. Before the clock strikes midnight, we will again become part of their story.
TRAILER link below:
http://www.youtube.com/watch?v=euOJkb0U8vE
My thoughts? Now, if you wanna talk about a sequel worth doing…THIS my friends is a prime example of one. To track a romantic relationship in almost real time, in a series of three films over the course two decades, makes the BEFORE series one of the most beautiful movie series ever made (In my opinion) . But these movies aren't made to make a quick buck. These are passion projects from writer/director Richard Linklater and from his lead actors and fellow co-writers Ethan Hawke and Julie Delpy.  They make one whenever it's time they feel like they want to revisit these characters. I love the first two films, but it has been far too long since I've seen them. I want to marathon them both and immediately go see this new one. Linklater is in a class of filmmakers who usually knocks it out of the park with the small character studies, and these BEFORE  films are his heart and soul. The same can be said for his cast Ethan Hawke and Julie Delpy. I can't wait to see this it, and I hope they continue to make more after this one.
Director: Justin Lin
What's it about?  Vin Diesel, Paul Walker and Dwayne Johnson lead the returning cast of all-stars as the global blockbuster franchise built on speed races to its next continent in "Fast & Furious 6." Reuniting for their most high-stakes adventure yet, fan favorites Jordana Brewster, Michelle Rodriguez, Tyrese Gibson, Sung Kang, Gal Gadot, Chris 'Ludacris' Bridges and Elsa Pataky are joined by badass series newcomers Luke Evans and Gina Carano.
Since Dom (Diesel) and Brian's (Walker) Rio heist toppled a kingpin's empire and left their crew with $100 million, our heroes have scattered across the globe. But their inability to return home and living forever on the lam have left their lives incomplete.
Meanwhile, Hobbs (Johnson) has been tracking an organization of lethally skilled mercenary drivers across 12 countries, whose mastermind (Evans) is aided by a ruthless second-in-command revealed to be the love Dom thought was dead, Letty (Rodriguez). The only way to stop the criminal outfit is to outmatch them at street level, so Hobbs asks Dom to assemble his elite team in London. Payment? Full pardons for all of them so they can return home and make their families whole again.
TRAILER link below:
http://www.youtube.com/watch?v=C_puVuHoR6o
My thoughts?  Another sequel that's coming out this week, but man….what an interesting franchise the Fast and Furious films turned out to be.  If you were to tell me that we were going to get FIVE movies after the first one came out, then you I would have been laughing my ass off for days. But here we are, six movies later, and the big surprise….I'm honestly looking forward to this. Fast Five was such a blast, for a movie that I am shocked worked as well as it did. It's pure entertainment through and through. I am also happy to see the growth of director Justin Lin,as he's proven to get better with each Fast and Furious film he's made.  Lin has developed a great handle on big splashy action and to show that action with flare – and he does so with out having directing ADD when the film isn't focused on the action (like Michael Bay.)  For big summer movie action, I have huge hopes that this will deliver on what exactly do film goers want when they come and see a film in this series.
So what about you guys? Excited to see more sweaty bald men duke it out while driving in crazy ass car chases? Or do the Fast and Furious films just bug you? Did you LOVE The Hangover part II and are ready to see the gang back for part III? Did you see any of the Before ____ films? If so, do you enjoy them, or do they bore you? Do you even remember the WikiLeaks incident at all? Comment below!