Whew! Sorry about the lateness of this weeks Looking Ahead. WonderCon was this past weekend and I had a full blast of enjoyment! I'm also still recovering from the event so I'm gonna make this weeks Looking Ahead as short and sweet as possible. So, what new films will be coming out April 10, 2o15?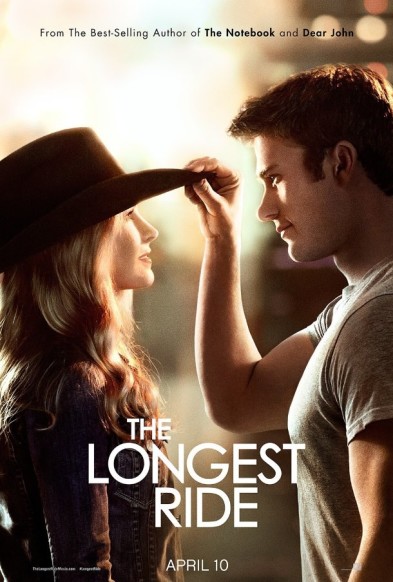 What's it about? The lives of a young couple intertwine with a much older man as he reflects back on a lost love while he's trapped in an automobile crash.
My thoughts? I am NOT the audience for this Nicolas Sparks movie. I'm a bit intrigued to see how Clint Eastwoods  son's acting it, but besides that, I'll just move on ahead.
What's it about? Afshin Ghaffarian risks everything to start a dance company amidst his home country of Iran's politically volatile climate and the nation's ban on dancing.
My thoughts? It's like a REALLY serious take on Footloose, and that is not a a sarcastic knock against it. It seems really interesting and  lovingly shot.
What's it about? Professional hit-man Charlie Wolfe finds himself in three tales of murder, blackmail and revenge after a botched contract assignment.
My thoughts? Fun cast and premise. I love seeing Simon Pegg in a role like this, and he seems to be having a great time. If it's got it's wicked side well thought out then this could be a pretty great little black comedy.
What's it about? A single mother is swept into a dark underworld, while her teenage son discovers a road that leads him to a secret underwater town.
My thoughts? I've been really interested in seeing the directorial debut of Ryan Gosling….then I heard about the screening at the Cannes film festival. To say that the reviews were brutal is like saying that it only rained a little when Noah finished his Arc. Now, I am curious to see how big of a disaster this really is. Judging from the trailer, I sense the film being very ambitious, but also something that seemed to have gotten away from Ryan Gosling. As a fan of Agents of SHIELD I'm a bit weired out about seeing Fitz play so young (and having Christina Hendricks be his mother??) As a Doctor Who fan, I've been looking forward to seeing Matt Smith in this role and the least HE will be fun to watch. Curiosity is the main reason I wanna see this. There's enough visual panache that's gotten my attention to at least give a shot. Will it be a disaster? Sure, but I'm willing to go down the river to find out.
What's it about? A young programmer is selected to participate in a breakthrough experiment in artificial intelligence by evaluating the human qualities of a breathtaking female A.I.
My thoughts? This is the directing debut of writer Alex Garland. Garland has had an interesting resume with some strong work in films like 28 Days Later…, Sunshine, and the ever popular Dredd. It seems like Garland has quiet the strong visual sense in the footage of this film, and he's got a great cast with Domhall Gleeson and Oscar Isaacs in the part. I'm a sucker for hard Sci-Fi films and movies about robots, and if Garland can bring his unique writing to the this as well with his promising visuals then this one seems like a winner.
What about you folks? Which films are YOU most looking forward to seeing this weekend? Let us know in the comments below!
And if you haven't yet, don't forget to follow me on Twitter: @JustinQuizon and on Tumblr: http://justinquiz.tumblr.com/