Hello folks, sorry for the skip week on Looking Ahead last week. I fell pretty far behind, and felt that I wasn't gonna deliver a proper article concerning the new films for last week. Also….to be very truthful…I wasn't really that excited for those movies last week. Oh sure, some of the them got some decent reviews (Most of those positive reviews went to By the Sea and The 33) but I wasn't really motivated to write about them. Part of my deal on restructuring this weekly column is to get to the movies that excite me the most, talk about movies that I feel deserve to be noticed….or have fun with being snarky about a film that I just want to be snarky about.  I think I started slipping on my old habits on this column and started to write about too many movies that didn't interest me as much as some of the others. So…that's why this week I'm only going to be writing about three movies, and man….am I REALLY looking forward to these three films. So, lets start off with….
What's it about? The film tells the story of the identical twin gangsters Reggie and Ronnie Kray, two of the most notorious criminals in British history, and their organised crime empire in the East End of London during the 1960s.
My thoughts? Such a badass trailer. It's easy to praise an actor when they play twins like this, but this is some really impressive work from Tom Hardy. He really inhabits the roles of Ronnie and Reggie so differently one could argue that  Hardy was the only man who could do the double roles justice. The films director/writer is Brian Helgeland, who wrote the script the fantastic L.A. Confidential. But it's his work a director on such films as A Knights Tale, (a movie I still dig…fight me on that) 42,  and the original directors cut of the Mel Gibson film Payback are examples of a really solid director who can really spin an entertaining movie. This looks like a blast.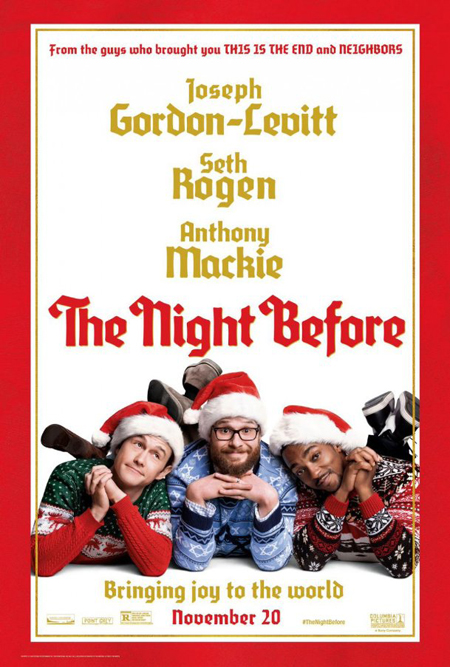 What's it about? On Christmas eve, three lifelong friends, two of whom are Jewish, spend the night in New York City looking for the Holy Grail of Christmas parties.
Red Band Trailer
My thoughts? I loved every trailer for this movie. The director of this one is a cat name Jonathan Levine, and I have really liked/loved every movie he's made. One of those movies I loved that he made was 50/50…..which was also the first time he teamed up with Joe Gordon-Levitt and Seth Rogen. I love the idea of seeing Joe Gordon-Levitt play a role like this one where he gets to cut loose a bit. Anthony Mackie is ALWAYS on point in his comedy work, and I don't care what you say I still enjoy Seth Rogen. The entire last scene in this trailer concerning the baby at the mass is too damn funny. This might be the movie I want to see most this week. I'm very much in the mood to see a dirty hilarious holiday comedy…but with the dash of heart that normally comes with a film that involves Seth Rogen. 
What's it about? As the war of Panem escalates to the destruction of other districts by the Capitol, Katniss Everdeen, the reluctant leader of the rebellion, must bring together an army against President Snow, while all she holds dear hangs in the balance.
My thoughts? This week we finally say good bye The Hunger Games movie franchise…a series that I honestly really like but I can say I'm not an obsessive fan. That doesn't mean that I'm NOT excited to see how this film closes the series out. While I did in fact read the first two books of the series, I never read Mockingjay. Partially because I wanted to let the movies surprise me on the story, but also because I heard how so many folks weren't really that satisfied with the final book. Judging from the folks I've talked to about Part 1, the movies had done a great job of fixing a few of the problems in the book. For me, I really did enjoy Part 1 and from the looks of Part 2 things are gonna get BIG an CRAZY! Jennifer Lawrence has proven time and time again that she can survive beyond this franchise, but it is nice to know that she does have a place in the sci-fi/genre movie world. She's been this generations Luke Skywalker in a series of movies that really matter to people, and I think that's awesome. The Hunger Games films in my opinion is on a small list of one of the most consistent film series. I think each movie in the series is quiet good (the weakest might be the first one). I really hope they can stick the landing on the ending, it would be a shame to end such a good series on a whimper.