And like that….September is over. Very strange how quickly this month went, but here we are with another interesting batch of films.
Another good case of "A little bit for everyone" lets push off and see how September wraps up it's movie line ups….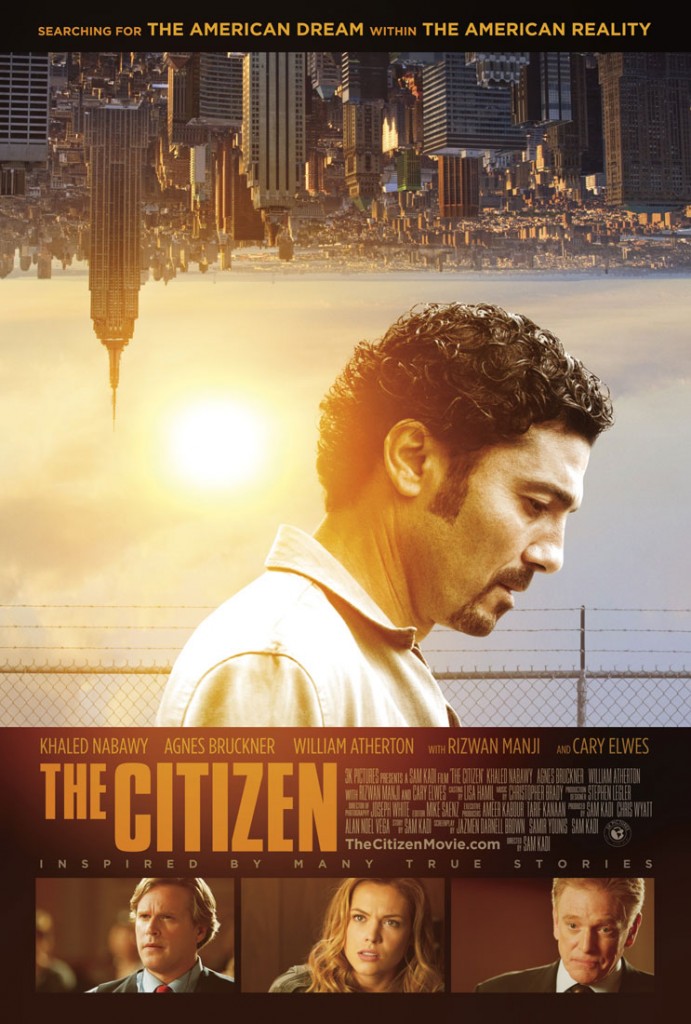 LIMITED RELEASE
What's it about? Yearning to leave behind his life of misfortune in the Middle East, Ibrahim Jarrah wins the U.S Green Card Lottery for a chance to become an American citizen. He lands in New York City the day before 9/11 …and the events of the September terrorist attacks forever shape the struggles he faces on his journey to capture the American dream. Inspired by true events, filmmaker Sam Kadi's feature debut is a gripping tale of courage, love, and perseverance, the qualities of a true CITIZEN.
My thoughts? I don't know, but I can't help but feel like this film's message will be as subtle as a jackhammer. I might blame it on how the trailer is cut, but also some of the performances are a bit stiff, and that's coming from accomplished actors that you guys might recognize. Not feeling too confident with this one.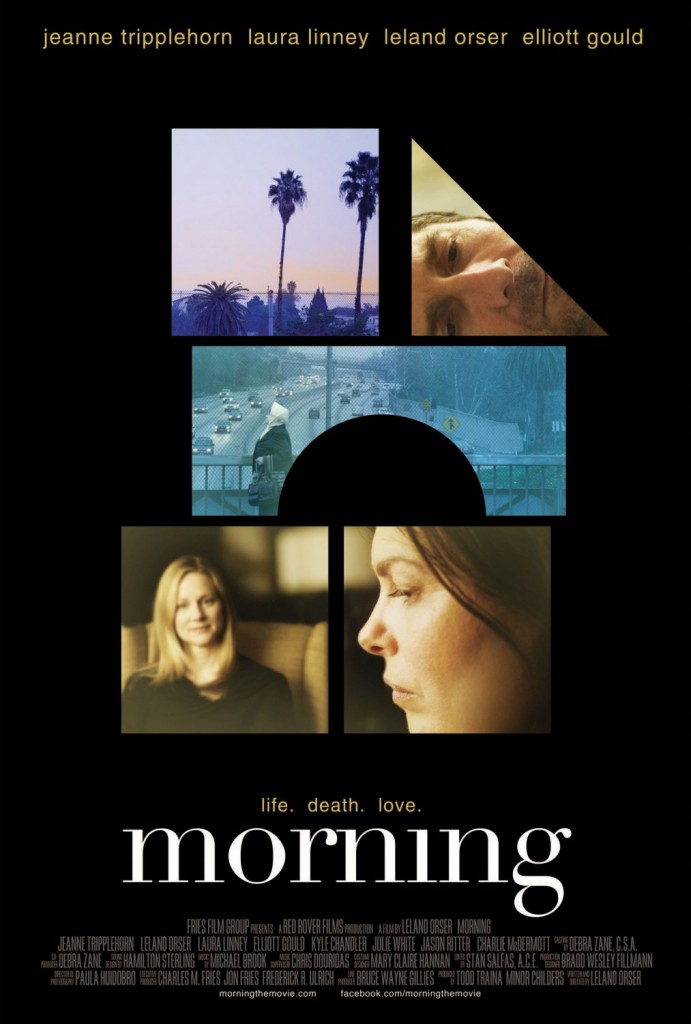 LIMITED RELEASE
What's it about? In his "stunning" (Psychology Today) and "powerful" (San Francisco Chronicle) feature debut as writer/director, actor Leland Orser ("ER," 'Taken') and Jeanne Tripplehorn ("Big Love," "Criminal Minds") star as a married couple reeling from the tragic death of their only child. For each of them, grief becomes a private torment that threatens to destroy their world. Driven apart by sorrow, they try to find their way back to each other and the chance to love again. Laura Linney ("The Big C," John Adams), Elliott Gould ('Contagion', "Ray Donovan"), Kyle Chandler ("Friday Night Lights," 'Argo', 'Zero Dark Thirty') and Jason Ritter ("Parenthood") co-star in this devastating but ultimately hopeful look at heartbreak, healing and the strength of the human spirit to defy darkness and embrace the light of 'MORNING'.
My thoughts? Great set of actors, this trailer has some nice imagery but I can sense the lost attempt to try to sell it. The film's tone might be a bit hard to nail down in a two minute format, but if it works, this could be a interesting and intimate film about grief done in a unique perspective.
LIMITED RELEASE
What's it about? In 'The Secret Lives of Dorks,' Payton (Gaelan Connell) is a pathetic dork, a comic book geek whose high school career is one hopeless faux pas after another. Yet he's a dreamer and madly in love with the head cheerleader Carrie (Riley Voelkel), who he is determined to win over. But she is wise to his desperate advances, so to get off his radar she creates a plan to push him into the arms of a dorkette at the school, Samantha (Vanessa Marano).
In this high school equation: Peyton wants Carrie; Carrie wants Peyton to instead hook up with Samantha; Samantha wants Peyton. But even the simplest formula can equal disaster when a cheerleader tries to play matchmaker to a dork and a dorkette. After a chance encounter with Carrie's football player boyfriend Clark (Beau Mirchoff), Payton is brought into their social circle and doesn't really care about their motives; he's just happy to be near Carrie. She tries to improve his social skills in order to ask Samantha out and her plan just might work, but this is Payton we're talking about.
With adult wisdom imparted by the likes of Payton's dad (Jim Belushi), his teacher (Jennifer Tilly), and NFL Hall of Famer Mike Ditka, who offers his own brand of "Ditka On…" self-help lessons, Payton's life shifts into high gear from lonely misery to utter disaster.
My thoughts? It's like they found a teen script from the late '80s early '90s, changed the original title "The Secret Lives of Nerds" to "The Secret Lives of Dorks" , and did some VERY VERY minor changes to the rest of the script (you know, add cell phones and such.) It's this attempt to be cartoonishly broad and raunchy…and it's straight up not funny. Interestingly enought, I've seen the lead Gaelan Connell (who got this early Shia LaBeouf thing going on with him.) in another teen flick called Bandslam,  a movie I surprisingly though was enjoyable and I liked him in it. This film on the other hand? A big attempt at trying to hard to be funny. Not just him mind you, EVERYONE in this thing.
LIMITED RELEASE
What's it about? At night, an isolated house deep in the countryside takes on a monstrous life of its own.
Objects and furniture run riot against the inhabitants, leaving 11-year-old Neve the only survivor of a bloody massacre that destroys the bodies of her parents and culminates in the death of her little brother, Ciaran.
Suspecting a gang of homicidal vandals, the police ignore Neve when she tries to tell them about the murderous rage of the house. She is taken in by friends of her parents who, with the help of a local social worker, try to ease her trauma by surrounding her with love and rebuilding the semblance of a normal life. But Neve doesn't find peace. Far from it…
All around her, signs of danger continue to manifest, and her surroundings remain imbued with a lurking violence that soon unleashes itself again, erupting into further slaughter and claiming more victims.
My thoughts? Wasn't sure about this one for most of the trailer, but some really cool and fun horror movie imagery started making it's way in the second half. Overall feeling a bit cold about it, but there are some pretty intense looking sequences in this.
LIMITED RELEASE
What's it about? Abandoned at the altar, Jason's (Brian Tee) family quickly introduces him to other eager brides in waiting but to their horror, he rejects them all. The clock is literally ticking on Jason's life as his 30th birthday is fast approaching, bringing along an old family curse. On a business trip to Korea, Jason meets the girl of his dreams, Na Young (Kang Hye-jung). They embark on a cyber love affair fueled by imagination and video chats. Jason proposes and his family is beyond delighted. However when Na Young arrives in Los Angeles with a surprising revelation, Jason has hesitations and his wacky family goes overboard causing a roller coaster of ups-and-downs at every turn in this modern romance. Jason will have to bridge the gap between family expectations and being true to himself to find his true love.
My thoughts? Huh….remember that trailer I talked about last week called Jewtopia? I'm getting a slight deja vu thing going on here because this film has a similar problem. It comes off as My Big Fat Greek Wedding but with Koreans, THEN,it's apparently about a marriage curse until all of a sudden it's about a man who realizes he's marrying a tiny person! Come on guys, PICK ONE MOVIE and then MAKE THAT MOVIE! Try to focus for crying out loud.The directing in this thing looks nauseating and the cinematography is blown way out of proportion for my taste.
LIMITED RELEASE
What's it about? Directed by Oscar-nominated James Franco from a screenplay by James Franco and Matt Rager, 'As I Lay Dying' is adapted from the 1930 classic American novel by William Faulkner. The story chronicles the Bundren family as they traverse the Mississippi countryside to bring the body of their deceased mother Addie to her hometown for burial. Addie's husband Anse and their children, Cash, Darl, Jewel, Dewey Dell, and the youngest one Vardaman, leave the farm on a carriage with her coffin – each affected by Addie's death in a profound and different way. Their road trip to Jefferson, some forty miles away, is disrupted by every antagonistic force of nature or man: flooded rivers, injury and accident, a raging barn fire, and not least of all — each individual character's personal turmoil and inner commotion which at times threaten the fabric of the family more than any outside force.
http://youtu.be/mOJ2Av-ICZA
My thoughts? William Faulkner's book is one of those novels I've been meaning to reread. I attempted to read it at the age of  12 (back when I was a voracious reader) but the book was lost on me. As the years go by, my interest in the book grew. I do love the narrative hook of making each chapter be a POV on each different character. It's a great idea, and a brilliant way to explore the different characters in the book. I always thought it would be a tricky book to adapt into a film, but I'm not James Franco, and if I learn anything about that guy in the last few years, he'll try anything out. It's a real trip to see Danny McBride in this film, and while I don't remember the book all that much, I got a feeling the film might take it's own path on how to portray the material. Hopefully Franco made a good film while he was experimenting.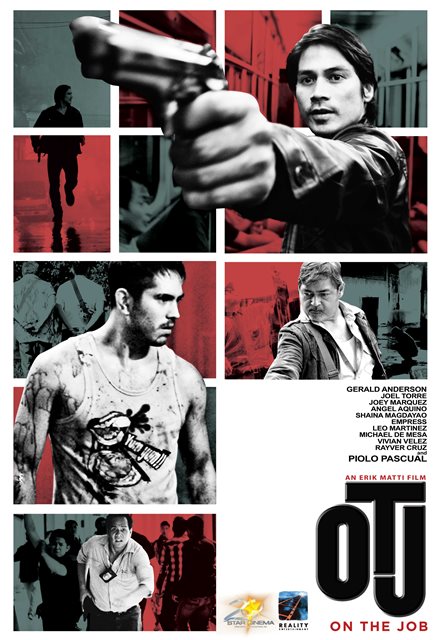 LIMITED RELEASE
What's it about? The cycle of life and death and scheming at its highest level are on full display in 'On the Job', a gritty crime thriller that delves deep into the inner-workings of the ingenious hitmen, honest cops, ambitious federal agents, and shady government officials. The film is based on the true scandal that rocked the Philippines where prison inmates were contracted by high-level politicians to temporarily leave jail and conduct a series of assassinations before returning to incarceration.
My thoughts? Truth be told, Filipino Cinema has been very quiet in the international market. As a Filipino, it always made me wonder why that was. How come the Philippines hasn't made a film that has potential to be viewed outside of the country?  That's why I'm excited for On the Job. This is one of the few times I can think of in which a Filipino movie was picked up for American Distribution AND it's getting a decent push in the marketing (well…as decent a push as a foreign film will get.) That to me means that OTJ is quiet special. Taking cues from Hong Kong cinema (I see a lot of being influenced by director Johnnie To) this looks to be a bad ass crime thriller.  One of the elements I'm most intrigued by is the character that actor Joel Torre seems to be playing. He's the older gentlemen in the trailer, and he looks badass. Actually, if you have time, check out the original proof of concept short film that they made that gives you an idea on how Torre's character will be like. I really loved the proof of concept film, as it showcases some great character work and gives you the tone of  the film very clearly. (Click here to see the proof of concept.)
Whats it about? Award-winning filmmaker Nimród Antal (Predators, Kontroll) creates a groundbreaking 3D motion picture event, 'Metallica Through the Never'. The music-driven feature film combines a bold narrative and spectacular live-performance footage of one of the most popular and influential rock bands in history to produce a bracing, raw and visceral cinematic experience. Emerging young star Dane DeHaan ('The Place Beyond the Pines', 'Kill Your Darlings', 'The Amazing Spider-Man 2') portrays Trip, a young roadie sent on an urgent mission during Metallica's roaring live set in front of a sold-out arena.
My thoughts? I'm not even a big Metallica fan but this flick seems kind of crazy cool. Director Nimrod Antal is great at being both cinematic and gritty and this film feels like a good use of his particular filmmaking style.  Dane DeHaan was great in Chronicle, and he seems like the perfect lead for this kind of rock/movie experience. Hell, I'm even willing to check it out on IMAX 3D.
What's it about? 'Cloudy with a Chance of Meatballs 2' picks up where Sony Pictures Animation's mouth-watering comedy left off. Inventor Flint Lockwood thought he saved the world when he destroyed his most infamous invention — a machine that turned water into food causing cheeseburger rain and spaghetti tornadoes. But Flint soon learns that his invention survived and is now creating food-animals – "foodimals!" Flint and his friends embark on a dangerously delicious mission to battle hungry tacodiles, shrimpanzees, hippotatomuses, cheespiders and other foodimals to save the world – again!
My thoughts? The first Cloudy with a Chance of Meatballs really surprised me. To see the book turn into what that film was, I wasn't sure. It was such a simple and delightful book, to create a strange over blown narrative seemed so typical of Hollywood. Thankfully when I finally saw it, the flick charmed the pants off me and I was laughing my ass off and enjoyed the movie. This new one seems really cute, and while I don't judge it harshly anymore, I'm not really going to go out of my way to see it this weekend. But, hey, any film filled with this much punnery deserves to be seen at least once.
UPDATED 9/27/2013! I SOMEHOW FORGOT TO INCLUDE THIS MOVIE!!!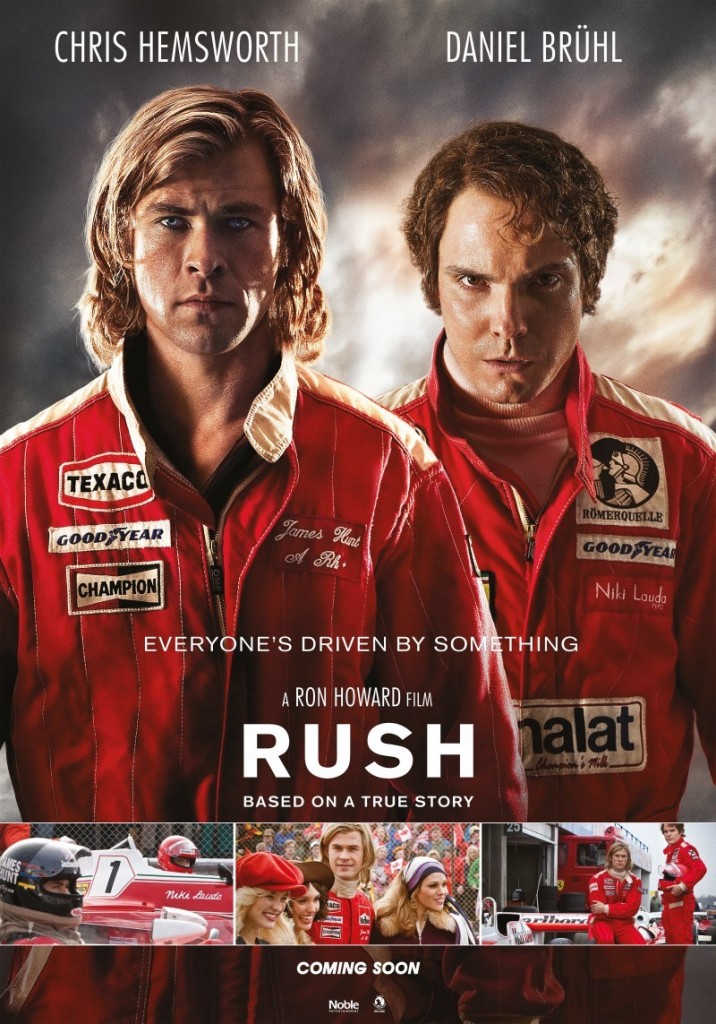 What's it about? Chris Hemsworth and Daniel Bruhl star as legendary Formula One drivers James Hunt and Niki Lauda respectively in this biographical drama set during the 1970s, at the peak of their heated rivalry. Both on the track and off, Hunt (Hemsworth) and Lauda (Bruhl) couldn't have been more different. Yet as much as Englishman Hunt's showy public persona clashed with Lauda's reputation for tightly-controlled perfectionism, both men remained bound together by one undeniable fact — they were both among the best drivers ever to grace the racetrack. When a horrific crash during the 1976 Grand Prix at the Nürburgring nearly claims Lauda's life, however, a grudging respect begins to develop between the two racers as Hunt realizes just how devoted his greatest adversary is to the sport they both love. Olivia Wilde and Alexandra Maria Lara co-star in a film directed by Academy Award-winner Ron Howard, and penned by Peter Morgan (Frost/Nixon, Hereafter).
My thoughts? In my opinion, Ron Howard is one of the great hit or misses directors. When he works, he's directs some wonderful studio films (Apollo 13 and Parenthood for example). When he misses, he makes films that I generally dislike (The Grinch and the film adaptations of Dan Brown books.) The reviews on this film seem like that he might have a hit here. The story of James Hunt and Niki Lauda is very interesting, and if the film succeeded in telling the story about two egotistical assholes and make it compelling,then that's one fascinating film to see. The film is scripted by Peter Morgan who wrote the script to the movie The Queen, which was nominated for an Oscar for best screenplay, and  the really excellent Frost/Nixon which was also directed by Ron Howard. Howard  has the luxury of casting two very compelling leading men. Chris Hemsworth continues to show off his on screen charisma and charm, and Daniel Bruhl  who was very good in Inglorious Basterds.  Plenty of parts hear to make a solid movie, hope it all comes together.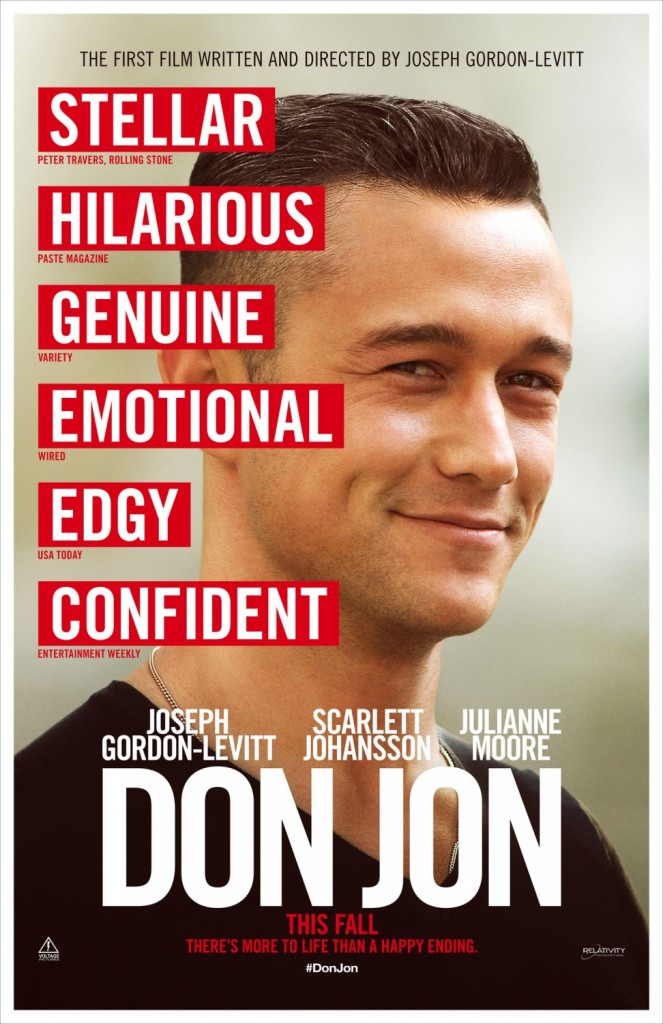 What's it about? Jon Martello (Joseph Gordon-Levitt) is a strong, handsome, good old fashioned guy. His buddies call him Don Jon due to his ability to "pull" a different woman every weekend, but even the finest fling doesn't compare to the bliss he finds alone in front of the computer watching pornography. Barbara Sugarman (Scarlett Johansson) is a bright, beautiful, good old fashioned girl. Raised on romantic Hollywood movies, she's determined to find her Prince Charming and ride off into the sunset. Wrestling with good old fashioned expectations of the opposite sex, Jon and Barbara struggle against a media culture full of false fantasies to try and find true intimacy in this unexpected comedy written and directed by Joseph Gordon-Levitt.
My thoughts? The Joe Gordon-Levitt train keeps on going, but will his fanbase follow him see a movie about a porn addicted, macho, assholey dude? I think so, mostly to see him branch out even further. He's been directed by some…shall we say…VERY talented directors (Chris Nolan, Rian Johnson, STEVEN SPIELBERG..etc) and he's the kind of dude who observes his craft. Also, you gotta love that he cast Tony Danza (hey, I grew up watching Taxi and Who's the Boss. I'm happy to see the guy.) This film looks like a blast, with some great bits of comedy and a taste of some sharp and cool visuals, I can't wait to see how this one turns out.
So, how do you wanna start the fall season? JGL fight his love life and Porn addiction? Being chased by a giant taco? Checking out a crazed out Wedding?  Let us know in the comments below!