After the excitement of Captain America: The Winter Soldier, it seems like some film goers would probably want to see that flick again instead of seeing something new this weekend.
Fair enough, but if you want to clean your pallet first before you get  a second dose of the old Captain, there seems to be a bevy of really good looking movies, including one that stars a fellow most famous of fighting Cap and Thor himself.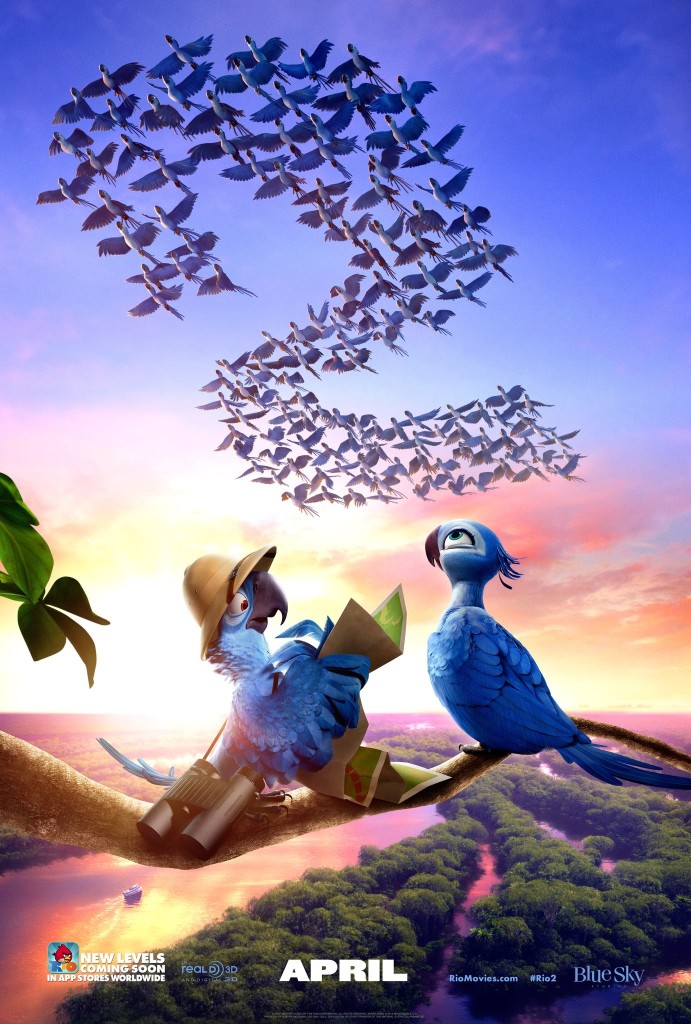 What's it about? It's a jungle out there for Blu, Jewel and their three kids in 'Rio 2' after they're hurtled from that magical city to the wilds of the Amazon. As Blu tries to fit in, he goes beak-to-beak with the vengeful Nigel, and meets the most fearsome adversary of all — his father-in-law.
My thoughts? Never saw the first one, but this looks pretty cute and enjoyable. I'm sure it will make a ton of money.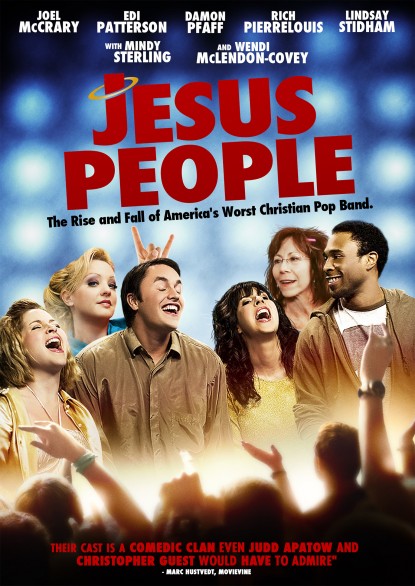 What's it about? In the vein of great comedic mockumentaries like 'Waiting for Guffman' and 'Best in Show,' comes 'Jesus People,' based on the hilarious and popular Independent Comedy Network web series. The story charts the rise and fall of America's worst Christian pop band, Cross My Heart. When Pastor Jerry (Joel McCrary) gets possibly awful medical news he is determined to reach his rebellious teen son while he still can. He finds four young musicians with varying levels of talent and their first single "Save The World" takes off on multiple (and some unexpected) radio formats just as the band starts to unravel.
My thoughts? Mockumentaries are hard. It's the balance of trying to make it feel like it's set in both a real and a comedic world that very few filmmakers can really deliver. Jesus People seems like they are doing their best, but the fact is a trailer for  comedy has to do the simplest thing for me…it has to make me laugh. Sadly it didn't. Maybe you did, and if so do seek it out!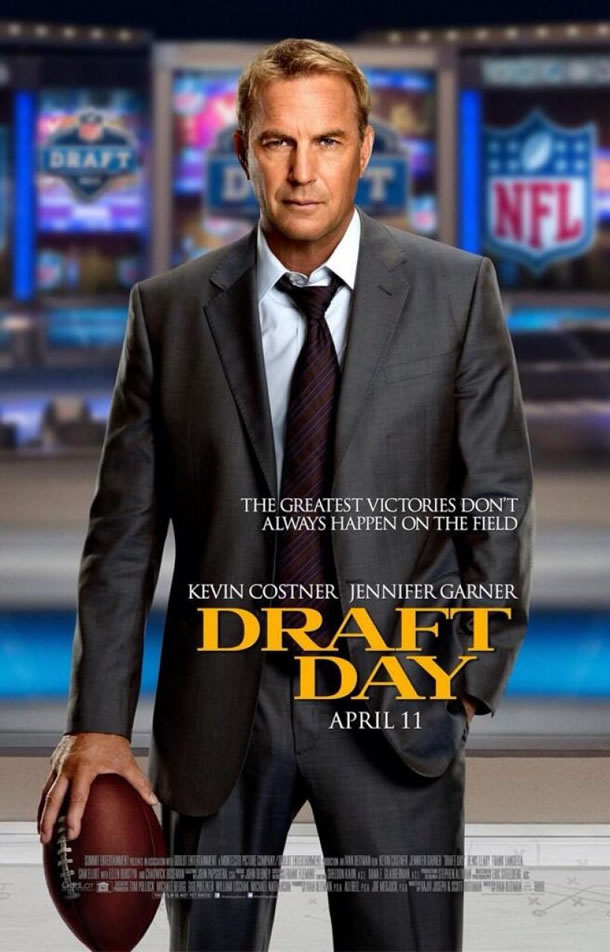 What's it about? On the day of the NFL Draft, general manager Sonny Weaver (Kevin Costner) has the opportunity to save football in Cleveland when he trades for the number one pick. He must quickly decide what he's willing to sacrifice in pursuit of perfection as the lines between his personal and professional life become blurred on a life-changing day for a few hundred young men with dreams of playing in the NFL.
My thoughts? Nerd moment first: Kevin Costner played Pa Kent in Man of Steel, and I just saw that Tom Welling (of Smallville fame of course) is in this as well. Costner shares a scene with another Clark Kent. Funny. Ok, lets move on. Ivan Reitman hasn't directed a good movie in…a long time. Kevin Costner hasn't been a lead in a good movie in….a long time. Yet somehow, this one seems like a good fit for both of them. This seems like a great use of Costner, and if Ivan can make this movie feel exciting with just a couple of guys  talking in a room, that would be quiet an accomplishment. I hope this to be a pleasant surprise for both of them.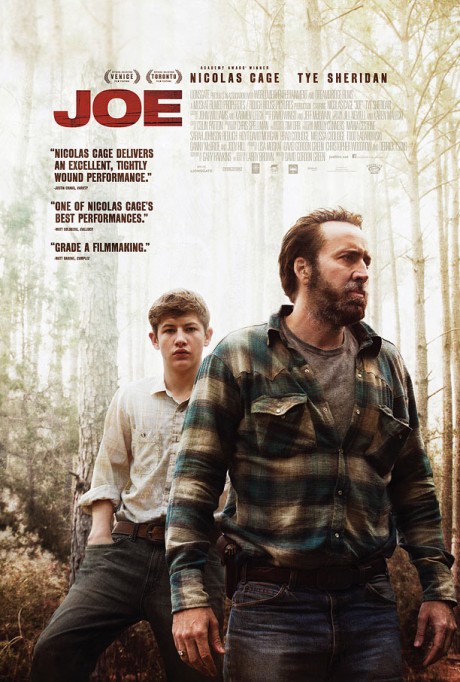 What's it about? A gripping mix of friendship, violence and redemption erupts in the contemporary South in this adaptation of Larry Brown's novel, celebrated at once for its grit and its deeply moving core. Directed by David Gordon Green, the film brings Academy Award winner Nicolas Cage back to his indie roots in the title role as the hard-living, hot-tempered, ex-con Joe Ransom, who is just trying to dodge his instincts for trouble – until he meets a hard-luck kid played by Tye Sheridan who awakens in him a fierce and tender-hearted protector.
My thoughts? Can David Gordon Green help Nic Cage? I hope so. When Nic isn't going on autopilot for a paycheck movie he is one of the most interesting actors on film, making big choices that are, if nothing else, daring. I hope to see this and see a Nic Cage who gives a damn again, and from the trailer, I see elements of that performer still there.
What's it about? Based on the remarkable bestselling autobiography, 'The Railway Man' tells the extraordinary and epic true story of Eric Lomax (Colin Firth), a British Army officer who is tormented as a prisoner of war at a Japanese labor camp during World War II. Decades later, Lomax and his beautiful love interest Patti (Nicole Kidman) discover that the Japanese interpreter responsible for much of his treatment is still alive and set out to confront him, and his haunting past, in this powerful and inspiring tale of heroism, humanity and the redeeming power of love.
My thoughts? Digging the premise, and Colin Firth looks to be in top form here. Got me intrigue to say the least.
What's it about? 1987: 13-year-old Bruce Garrett, a natural born salsa dancer with fire in his heels and the world at his feet, is perfectly poised to clinch the title at the UK Junior Salsa Championships. But then… a freakish bullying incident on the mean streets of London robs him of his sequins and his confidence, and our young hero finds his life diverted down a very different path.
So it is that 25 years later, an adult Bruce Garrett (Nick Frost), finds himself out-of-shape, unloved and emotionally inert – trapped in a downward spiral of self pity. It takes Julia (Rashida Jones), his smart, funny, gorgeous new American boss, to force him to confront the demons of his past and re-examine his passionless existence. Bruce fears it's an impossible challenge – she's way out of his league ("She's a 10, I'm a 2!") and long held self doubts prove tricky to shed. Luckily for him, Julia also has a secret passion… salsa dancing. Maybe, just maybe, this is his way in…
But life is never that easy for Bruce. First he's got to get past Drew (Chris O'Dowd), the oversexed alphamale of the office and Bruce's tirelessly taunting team manager. With Drew making no secret of his desire to make Julia his latest conquest, Bruce is forced into action and brought face-to-face with his darkest and most powerful inner demons.
Somehow, with a lot of handholding from loyal sister Sam (Olivia Colman), his old mentor Ron (Ian McShane) and crazy new amateur salsa pal Bejan (Kayvan Novak) Bruce must learn to unshackle his dancing beast, regain his long lost fury and claim the love of his life… and he's got to do it all On The Dance Floor…
My thoughts? Nick Frost tries to whoo Rashida Jones with salsa dancing? And Chris O'Dowd is his rival? Sold. Just sold.
What's it about? Johanna Parry (Kristen Wiig) is a profoundly shy, unadorned woman who is hired by Mr. McCauley (Nick Nolte) as a housekeeper and a primary caregiver to his granddaughter Sabitha (Hailee Steinfeld). Despite her outgoing nature, Sabitha carries wounds from the death of her mother years before, complicated by the circumstances of that death for which her grandfather still blames her father, Ken (Guy Pearce), a hapless recovering drug addict with a certain ragged charm. In an act of mean-spirited rebellion, Sabitha uses technology to foster a pseudo-relationship between Johanna and her father, never dreaming of the potential harm to either party. Sabitha doesn't understand that Johanna is not a demure cut-out, but rather a woman for whom the phrase "still waters run deep" could have been coined. The young girl's interference provokes Johanna to indulge in something long missing from her life: the dream of a future and a home of her own.
My thoughts? What I dig about Kristen Wiig's film choices post SNL is that she doesn't feel the need to be in a ton comedies. I'm sure she got plenty of offers to be in them, but she has chosen to be in some more interesting, smaller films. Funny enough, one of her best skills on SNL is her ability to create characters, and this film seems to use that skill to it's advantage. This is a smaller and subtle character then the ones from her SNL days, but it's still a well thought out performance that feels different from what she has done before.
What's it about? Ten years ago, tragedy struck the Russell family, leaving the lives of teenage siblings Tim and Kaylie forever changed when Tim was convicted of the brutal murder of their parents. Now in his 20's, Tim is newly released from protective custody and only wants to move on with his life; but Kaylie, still haunted by that fateful night, is convinced her parents' deaths were caused by something else altogether: a malevolent supernatural force- unleashed through the Lasser Glass, an antique mirror in their childhood home. Determined to prove Tim's innocence, Kaylie tracks down the mirror, only to learn similar deaths have befallen previous owners over the past century. With the mysterious entity now back in their hands, Tim and Kaylie soon find their hold on reality shattered by terrifying hallucinations, and realize, too late, that their childhood nightmare is beginning again…
My thoughts? I've seen a TON of horror trailers, especially when I started doing Looking Ahead. After a while, I feel like most folks who try to make a horror film, just fall on the same tropes. It gets tiring, and I almost never look forward to seeing one of these trailers. THIS one, on the other hand, seems to be working on me. It seems like a fresh take on the Haunted House movie. I like the idea of our main characters trying to make sense of their troubled past. There's something kinda cool about doing a back and forth in the narrative from the past and present, and seeing our leads try different gadgets to prove that the supernatural spirit that killed their parents is true.  It also looks to be really well shot, and a nice use of Karen Gillan in her first major American  film role (and her American accent is pretty convincing!) Hopefully the reviews for this one are good, as I would hate to find out my gut feeling on this one was wrong.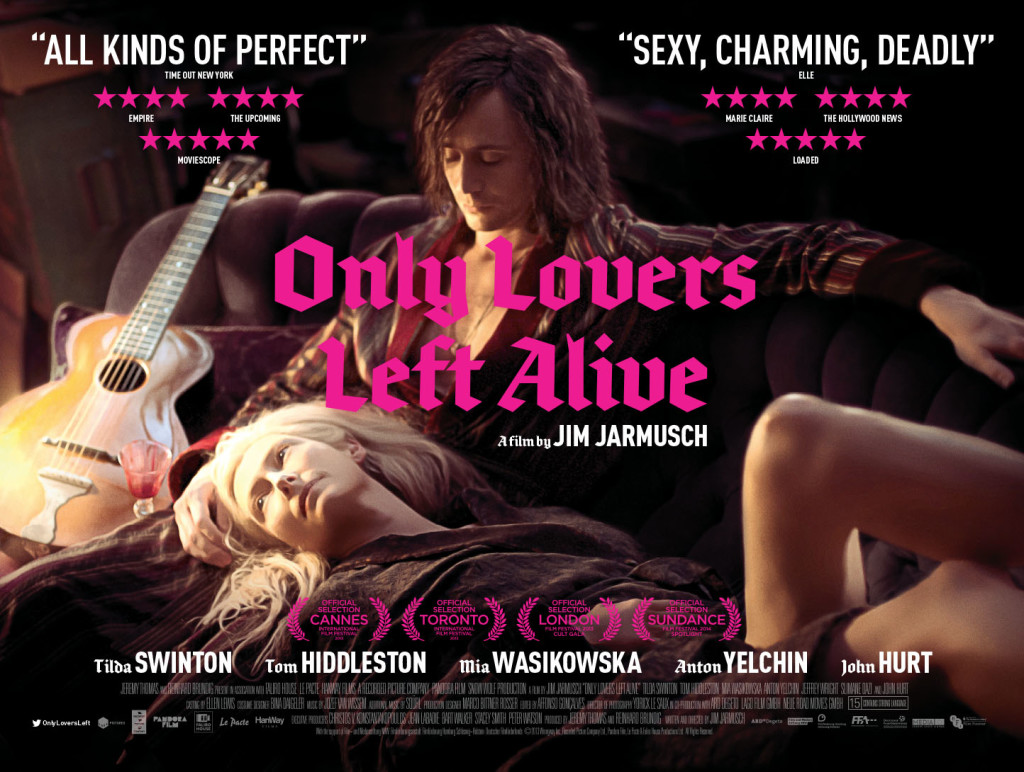 What's it about? Noted indie director Jim Jarmusch directs the vampire story Only Lovers Left Alive. Tom Hiddleston stars as Adam, a bloodsucker who makes a living as a reclusive musician. He reunites with the love of his life, Eve (Tilda Swinton) a fellow vampire who leaves her home overseas to be with him in the downtrodden Motor City. They eventually get a visit from Eve's irresponsible sister (Mia Wasikowska) who irritates Adam and eventually causes trouble with the one human – the vampires refer to the living as zombies — with whom the depressed music hero gets along. Only Lovers Left Alive screened at the 2013 Toronto International Film Festival.
My thoughts? Ok folks on tumblr, here we go….It's Tom Hiddleston playing a rock star vampire……go ahead….be excited. You all calm down now? Good. Just when I think I'm over Vampires-in-anything, writer/director Jim Jarmusch comes in and got me in interested in seeing another movie about blood suckers. For me, it's all about the cast. Tilda Swinton, Tom Hiddleston, and Mia Wasikoska are some of my favorites and they seems to be having a great time with their roles in this. There's a tone in this that feels unique, and Jarmusch is such an interesting director that I just know he's got a take on Vampires that will feel fresh.
So yeah, plenty of interesting films to see this week. Which one got your attention the most? Comment below and let us know!