Sorry about the lateness on this weeks LOOKING AHEAD!
A weekend filled with WonderCon and family time for Easter didn't give much time for me to recover and write this weeks Looking Ahead for Monday! But I'm here now, and ready to show you guys what's new for movies this Friday.
What's it about? A university student (Sam Claflin of 'The Hunger Games: Catching Fire') and some classmates are recruited to carry out a private experiment — to create a poltergeist. Their subject: an alluring, but dangerously disturbed young woman (Olivia Cooke of Bates Motel). Their quest: to explore the dark energy that her damaged psyche might manifest. As the experiment unravels along with their sanity, the rogue PHD students are soon confronted with a terrifying reality: they have triggered an unspeakable force with a power beyond all explanation.
My thoughts? Hammer films has been doing their best to be a big name in horror again, but I personally feel like they haven't quiet gotten there yet. This does seem to be a nice bit of Hammer Style scares, and I dig how much fun Jared Harris seems to be having playing the role of the professor in a Peter Cushing kind of way (in a role that would have totally been played by Peter Cushing.)
What's it about? After discovering her boyfriend is married, a woman (Cameron Diaz) tries to get her ruined life back on track. But when she accidentally meets the wife he's been cheating on (Leslie Mann), she realizes they have much in common, and her sworn enemy becomes her greatest friend. When yet another affair is discovered (Kate Upton), all three women team up to plot mutual revenge on their cheating, lying, three-timing SOB.
My thoughts? It seems like Cameron Diaz and Leslie Mann have some really good chemistry in this one, but other wise I'm personally not feeling this flick.
What's it about? Ivan Locke (Tom Hardy) has worked diligently to craft the life he has envisioned, dedicating himself to the job that he loves and the family he adores. On the eve of the biggest challenge of his career, Ivan receives a phone call that sets in motion a series of events that will unravel his family, job, and soul. All taking place over the course of one absolutely riveting car ride, 'Locke' is an exploration of how one decision can lead to the complete collapse of a life.
My thoughts? A unique set up for a film, along with another compelling performance from Tom Hardy, makes this something to pay attention to. Funny enough, the idea of this movie reminds me of how much this movie is a dramatic version of the Paul Walker thriller Vehicle 19 (if…anyone remembers me even talking about that movie.)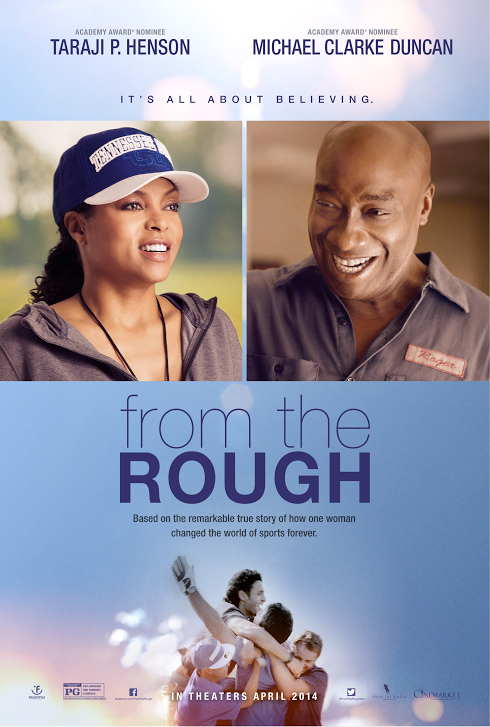 What's it about? 'From the Rough,' starring Academy Award nominees Taraji P. Henson and Michael Clarke Duncan and Tom Felton, is the inspirational true story of Catana Starks from historically black university Tennessee State, who became the first African-American woman ever to coach an all-men's team at the collegiate level. Through grit and determination, she overcame incredible odds and deep-seated prejudice from all corners to guide a rag-tag group of golfers to an all-time record championship season.
My thoughts? A solid cast (including the sadly passed away Michael Clarke Duncan) could make this pretty standard feel good sports film watchable, but lets not lie, if you saw one of these kinds of films, you already know how it ends.
What's it about? 'Blue Ruin' is a classic American revenge story that recently won the FIPRESCI International Critics Prize at the Cannes Film Festival where it screened in the Directors' Fortnight. The film follows a mysterious outsider whose quiet life is turned upside down when he returns to his childhood home to carry out an act of vengeance. Proving himself an amateur assassin, he winds up in a brutal fight to protect his estranged family.
My thoughts? I've been reading some really good reviews on this film, and the idea of a person out for revenge but is not a bad ass action hero makes it really interesting to me.
What's it about?With an impoverished world plunged into a Cold War with a new enemy, Britain's Ministry of Defense is on the brink of developing a game-changing weapon. Lead scientist Vincent McCarthy (Toby Stephens)provides the answer with his creation, 'The Machine'- an android with unrivalled physical and processing skills. When a programming glitch causes an early prototype to destroy his lab, McCarthy enlists artificial intelligence expert Ava (Caity Lotz) to help him harness the full potential of a truly conscious fighting machine.e full potential of a truly conscious fighting machine.
My thoughts?  Tons and tons and tons of great visuals. This movie looks slick as hell, I just hope there's a solid script that holds the whole movie together.
What's it about? In a dystopian Detroit, abandoned brick mansions left from better times now house only the most dangerous criminals. Unable to control the crime, the police constructed a colossal containment wall around this area to protect the rest of the city. For undercover cop Damien Collier (Paul Walker) every day is a battle against corruption. For Lino (David Belle), every day is a fight to live an honest life. Their paths never should have crossed, but when drug kingpin, Tremaine (RZA) kidnaps Lino's girlfriend, Damien reluctantly accepts the help of the fearless ex-convict, and together they must stop a sinister plot to devastate the entire city.
My thoughts? Remember when parkour was a big deal? Back then, it was a fresh, and very cinematic form of performance/martial arts that seemed ripe to be used in a movie. Problem is, there have been no good movies that used Parkour as it's main focus. The closest one that was even watchable was the French action flick District B13…..
Brick Mansions, if you didn't already figure it out, is a remake of District B13. I don't know what weirds me out the most; the fact that District B13 actually came out TEN YEARS AGO or the fact that Luc Besson (who wrote and produced the first flick) wanted to remake it.
I personally dug District B13, even thought it was extremely light fair. At a brisk 84 mins, the movie was nothing more than an excuse to do action and stunts wrapped around a plot that pretty much ripped off Escape from New York. Wasn't the greatest of flicks, but it was fun for what it was.
There is plenty to do to make Brick Mansions better then District B13. One, while the originals films Undercover Cop Damien was played by the talented stunt man Cyrill Raffaeli, he wasn't really the best of actors. Paul Walker is a bit of a step up from Cyrill, but Paul is not a martial artist at all, so those action scenes are going to look awkward as hell.
I'm glad to see David Belle return at least, and he is still capable of moving with the same kind of grace and agility that he did back in 2004.
The original flick's bad guy was quiet unmemorable, and if there is a place that they could make  a vast improvement it's there. While I'm starting to get tired of the RZA showing up in martial art movies, he's at least got  a better presence the last guy.
I don't know how much better or worse this remake will be, but I'm kinda  curious to see this new one, if only for the fun exercise of comparing the two movies.
So, it's a bit of a light week, so what films got your guys attention? Let us know in the comment below!