Alright, lets just cut to the chase. If you are single, don't be offended that I'm talking directly to the people who are in a relationship. It's cool! I know that some of them look at this column to see what's coming out this Friday, and that a certain "HOLIDAY THAT WILL NOT BE NAMED BECAUSE IT BOTHERS SOME SINGLE PEOPLE" is this Friday.  So, with out any ill will, lets just all look at what new movies are coming out this week that will be your choices for a date/hang out night.
It's a small amount, and a few obvious choices for the date night. BUT, I couldn't help but notice one thing.
Three of the films that are coming out (all the big studio release) are ALL remakes of movies from the '80s.
I actually didn't even realize that till I started writing today's column.
Stew on that for a bit as we get this list started!
What's it about? High school seniors Michael and Matty have been best friends since 3rd grade. Still virgins, they make a pact to help each other "score" before Senior Prom – but their mission suddenly takes an unexpected turn when Matty announces that he's gay.
http://youtu.be/ZtnOug03eL8
My thoughts? Looks mildly entertaining. Though the scene with Nicholas Braun (aka Michael in this flick) looking up "gay" on the internet is ridiculous. Dude…it's 2014! Do you REALLY have to look that up?? I also think Nick Offerman is going to be wasted in this flick. He already did the angry father role in The Kings of Summer, but his character in that film had a lot of layers and nuanced to him. It looks like he's in "typical angry dad" role in this movie.  Also, still not weird to see him with out a beard in the occasional role.
What's it about? Directed by Manuel Carballo, 'The Returned' is set in a post-zombie world where a treatment called the "Return Protein" can stop the spread of the virus if injected quickly after infection, but cannot cure it. With daily injections, the "Returned" are able to live relatively normal lives, but with brutal attacks at the hands of Anti-Return groups and rumors that protein stock is running low, the world is again on the brink of chaos. In the midst of this turmoil are Alex (Kris Holden-Reid) and Kate (Emily Hampshire), a young, successful and enviable couple that are hiding a long held secret – Alex is Returned. Suspicious that a government order for all the Returned to report to a secure medical facility "for their own safety," the couple flees, taking with them all the doses of "Return Protein" they have. Now in a race against the clock and few places to turn, they must face their worst fears and come to grips with the reality that if they are neither human nor zombies, who exactly are the Returned?
My thoughts? This actually looks like a neat twist on the very, very, very, tired zombie genre. It's also pretty damn stylish in terms of the directing. Lots of potential here for this to be a fun ride.
What's it about? 'Adult World' is a satirical comedy about an eccentric young woman, Amy Anderson, (Emma Roberts) who has just come out of university, convinced she's going to be a famous poet. Saddled with debt and unemployed she moves back in with her parents who force her to get a job. Desperate and armed with a poetry degree and not much else she takes the only job she can find, working in an adult bookstore called Adult World.
Meanwhile, desperate to get her poems published, Amy stalks an aging punk poet figure named Rat Billings (John Cusack), "one of the greatest poets of the early 90s." Rat reluctantly agrees to mentor her. As Amy makes new friends, including a drag queen named Rubia, the elderly couple who own Adult World, and Alex, the charming and quirky young manager, she learns that she might not be the voice of her generation after all.
http://youtu.be/HtOsYUL6igc
My thoughts? Ahh…another movie in which the main characters are someone wants to be writer and the teacher that the main character is inspired by. Yes, not exactly an original premise, but the cast is appealing and the humor is pretty strong. I'll consider checking this out at some point.
What's it about? 'Lucky Bastard' is the story of a shy young man who wins a contest to have sex with a famous porn star on an adult website. When the young man arrives at the porno house / set location, his every move is captured on the numerous reality television-style wallcams that are spread out everywhere in the house. It is the found footage from these cameras that tells the story of the inevitable and horrifying reality of what actually happened.<br.
At the center of the story are: Mike (Don McManus), who owns the "Lucky Bastard" website; his top porn star Ashley Saint (Betsy Rue); and Dave G. (Jay Paulson), the unsuspecting shy young man who wins the contest.
The "Lucky Bastard" employees treat their work matter-of-factly. Mike once clearly had more serious artistic ambitions, but now he runs the company and directs all of the "Lucky Bastard" website's content. Ashley, the website's most popular performer, initially refuses to participate because she knows the winner will be humiliated by the experience, but ultimately gives in when offered extra money. And the contest winner, Dave, an unassuming and shy young man, finds himself driven by shame and humiliation into committing the most horrifying acts imaginable.
My thoughts? Ok, so Aaron called me out on my bias against POV/Found Footage horror films. Fine, I'll actually give some thoughts to this one instead of just brushing it off. While the dialogue was pretty cringe inducing (that terrible exposition line about the main character being a former stripper for example), I WILL say that this one seems to be putting some effort into the idea. A house that was converted for reality TV is an easy answer for multiple cameras, BUT at least it's an answer to explain the multiple angles. I'm also intrigued that this got an NC-17. I'm not sure if got it for the violence…or the fact that the movie is about making a gonzo porn. My money is on the latter. Overall, I will give them credit that the premise is at least interesting (concerning this sub genre of horror) and it has potential to be unique with the way they decide to shoot this.
REMAKE ROUND UPS!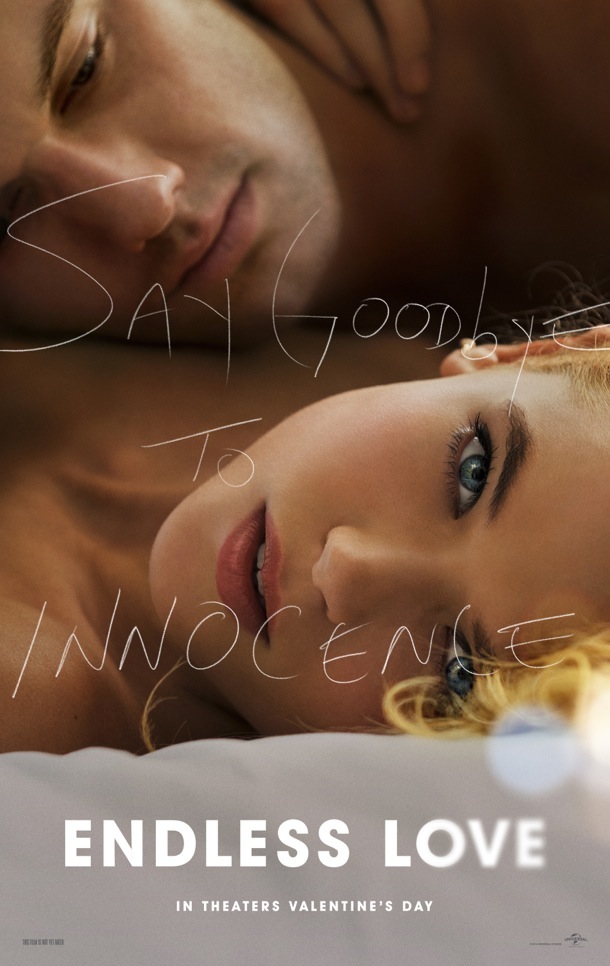 What's it about? 'Endless Love' stars Alex Pettyfer and Gabriella Wilde in the story of a privileged girl and a charismatic boy whose instant desire sparks a love affair made only more reckless by parents trying to keep them apart.
Did I see the original? Nope.
Trailer to the original
My thoughts? Intense melodrama with a lead actor that I'm just not a fan of. Everything kinda looks by the books. A bookish girl who finds love with a cool trouble maker with a heart gold. A father who thinks our main guy is no good for his daughter. Secrets. Oh man the secrets! The flick doesn't really seem like my cup of tea, but maybe it's right for you.
What's it about? A modern reimagining of the classic romantic comedy, this contemporary version closely follows new love for two couples as they journey from the bar to the bedroom and are eventually put to the test in the real world.
Did I see the original? Some parts of it when it was on HBO.
Trailer to the original
My thoughts? The way the synopsis explains this movie, they describe it as if they are adapting a Shakespeare play and modernizing it. The movie's roots comes from a David Mamet play called Sexual Perversity in Chicago, which was made in 1974 (hardly ancient.). THIS movie specifically is a remake of About Last Night, which was made in 1984. (again, not REALLY that old.) This new take has some potential, and if it nails what made the play and the first movie work in the first place, it can exist as a companion piece with those versions of the story. Also Kevin Harts last flick, Ride Along, did SHOCKINGLY well, so this has the chance to give him yet another hit, which would make the beginning of 2014 a really good year to be Kevin Hart.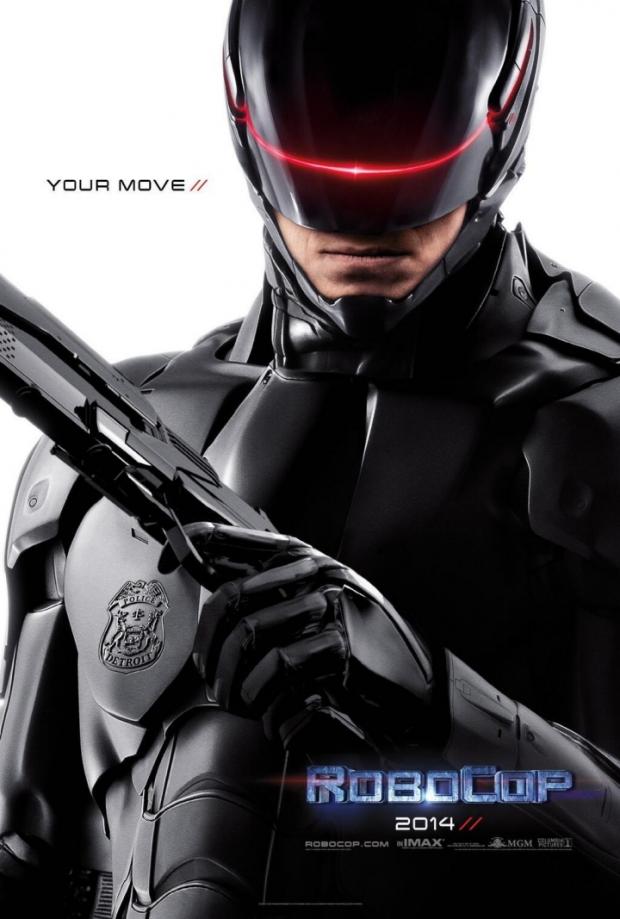 What's it about? In 'RoboCop', the year is 2028 and multinational conglomerate OmniCorp is at the center of robot technology. Overseas, their drones have been used by the military for years – and it's meant billions for OmniCorp's bottom line. Now OmniCorp wants to bring their controversial technology to the home front, and they see a golden opportunity to do it. When Alex Murphy (Joel Kinnaman) – a loving husband, father and good cop doing his best to stem the tide of crime and corruption in Detroit – is critically injured in the line of duty, OmniCorp sees their chance to build a part-man, part-robot police officer. OmniCorp envisions a RoboCop in every city and even more billions for their shareholders, but they never counted on one thing: there is still a man inside the machine pursuing justice.
Did I see the original? Of course I did…DUH. It's awesome.
Trailer to the original
My thoughts? Trust me guys….I'm right there with you. I don't want this movie to exist either. But, it isn't JUST the fact that they made a movie that doesn't need to be remade, it's that it feels like they didn't do anything really all that different with it. Will this film have the biting satire of the original? It seems like it's trying, what with Micheal Keaton's character talking about branding and marketable ways to make Robocop cooler. Will it have the memorable violence? NOPE, it's PG-13. Will it have anything to say about the decaying life of Detroit? Maybe…but I also doubt it.
I honestly feel like, if your going to do Robocop as a remake, there are interesting places to take it, but every trailer I'm seeing doesn't prove to me that I'm getting anything really different from the original film.  It's a shame too, because look at that cast! The previously mentioned Michael Keaton, Sam Jackson, Gary Oldman, Jackie Earle Haley, Michael K. Williams and etc. All great.
I've been hearing for while that director Jose Padilha's cop thrillers, Elite Squad and Elite Squad: The Enemy Within , are GREAT, and it's because of those films alone that some people have faith that this remake could work . I still haven't seen them yet (Elite Squad: The Enemy Within is on my Netflix queue, so I'll try to check it out this week), so here's hoping for the best.  BUT, there isn't any early buzz about the flick either, which is worrisome.
So what about you folks? Does anything here sound good to you? Do you not care if it's a remake and you still wanna see Robocop? Let us know in the comments below!