And like that, the month of January ends  and by looking at what new films will  be coming out this week, it will end with a very loud …."oh."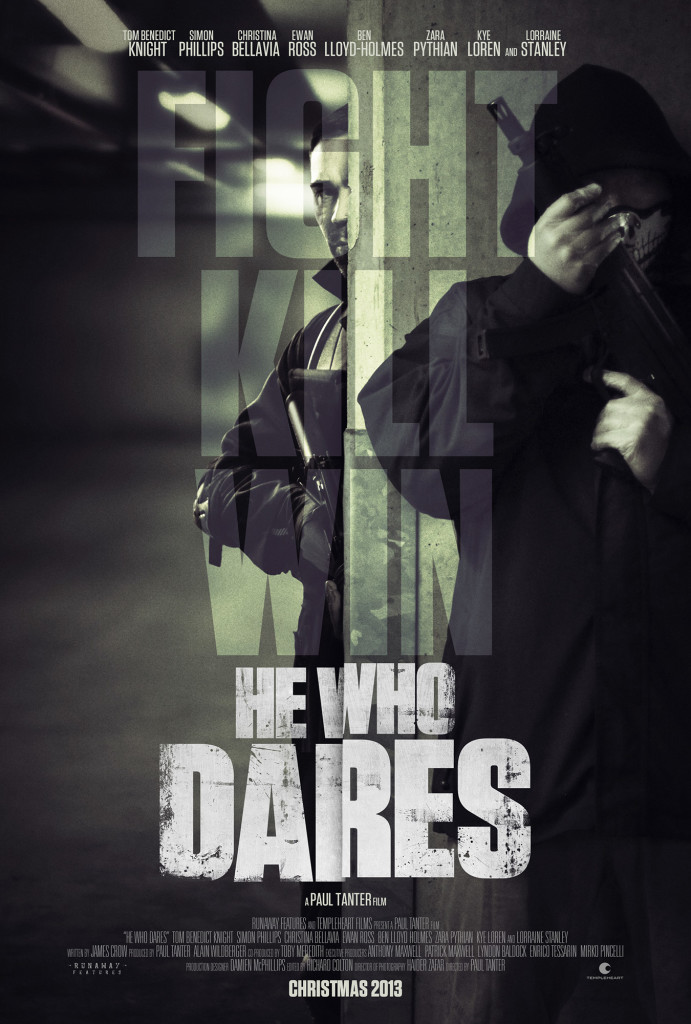 What's it about? On Christmas Eve a group of ruthless masked terrorists kidnap the Prime Minister's daughter, fortifying themselves in an underground car park rigged with explosives. A crack SAS team are sent in and must take the building one level at a time.
My thoughts? It's The Raid meets Die Hard in a slightly ok looking action flick. The fights look decent, and the flick LOOKS like a gritty action film. It also looks really low budget (are ALL the fights in a nearly empty parking lot?)  Could have been worse, but it's certainly not interesting enough for me to really seek it out.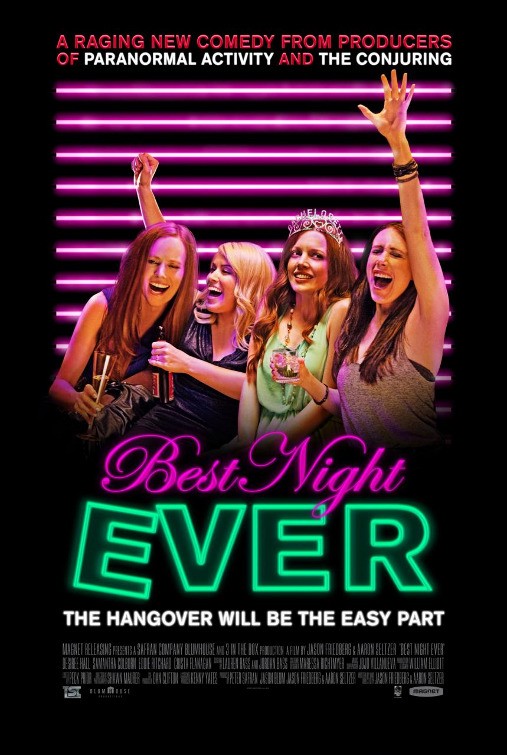 What's it about? Bride-to-be Claire, her sister Leslie, fun-loving Zoe, and quirky new friend Janet set off to Las Vegas for a one-night bachelorette party that turns out to be more than they bargained for. A series of unexpected adventures including, getting kicked out of a strip club, being mugged and getting pummeled by the Las Vegas reigning gelatin-wrestling champion, Veronica, rip them from the glitz and glamor of the Las Vegas strip and places them smack dab in Vegas' seedy underbelly. Determined to keep their bachelorette party dreams alive, the girls band together and embark on the wildest night in bachelorette party history. Fueled by sex and booze, this raunchy, riotously hilarious, out-of-control, blow-out is, for better or worse, all caught on tape. And is destined to go down as the Best Night Ever.
My thoughts? The POV movie attacks again, this time as a raunchy comedy. The big "hell no" about this movie is that it's directed by the no talent hacks who directed Epic Movie, Disaster Movie, The Starving Games, Vampires Suck and many other films that are waste of spaces. The ONLY thing I will give them some credit for with this one? It's not a spoof movie like all their other films. Yeah, I see them doing riffs on Spring Breakers and The Hangover, but at least it's not a recreation scene that turns into a poop joke. Now… I'm not saying it looks funny, I'm not, but at least its an attempt to make something that's more like it's it own thing. Will I see this then? Oh heavens no.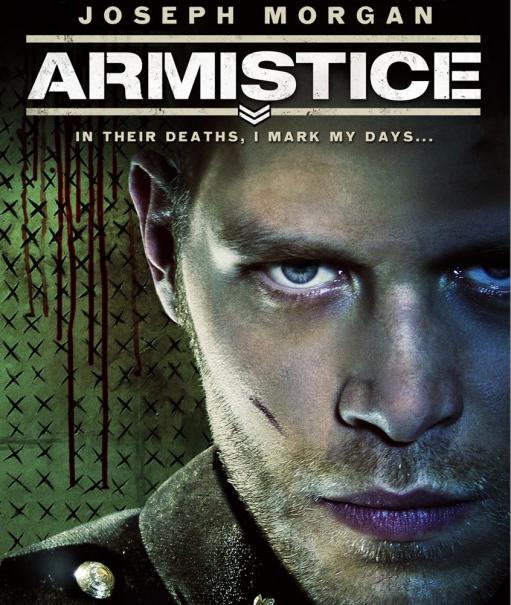 What's it about? In the role of Royal Marine, A.J. Budd, Joseph Morgan stars in this brutal psychological and supernatural thriller, in which he finds himself trapped in the Warhouse. Imprisoned, he is forced to fight for his life against grotesque, inhuman opponents. He must kill every day or die himself. His one glimmer of hope comes in the form of a diary, left by a former occupant of the house, WWI Lieutenant Edward Sterling, played by Matt Ryan.
My thoughts? The premise is interesting, but judging from the trailer, I think the execution is going to be very lacking.
What's it about? In this delightful French romantic comedy, soon-to-be-married Julie (the effervescent Ludivine Sagnier) and continent-hopping playboy Antoine (handsome newcomer Nicolas Bedos) find themselves seated next to each other on a first class flight to Paris – but it isn't a welcome arrangement. He broke her heart three years prior, and they haven't spoken since.
Alternating between real time and flashbacks from their love affair, this big-budget French affair is a breezy, glossy, and sexy Gallic alternative to the typical Hollywood romantic comedy, just in time for Valentine's Day.
My thoughts? That voice over for the American trailer is killing me, but outside of that this could be a solid big budgeted romantic comedy. Its also a premise that could easily be remade over here, so expect to see Hollywood's take on Love is in the Air ,  staring Ashton Kutcher and Rachel McAdams, later this year. (I'm kidding…or am I?)
What's it about? The 12 O'Clock Boys are a notorious urban dirt bike pack in Baltimore — popping wheelies and weaving at excessive speeds through traffic, the group impressively evades the hamstrung police. In Lotfy Nathan's wild, dynamic documentary (three years in the making), their stunning antics are envisioned through the eyes of young adolescent Pug – a bright kid from the Westside obsessed with the riders and willing to do anything to join their ranks. Premiering to critical acclaim at the SXSW and Hot Docs Film Festivals (where Nathan won the HBO Emerging Artist Award), '12 O'Clock Boys' provides a compelling and intimate personal story of a young boy and his dangerous, thrilling dream.
My thoughts? This documentary actually looks really interesting. Some great visuals through out with a subject matter that is fascinating and really compelling. I'll keep an eye out for this.
What's it about? 'California Scheming' tells the story of three teens in Malibu who meet Chloe (Gia Mantegna), the beautiful new girl in town. Nick and Jason, two best friends and surf buddies from Malibu are drawn to Chloe's good looks and mystique, while Hillary (Rachel Seiferth), in town from Boston and staying with family in the wake of her mother's untimely death, is looking for friends and a place to fit in. Chloe introduces the three teens to the world of drugs and misdemeanor, but she may have more in store than she leads them to believe.
RED BAND TRAILER
My thoughts? Wow…that is just flat out awful dialogue. The flick seems like if Spring Breakers and The Bling Ring got together and created a shallow and  uninspired child.
What's it about? When Anna Thompson (Jessalyn Gilsig) gets mixed up in a convenience store robbery, she makes a split-second decision to walk out of her life and into the unknown. On her travels, she meets Travis (Graham Patrick Martin), a teenage drifter on his own journey of self-discovery. Sparse and provocative, 'Somewhere Slow' shines light on how sometimes we must learn to break our own rules to find the lives we've been yearning to live.
My thoughts? The character that Jessalyn Gilsig seems a bit interesting (she's most famous for being in Glee and Heroes), but the trailer indicates a movie just covered in indie film cliches and weak acting. It does have the always awesome Robert Forster, and he's probably great in this, so it's got that going for it.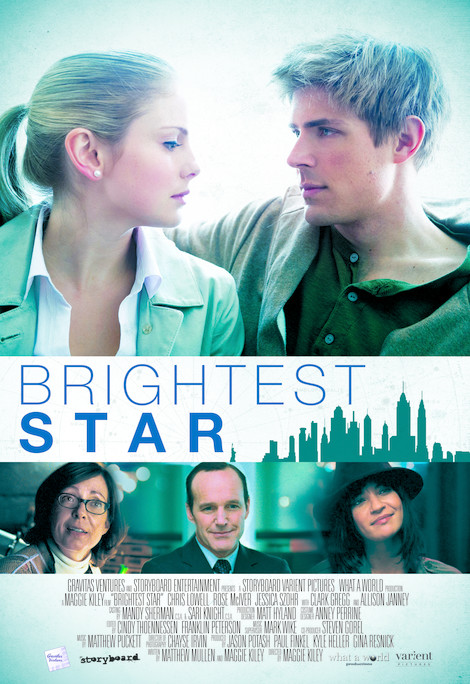 What's it about? After the heartbreaking end of his first love, a recent college graduate sets out to win back the girl of his dreams only to discover a greater journey awaits him.
Fresh out of college, a young man (Chris Lowell) is left devastated when the girl of his dreams (Rose McIver) dumps him. Refusing to move on, he devises a plan to transform himself into the man she desires. After resigning himself to working for the head of a company in corporate mediocrity (Clark Gregg), he falls for a hipster songstress (Jessica Szohr) who likes him as he is. As his path continues to unfold unexpectedly, the counsel of a kindred spirit astronomer (Allison Janney) helps him understand how to truly carve out a place in the universe.
My thoughts? Remember what I said about the previous film? You don't? Let me quote myself.
"…. trailer indicates a movie just covered in indie film cliches and weak acting. It does have the always awesome Robert Forster, and he's probably great in this, so it's got that going for it."
So let me now re-write this just a LITTLE bit for to reflect the current film.
"….trailer indicates a movie just covered in indie film cliches and decent acting. It does have the always awesome Allison Janney and our boy Clark Gregg (COULSON!!). They're probably great in this, so it's got that going for it."
What's it about? Zac Efron, Miles Teller, and Michael B. Jordan star in the R-rated comedy, 'That Awkward Moment', about three best friends who find themselves where we've all been– at that confusing "moment" in every dating relationship when you have to decide "So…where is this going?"
RED BAND TRAILER
My thoughts? This film is getting  a pretty big push, and for what it's worth, I actually did laugh quiet a bit with the red band trailer. Miles Teller and Michael B. Jordan are rising stars, and those two are probably going to be really good in this. (And if the rumors are true, these two might even be the future Mr. Fantastic and Human Torch for the new Fantastic Four movie.). I actually even like Zac Efron. The dudes got decent comedy chops. The film looks like a decent distraction, with some honest funny moments, so we'll see how it turns out.
So there we go. All honesty, a least one or two of the movies coming out this week look pretty solid. Now that we are past the hard month of January, February is coming up, and looks to have a few more interesting choices.
What about you guys? What films coming out this week are you most interested in seeing? Comment below in this post!