In terms of new films that are coming out this week, this is a relativity nice and simple one.
A few big budgeted ones, a few smaller released ones, nothing crazy.
Well, unless you are a part of the HUGE fan base of one these movies, then you are going crazy that it's not out yet, but we'll get to that one in a minute. BUT first…..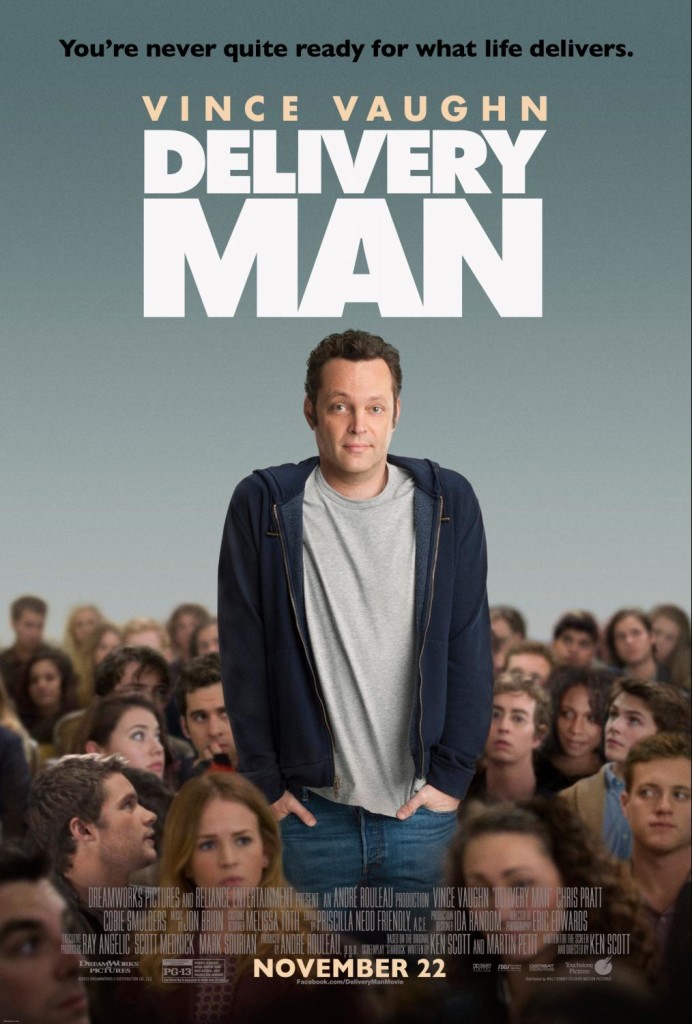 What's it about? An aging slacker and former sperm donor discovers that he is the biological father of 533 children, and that 142 of them have filed a lawsuit to learn his true identity in this Dreamworks comedy starring Vince Vaughn. Aside from the fact that he was a regular visitor at a fertility clinic 20 years ago, there's nothing particularly remarkable about David Wozniak (Vaughn). These days David owes money to the mob, and his pregnant girlfriend can't stand the sight of him. Upon learning of the lawsuit, David considers letting the truth come out, and finds that sometimes the best fathers are the men who seem the least fit for parenting. Cobie Smulders and Chris Pratt co-star.
My thoughts? This film is actually a remake of a very successful French-Canadian comedy called Starbuck. Check out the trailer to the original film and start feeling that sense of Deja Vu.
What's interesting to me is that the co-writer and the director of Delivery Man, Ken Scott, also co-wrote and directed Starbuck. Generally, this doesn't work out. Your asking for a filmmaker to put all their efforts to make the SAME EXACT movie again.  To recapture the same kind of magic and energy that worked the first time.
It's a tricky thing, and I honestly can't think of a time that doing it this way has actually worked out.
A prime example of that is the hit 1993 Jean Reno French Comedy Les Visiteurs…
http://youtu.be/WfJDn_DyTbs
Which was remade in 2001 with the same director and the same leads as Just Visiting…
It did not translate into American Box Office numbers and it was terribly reviewed.
Will Delivery Man share the same fate? Hard to tell, but to be honest I actually think the remake looks pretty decent. When Vince Vaughn is trying to recapture his party animal character in his comedies, I get bored with it pretty quick, so I actually  like the average-joe-go-to character that Vaughn does as well a bit more. This looks like a solid use of Chris Pratt and  Cobie Smulders. I actually laughed at some of the jokes. The sweetness and the sentimentality seems nice and enjoyable.
Now, if you like the premise and hate Vince Vaughn, then you CAN watch the original film on Netflix right now.  Your call.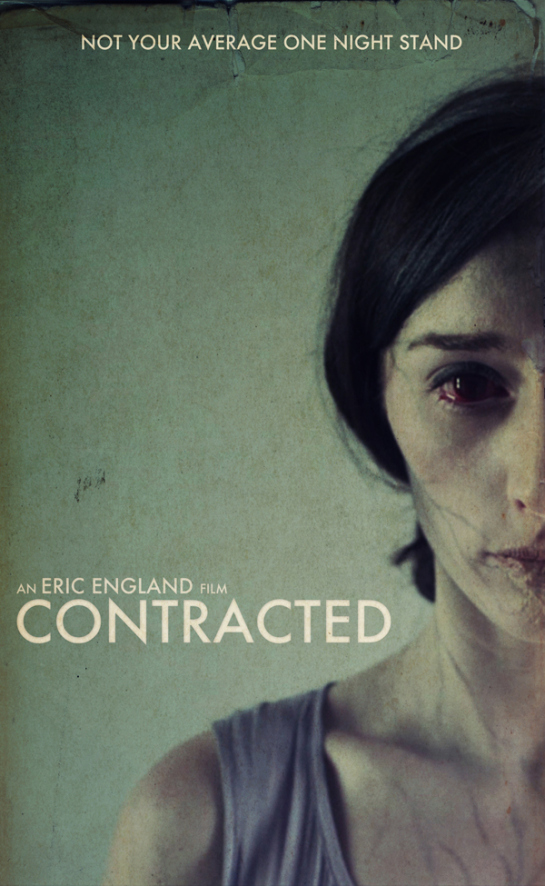 LIMITED RELEASE
What's it about? After a one night stand with a random stranger, Samantha contracts what she thinks is an STD… but is in fact something much worse.
My thoughts? It's been a long time since I've seen a good Body Horror film. This one seems to get the gross out elements of the genre right. The direction looks appropriately intense with some good mood. Could be a nice little Horror surprise.
LIMITED RELEASE
What's it about? Based on the 2009 investigative book by BBC correspondent Martin Sixsmith, The Lost Child of Philomena Lee, 'PHILOMENA' focuses on the efforts of Philomena Lee (Dench), mother to a boy conceived out of wedlock – something her Irish-Catholic community didn't have the highest opinion of – and given away for adoption in the United States. In following church doctrine, she was forced to sign a contract that wouldn't allow for any sort of inquiry into the son's whereabouts. After starting a family years later in England and, for the most part, moving on with her life, Lee meets Sixsmith (Coogan), a BBC reporter with whom she decides to discover her long-lost son.
My thoughts? It's sort of surprising that I heard very little little about this film. It's co-written by Steve Coogan, starring him and Dame Judi Dench,  and directed by the extremely talented Stephen Fears (The Queen, The Grifiters and High Fidelity. High Fidelity, by the way, is one of my ALL time favorite movies.) This looks to be a very sweet and fun character driven film, with a performance from Judi Dench who looks like she's having a grand old time with this movie.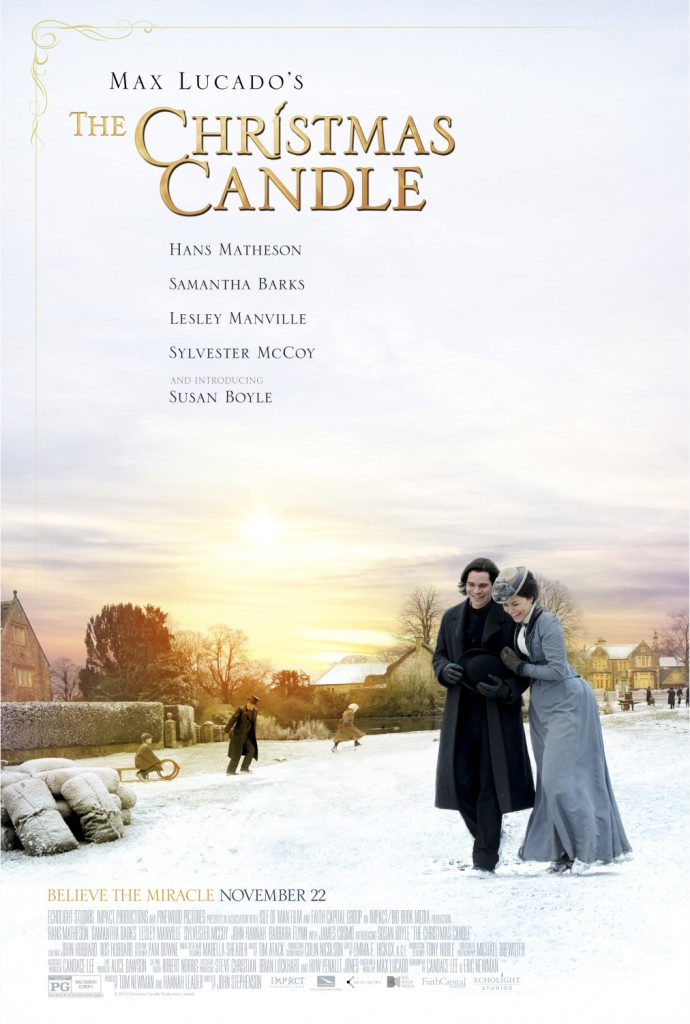 LIMITED RELEASE
What's it about? From bestselling author, Max Lucado, comes 'The Christmas Candle,' a timeless holiday film for the entire family.
Deep in the heart of the English countryside lies the enchanting village of Gladbury. Legend has it every 25 years an angel visits the village candlemaker and touches a single candle. Whoever lights this candle receives a miracle on Christmas Eve. But in 1890, at the dawn of the electric age, this centuries old legend may come to an end.
When David Richmond (Hans Matheson), a progressive young minister, arrives in Gladbury, the villagers discover a new formula for miracles: good deeds and acts of kindness. While David's quest to modernize Gladbury sets him at odds with the old world candlemaker, he finds an unlikely ally in the lovely skeptic, Emily Barstow (Samantha Barks). Now, the fiery candlemaker must fight to preserve the legacy of the Christmas Candle. But when the candle goes missing, the miraculous and human collide in the most astonishing Christmas the village of Gladbury has ever seen.
My thoughts? Oh man, a film that could suffocate with with all the potential saccharine pouring out in every frame, is it really worth it to see the cast? It's an interesting cast and it could be at least worth it to see what they bring to their roles. We have Sylvester McCoy (aka the 7th Doctor from Doctor Who.) , Samantha Barks (who was AMAZING in Les Miserables) and….Susan Boyle…from Britian's Got Talent. You know, the woman who did this…
Ok…it's kinda neat then that she is in a film with Samantha Barks then. I'm sure plenty of people on set were hoping they sang some Les Miserables together at some point during production…or maybe I'm just hoping that they did. Anyway, neat cast aside, this is not really a must see for me. It feels very dangerously by the numbers with it's holiday themed story, and one that could be pretty dull.
LIMITED RELEASE
What's it about? Academy Award-nominated filmmaker Mark Mori's 'Bettie Page Reveals All' is an intimate look at one of the world's most recognized sex symbols, told in her own words for the first time.
In Mori's alluring documentary, the real Bettie Page emerges from the veil of myth and rumor via audio interviews taped a decade prior to her death in 2008. With earthy, razor sharp wit, Bettie tells her life story — from humble beginnings as one of six children in an impoverished southern family, to high school salutatorian, to scandalous 50s pin-up model, to shocking retirement in 1957 at the peak of her modeling career. Sharing rare details about her short-lived first marriage and many torrid affairs, this keen insider's glimpse follows Bettie through decades of broken marriages, born-again Christianity, and bouts of mental illness, before her ultimate return to the public eye in the early 90's, unaware of her cult status. Ranked by Forbes in 2012 as one of the top ten posthumous celebrity earners, Bettie and her enduring legacy continue to flourish.
With a stunning array of gorgeous photographs, unusual archival material, and playful movie footage, 'Bettie Page Reveals All' shows how Bettie's unabashed sexual expression and provocative poses set the stage for the sexual revolution and ushered in a modern era in fashion. For stars like Katy Perry and Beyonce, as well as new generations of adoring fans around the world, Bettie remains an irresistible style icon and an empowering role model.
My thoughts? A very interesting looking documentary, and made more intriguing with the use of actual archival Betty Page audio interviews. I did notice that some of comic artist Dave Steven's Bettie Page art showed up in the trailer, so I wonder if he will be mentioned at all during the documentary. It's been said that when Dave, who was such a Betty Page fan that he drew her as his female lead in his comic The Rocketeer, finally met Bettie, they became close friends. He even helped her straighten up the the use of her image so that she can get the proper compensation that she deserves. We'll see what angle they go for with this one.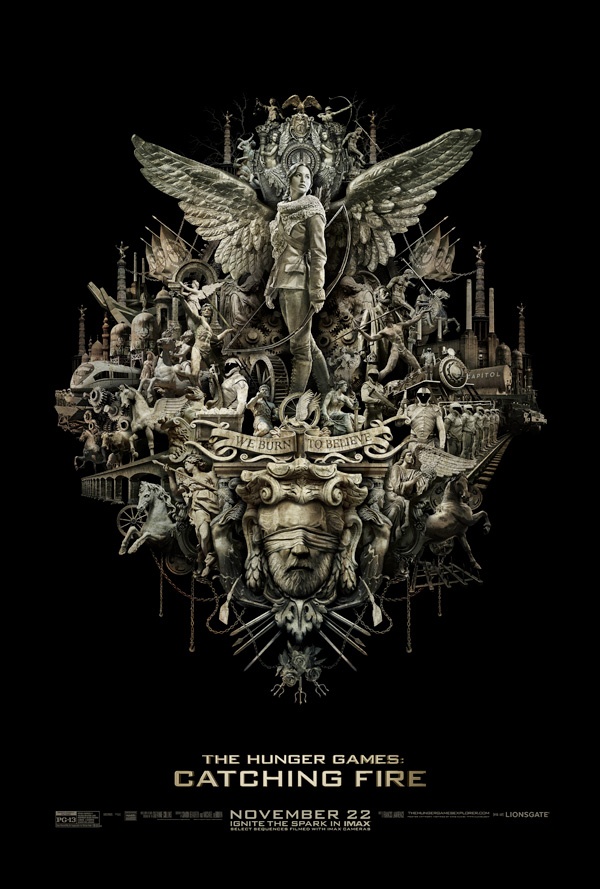 What's it about? 'THE HUNGER GAMES: CATCHING FIRE' begins as Katniss Everdeen has returned home safe after winning the 74th Annual Hunger Games along with fellow tribute Peeta Mellark. Winning means that they must turn around and leave their family and close friends, embarking on a "Victor's Tour" of the districts. Along the way Katniss senses that a rebellion is simmering, but the Capitol is still very much in control as President Snow prepares the 75th Annual Hunger Games (The Quarter Quell) – a competition that could change Panem forever.
My thoughts? I guess you can say that I am a mild fan of Suzanne Collins series. It's actually one of the few YA novels I've read and they are in fact pretty damn good reads. Great characters, drama, and action, the Hunger Games is a legitimately well thought out sci-fi universe. I really do like the series, but I'm just not an obsessive fan of it. That being said, I am really looking forward to see this one.
It feels bigger, and with director Francis Lawrence bringing his polished visuals, Panem will look slightly different from the last installment. There are plenty of big set pieces, and I think Lawrence has the right eye to pull off some great action scenes. I'm just hoping  he can pull off the story. He's had  a spotty film history, with characters and story not really being his strong suit.
It's kinda amazing to see that Jennifer Lawrence has really found a role that is pretty much perfect for her. She inhabits Katniss perfectly, and I can't wait to see how she handles  some of the really big moments from the book.
They got a great cast in this too, with the always awesome Phillip Seymour Hoffman and Jeffrey Wright. I also can't wait to see Donald Sutherland go all out bastard evil in this one.
I've read some reviews on the film so far and it's looking to be the case that this will be a great follow up to the first one. Hell, it might be an even better film.
So, what will you be checking out? Joining the revolution in Catching Fire? Hanging out with Bettie Page? Seeing Vince Vaughn figure out why he's gotta deal with over 500 kids? Let us know in the comments below!