Dear goodness folks! We only have two more weeks till 2014 is done! And we STILL have more films coming out?! What new movies could possibly be coming out this week?
Let's find out with…….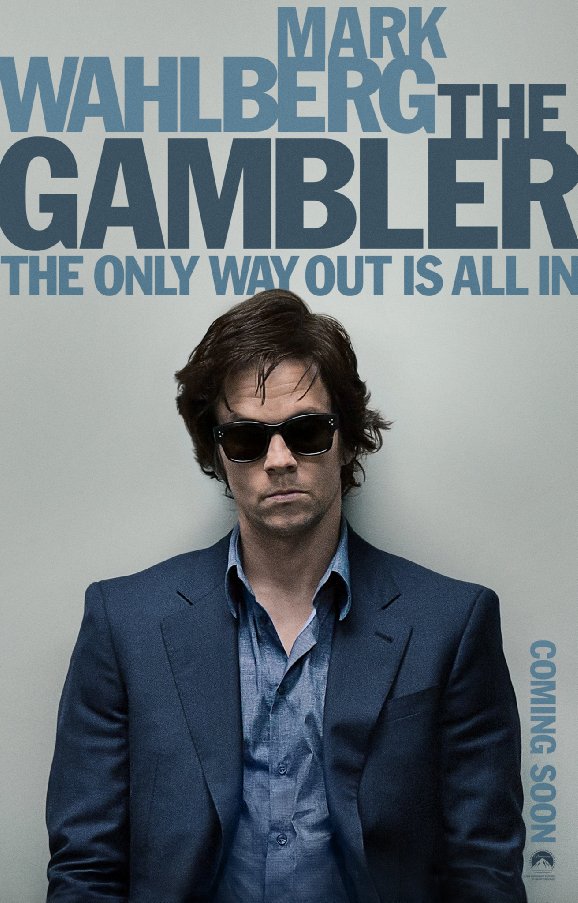 What's it about? Lit professor and gambler Jim Bennett's debt causes him to borrow money from his mother and a loan shark. Further complicating his situation is his relationship with one of his students. Will Bennett risk his life for a second chance?
My thoughts? This film is a remake from a 1974 of the same name staring James Caan…
I haven't seen the original yet, but the film is quite loved. I've read some strong reviews for the remake, and director Rupert Wyatt made the extremely good Rise of the Planet of the Apes so I'm really interested in seeing his work in this one. Wahlberg excels in roles like this on, and I love the rest of the cast.  While I'm just interested enough to see it the writer of the original film, James Toback, is none too pleased with this remake. The original film was a very autobiographical story for him, and he was pretty peeved to find out they were remaking it and no one bother to tell him. Check out this write up  for Deadline, it's a great read.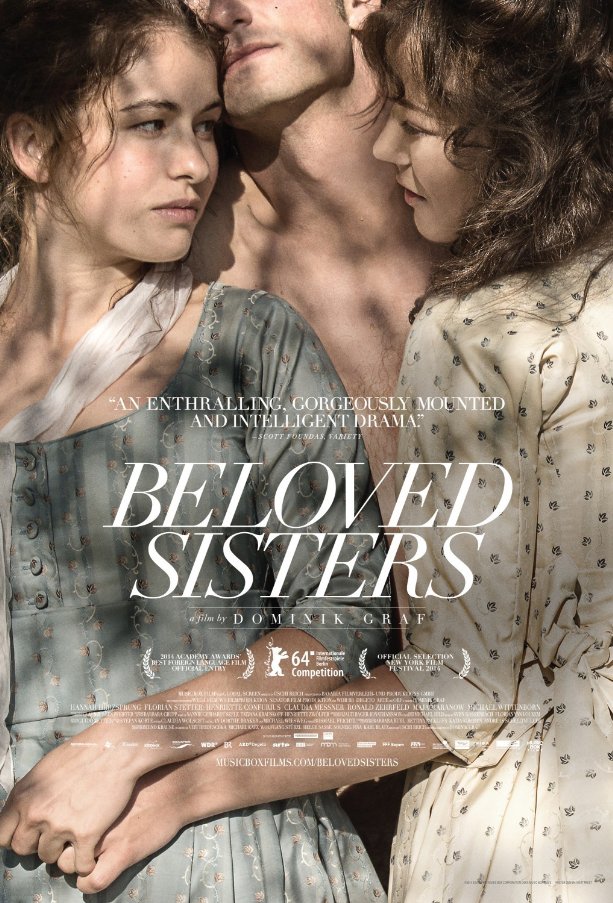 What's it about? The aristocratic sisters Charlotte and Caroline both fall in love with the controversial young writer and hothead Friedrich Schiller. Defying the conventions of their time, the sisters decide to share their love with Schiller. What begins playfully, almost as a game among the three of them, soon turns serious as it leads to the end of a pact.
My thoughts? Historical drama's are usually not my thing so I'm not really excited for this one myself.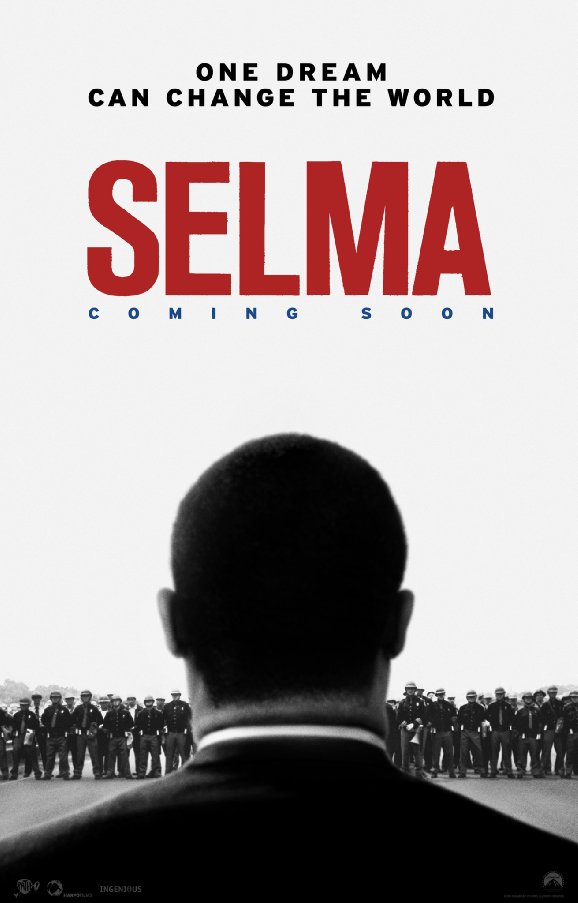 What's it about? Martin Luther King and the civil rights marches of Selma, Alabama, that changed the United States for ever.
My thoughts? I question the music choice at the end of the trailer, but besides that, I am very interested in this film. The reviews have been stellar so far and thanks to recent events in our own country it would be good to see a film that looks back to the past and remind people that the fight for equality isn't just a moment in a history book. It was a struggle…scratch that…it IS a struggle.
What's it about? Navy SEAL sniper Chris Kyle's pinpoint accuracy saves countless lives on the battlefield and turns him into a legend. Back home to his wife and kids after four tours of duty, however, Chris finds that it is the war he can't leave behind.
My thoughts? The film looks intense, and Bradley Cooper is pretty great in most things, but Eastwood can be a real sloppy filmmaker. I haven't seen this film yet, and there are some great shots in this trailer, but Eastwood is infamous for only doing one or two takes and for rushing his films. Reviews are mixed with this one, so maybe this will be the one in which I might like it. We'll see.
What's it about? A drama about the awakening of the painter Margaret Keane, her phenomenal success in the 1950s, and the subsequent legal difficulties she had with her husband, who claimed credit for her works in the 1960s.
My thoughts? It's nice to see Tim Burton not make a film that isn't another adaptation. Burton doing a drama like this makes a whole lot of sense, and his sensibilities will be a perfect match for the kind of film this is. The screenwriters are Scott Alexander and Larry Karaszewski, the men who wrote the Tim Burton film Ed Wood. Ed Wood is my favorite film that Tim has made, so it's pretty exciting for me to see him collaborate with those guys again.
What's it about? Sandra, a young Belgian mother, discovers that her workmates have opted for a significant pay bonus, in exchange for her dismissal. She has only one weekend to convince her colleagues to give up their bonuses so that she can keep her job.
My thoughts? WOW, I love the idea of this film. If done right, it will be film with great amounts of tension, and incredible stakes that, while seems small on the surface, is HUGE for the lead character. Marion Cotillard looks to be great in this film. Count me in for this one.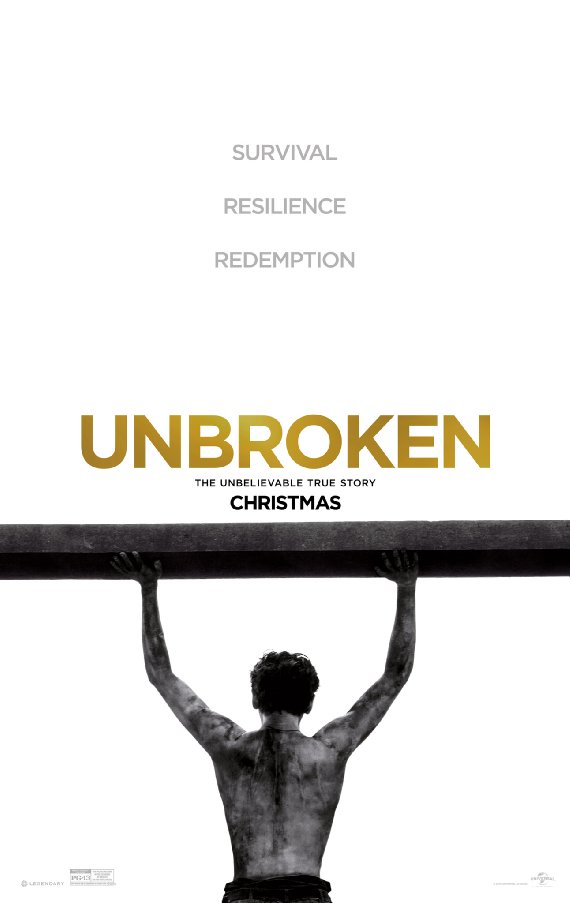 What's it about? After a near-fatal plane crash in WWII, Olympian Louis Zamperini spends a harrowing 47 days in a raft with two fellow crewmen before he's caught by the Japanese navy and sent to a prisoner-of-war camp.
My thoughts? A film that the Coen Brothers had a hand writing that's directed by Angelina Jolie? Those are words that I never thought I'd write, but it's just interesting enough to get my attention. Jolie has been giving it her all to be a prominent filmmaker, and she's got quiet the talent to help her out. The footage looks great so here's hoping she call pull off the rest of the execution.
What's it about? A witch tasks a childless baker and his wife with procuring magical items from classic fairy tales to reverse the curse put on their family tree.
My thoughts? As time goes on, it's become very clear to me that Chicago was great not because of Rob Marshall's directing, but because Bill Condon's script was amazing. Don't get me wrong, Marshall did a fantastic job with Bill's script but where as Condon's own work as a writer/director for the Dreamgirls adaptation was wonderful, Marshall's films since Chicago has had no impact on me. This film has already gotten a bunch of fans of  Steogeb Sondeim's play getting nervous, worried that the film will loose it's edginess and be Disney-fied.  I have very little faith in Marshall's directing anymore, but I guess I could take my mom to see this one. She loves musicals.
AND IF THIS WAS AN ALTERNATE DIMENSION……….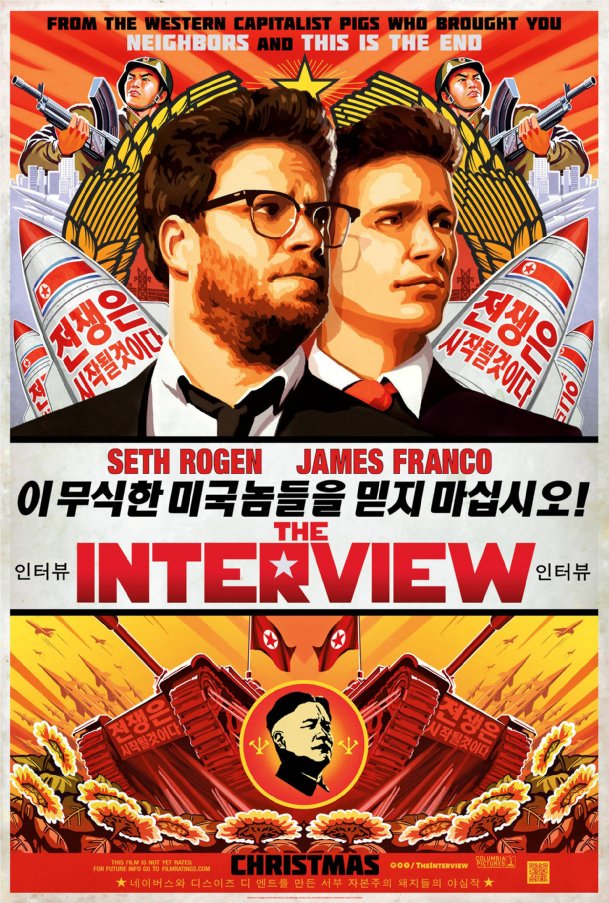 What's it about? Dave Skylark and producer Aaron Rapoport run the celebrity tabloid show "Skylark Tonight." When they land an interview with a surprise fan, North Korean dictator Kim Jong-un, they are recruited by the CIA to turn their trip to Pyongyang into an assassination mission.
My thoughts? So why am I putting this here? Fair question. I think during all the insanity that happened last week concerning this film it's easy to forget about the  movie itself. I think it's pretty clear that the film that Rogen and his co-writer/co-director Evan Goldberg made wasn't suppose to be a statement. I was talking to Agent Patrick about the whole incident and he brought up a great point. Patrick disagrees with the folks who keep comparing The Interview to Charlie Chaplin's film, The Great Dictator. If you never saw The Great Dictator, Chaplin plays a Hitler proxy. The film was certainly a comedy, but Agent Patrick brought up the finale speech in the film….
Chaplin clearly wanted to make a movie with a message. He made a film that he thought was going to be important.
Rogen and Goldberg weren't planning on making that film….and that's totally fine. I honestly think they wanted to just make a funny movie.
Listen, I haven't seen The Interview, so I have no clue if they made a real statement on their feelings about North Korea, but I doubt they did. They wanted to make a comedy. Granted,  was it irresponsible to make a film like this and to use real world people? Yeah, but what's comedy with out being risky? Great comedy is about not being afraid to offend.
This is a really tricky situation. The only real people in the wrong are the folks who call themselves the "Guardians of Peace." They're the only ones who did the wrong thing here, not Rogen and Goldberg, not Sony and not the movie theaters. I also can be pretty sure this whole thing is NOT a publicity stunt as I have friends who work at Sony who are going through hell dealing with the ramifications of this.
When the movie comes out (and it will. I'm sure of it.) try you're best to remember The Interview wasn't suppose to be an important film. It was suppose to just be a flick to entertain folks. I honestly did wanted to see it anyways. I loved Rogen and Goldberg's first film, This is the End, and I was looking forward to seeing what they got next.
I know Rogen and Goldberg have been quiet during this whole situation, and I get that. When this thing is all over, I wonder what they will say when they realized they are now in fact, part of film history…and the movie they made that's going to be remembered is a film in which Rogen puts a giant metal device up his ass.
Truth really is crazier then fiction.