WHOA!! And out of nowhere, almost as a reaction to the lack of movies that came out last week, 8 new movies are coming out this Friday!! Yikes!! So what new movies are gonna be you're choices for January 16, 2015?
Quiet a great deal choices to be fair, and some don't even look that bad! (For a January release.)
FIRST OFF…OOPS! I MISSED THIS MOVIE THAT CAME OUT LAST WEEK!! 
 What's it about? The life of a time-traveling Temporal Agent. On his final assignment, he must pursue the one criminal that has eluded him throughout time.
My thoughts? I started to hear word on this movie last Thursday. Some blogs started talking about it and when I looked into I was surprised I missed it! This movie not only has a personal favorite of mine, Ethan Hawke, but is also directed by a duo that I've been keeping my eye on for a bit. The directors are The Spierig Brothers, a couple of filmmakers from Australia who I think have a great deal of promise. Their first film is UNDEAD, a crazy cool looking action/zombie that came out right before the zombie resurgence of the last 10 years.
The action of that flick was great, the visuals are incredible (especially knowing that the film was done on a very low budget) and it had a fun Raimi/Early Peter Jackson vibe that was fun. Their problem was that it also had an awful script and some even worse characters.
Their next film was the vampire film Daybreakers, and I think that one was much more successful. While they still had some issues with the script in terms of logic, I felt that one had a better grasp of their characters and much more consistent tone. Daybreakers wasn't perfect, but I had a good time with it.
Between these two  movies I see a couple of filmmakers who are VERY close to making a really cool film, and from what I kept reading, THIS movie could very well be it. It looks trippy as hell but the trailer shows a lot of promise. I love Topsy Turvy time travel stories and it seems like the Spierig Brothers are gonna give me quiet the stylish head trip.
What's it about? Four Hispanic high school students form a robotics club. With no experience, 800 bucks, used car parts and a dream, this rag tag team goes up against the country's reigning robotics champion, MIT.
My thoughts? I'm a sucker for movies like this sometimes. Sure, it looks like Stand and Deliver by way of Robot Wars, but the film seems to have it's heart in the right place.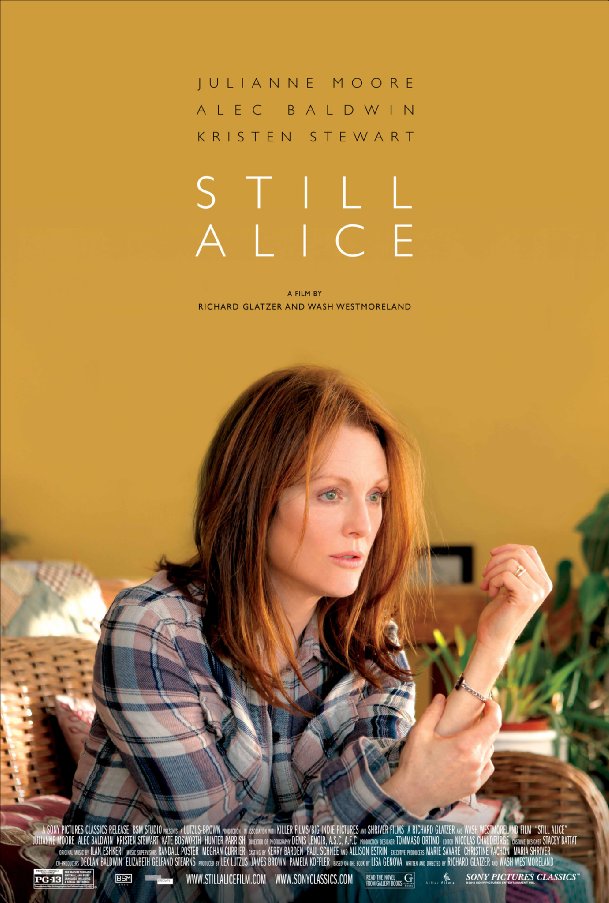 What's it about? Alice Howland, happily married with three grown children, is a renowned linguistics professor who starts to forget words. When she receives a devastating diagnosis, Alice and her family find their bonds tested.
My thoughts? A standard looking drama that seems to be anchored by a very strong performance by Julianne Moore. While the film seems pretty traditional in terms of the other characters (Baldwin's husband and Kristen Stewart's daughter), it looks like  the title character seems to be engaging and well thought out.
What's it about? JR busts out of prison with Brendan Lynch, Australia's most notorious criminal, and joins Lynch's gang for a gold heist that soon pits the two men against one another.
My thoughts? It's the never aging Ewan McGregor vs the mostly land actor Brenton Thwaites! Well, it's gonna be fun to see Ewan McGregor be a badass. That's gonna be cool.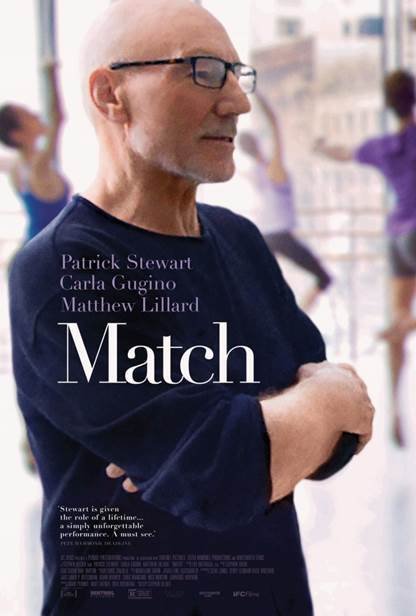 What's it about? As a Juilliard professor is interviewed by a woman and her husband for her dissertation on the history of dance in 1960's New York, it becomes increasingly clear that there are ulterior motives to the couple's visit.
My thoughts? Who doesn't love Patrick Stewart? Honestly? Who doesn't? I love seeing him in a movie like this. He really gets to properly act here and this looks like a fantastic role for him.
What's it about? A shy young groom needs to impress his in-laws, so he turns to a best-man-for-hire to help him out.
My thoughts? Would you believe that Hitch was 10 years ago? Seriously! The movie in which Will Smith plays a "date doctor" who helps out a pudgy man (Kevin James) on a crisis about his love life. Oh, and Hitch was also a Sony film. What's this got to do with The Wedding Ringer? Am I implying that The Wedding Ringer is either a remake or a straight rip off? Maaaaybe. Listen, I'm ok with Kevin Hart. I think the guy is funny enough. I also like Josh Gad. But this movie seems very by the numbers and I'll just skip it. I'll wait till I see it on TNT…..like how I eventually saw Hitch.
What's it about? In a small American town still living in the shadow of a terrible coal mine accident, the disappearance of a teenage boy draws together a surviving miner, the lonely wife of a mine executive, and a local boy in a web of secrets.
My thoughts? Good actors all abound in this drama. I'm not sure if the story has enough uniqueness for me to seek it out, but it does look like it's pretty well done.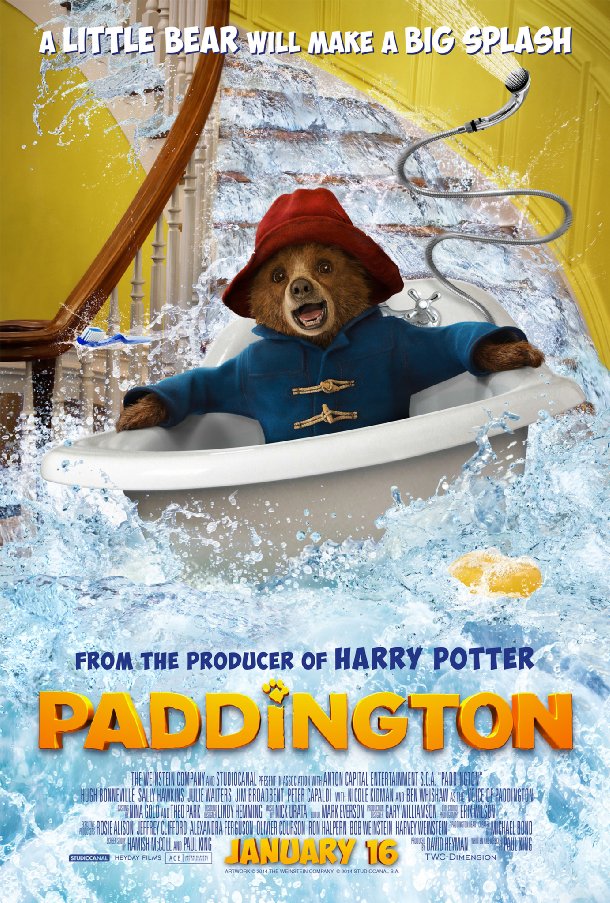 What's it about? A young Peruvian bear travels to London in search of a home. Finding himself lost and alone at Paddington Station, he meets the kindly Brown family, who offer him a temporary haven.
My thoughts? I have some vague memories of watching the stop motion cartoon as a kid.
Wow, just listening to the music from the clip brought back a nice nostalgic kick. I did remember liking the cartoon quiet a bit, but I never really followed much into the world of Paddington Bear outside of this series. So watching this trailer, I have no clue if the film is a good adaptation or not (but to be fair, this clip reminded me that Paddington was pretty clumsy so there is that.) The CGI on Paddington himself seems a bit odd to me, but not terrible. I'm pretty intrigued with the director of this one, Paul King. He directed the British Comedy The Mighty Boosh, which is a whimsical and crazy odd series. I wonder if any of those qualities were able to sneak their way in with this film.
What's it about? A furloughed convict and his American and Chinese partners hunt a high-level cybercrime network from Chicago to Los Angeles to Hong Kong to Jakarta.
My thoughts? Director Michael Mann is in a very similar place that I think Ridely Scott is in. Both are incredibly influential directors who have made some great films. BUT both have been in a weird slump for the last few films and it makes you wonder if they have any left in the tank. Earlier today I had no clue if Blackhat had any positive or negative buzz….until I went on Twitter and saw the film critics reaction towards the film. It was not kind. That's a shame. Chris Hemsworth is an amazingly charismatic actor that still hasn't found his first post Thor success. As a fan of Ang Lee's flawed but entertaining Lust, Caution, I was happy to see a mini-reunion of two of the actors of that film. (Wei Tan and Leehom Wang) For me personally, I'm not even sure what was going on based on the trailer. I saw Hemsworth unrealistically cast as a hacker (much like fellow Marvel Superhero actor Hugh Jackman for Swordfish) and a bunch thriller looking movie locales….and that's it. I was going to see it on the promise of Mann and Hemsworth only, but it seems that's not gonna be enough to enjoy this thing.
On top of it not being that good, a strange bit of controversy came up tonight as well. Apparently, Composer Harry Gregson Williams was a bit confused while watching the film, but this had nothing to do with the films plot…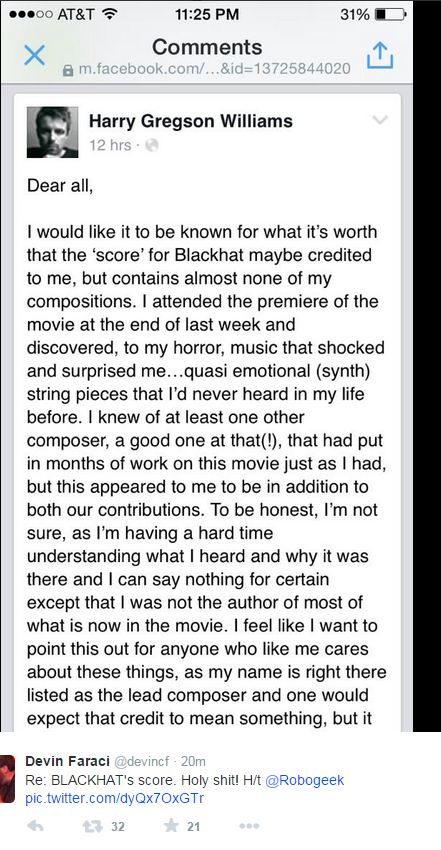 Wow!….uh…ok. Well that's crazy.
How about YOU folks? Which of these movies do YOU wanna see come out this week? Let us know in the comments below!