Soooooo, I'm pretty late on Looking Ahead this week. Sorry about that! But as you can tell, it's been a busy week in fandom thanks to Marvel, so maybe it's been understandable that I might have have been…..distracted? No? It's not? Nevermind. Here's what's coming out October 31, 2014 (Halloweeeeeeeeen)
Now truthfully, most studios don't release big films on the Halloween weekend. Why? They know that most folks would rather stay in or party then go out and see a movie.
So it's actually gonna be a very light week, but (as always) there are a few exciting flicks that could be worth your time.
What's it about? A woman wakes up every day, remembering nothing as a result of a traumatic accident in her past. One day, new terrifying truths emerge that force her to question everyone around her.
My thoughts? Wow, when they said they were going to do a gritty remake of 50 First Dates they really went for it! (I'm kidding of course). This looks….ok. Seems like a direct to video movie, except with much better actors. Feels middle of the road, but if you're up for some easy thrills this could be it.
What's it about? The idea is simple: A married woman and a single man meet. They love, they argue, fists fly. A dog strays between town and country. The seasons pass. The man and woman meet again. The dog finds itself between them. The other is in one, the one is in the other and they are three. The former husband shatters everything. A second film begins: the same as the first, and yet not. From the human race we pass to metaphor. This ends in barking and a baby's cries.
My thoughts? The man  most synonymous with French New Wave cinema, Godard returns with a film that feels like classic Godard. I'm really intruded to see how he adapts to not only modern digital filmmaking, but also how he uses 3D in his narrative. It won't just  be a simple trick to get people to pay more money, but clearly it was an artistic choice he made. He felt that he can use 3D in an artistic manner, and to do so in a independent film deserves a viewing.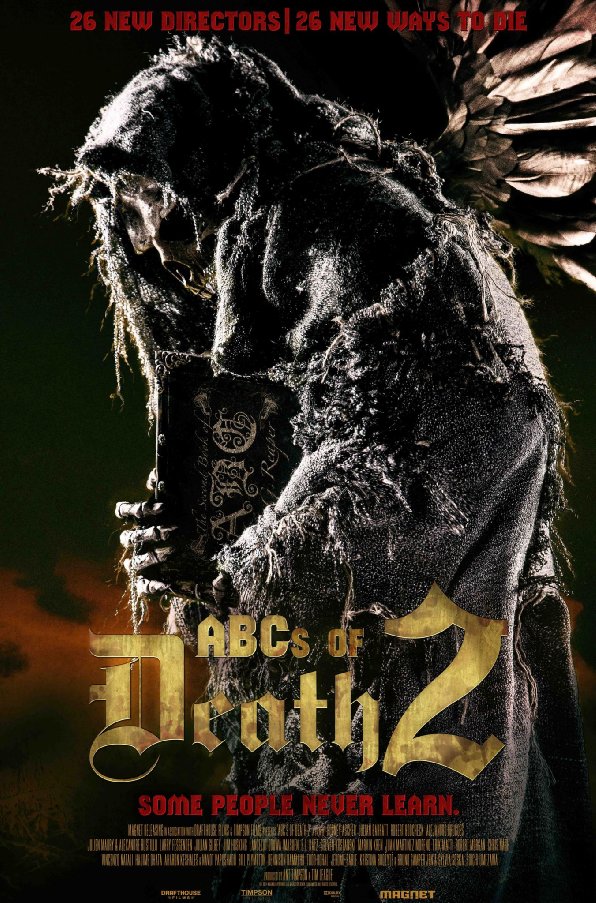 What's it about? Another 26-chapter anthology that showcases death in all its vicious wonder and brutal beauty.
RED BAND TRAILER
My thoughts? I've still haven't seen the first film, but I did talk to our own resident horror expert Reserve Agent Jamal  and he told me that the first film had some really great short films, but due to the amount of movies it had, there were plenty that were pretty bad. But, this new one could have a stronger crop of filmmakers this time. I see Vincenzo Natali (who directed CUBE and Splice) directed a segment, which could be cool. The name that MOST intrigues me is that famed (and insane) animator Bill Plympton has a segment, and that alone intrigues me.  
What's it about? In the aftermath of his girlfriend's mysterious death, a young man awakens to strange horns sprouting from his temples.
My thoughts? I'm loving the career choices of Daniel Radcliffe and he looks like he's been having a ton of fun acting in this movie. The director is Alexandre Aja, and I've only seen his films High Tension and The Hills Have Eyes remake. I dug both films quiet a bit, and he's got a great style. I'm pretty excited to see him do something a little different, something that's not just straight horror and just straight blood and guts. This looks like it could be wicked fun.
What's it about? When Lou Bloom, a driven man desperate for work, muscles into the world of L.A. crime journalism, he blurs the line between observer and participant to become the star of his own story. Aiding him in his effort is Nina, a TV-news veteran.
My thoughts? I've been hearing nothing but good things about this film. Gyllenhaal seems to be on another planet with his performance in this and it's gripping. I'm also a sucker for films that are set in a noir-ish stylized Los Angeles. I love that this looks to be a really adult, dark and twisted little movie….and I can't wait to see it.
How about you folks? What films are you most excited to see? Let us know in the comments below!