It's the week of San Diego Comic Con…..will most of you guys even care about what new movies will be released this week on July 25, 2014?
Well, for the people who aren't going, the answer  might be; "Well DUUUUUH. Of course I do! I need to watch a ton of films this weekend to distract me from the sadness of me not attending Comic Con!"
I understand. Let's see if any of the new movies coming out this week seem interesting enough for you.
What's it about? A comedy concert film that captures the on-stage performance and inspirational success story of Gabriel "Fluffy" Iglesias.
My thoughts? I understand the appeal of Gabriel "Fluffy" Iglesias….I'm just not in that fanbase. If you are, then I do hope you are looking forward to this. (Sidenote: I'm aware that the poster and the trailer said coming out on July 11th, but they changed the release to this week for some reason. )
What's it about? Two married friends employ a single playboy to help them get their mojo back to save their marriage
My thoughts? This is a prime example of a movie trailer that is selling a film that doesn't look so bad that I'll call it garbage…yet it doesn't look that good that I really want to see it. It looks harmless….but also really bland.
What's it about? A self-centered realtor enlists the help of his neighbor when he's suddenly left in charge of the granddaughter he never knew existed until his estranged son drops her off at his home.
My thoughts? At a certain point, director Rob Reiner just accepted that he will makes the safest of safe movies possible. Good or bad, these movies are quickly released with little to no fanfare  (Sidenote: Did you know he made a movie 2 years ago called The Magic Belle Isle starring Morgan Freeman? Because I certainly didn't.) At least he's working with actors that, while still highly regarded and respected, are not considered to be commercially big enough to lead films anymore. But, I need to accept the fact that the great filmmaker Rob Reiner (who directed such great flims as When Harry Met Sally, The Princess Bride, This is Spinal Tap and so much more) is gone. Maybe he'll come back one day, but I can damn well guarantee that this film will not be a return to form for the director.
What's it about? Two New York City girls make a pact to lose their virginity during their first summer out of high school. When they both fall for the same street artist, the friends find their connection tested for the first time.
My thoughts? Pretty damn great cast (RICHARD DREYFUSS!!), the trailer promises an interesting and emotionally harsh looking movie.  Fanning and Olsen are the real stars in this movie, but both are incredibly talented and I'm sure they will be very good in this, even if the film feels like it goes into some Indie Drama cliches.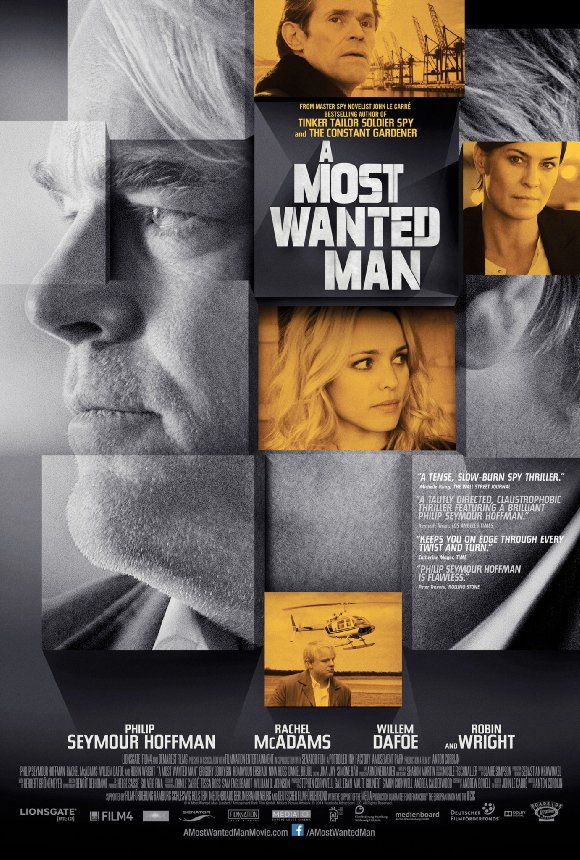 What's it about? A Chechen Muslim illegally immigrates to Hamburg, where he gets caught in the international war on terror.
My thoughts? It's one of the last roles that the late/great Philip Seymour Hoffman did before he passed away, and it looks like another riveting performance. A slow burn spy thriller is just the ticket sometimes, and this looks like a pretty cool one.
What's it about? Irresponsible 20-something Jenny arrives in Chicago to live with her older brother Jeff, a young film-maker living a happy existence with his novelist wife Kelly and their two-year-old son. Jenny's arrival shakes up their quiet domesticity as she and her friend Carson instigate an evolution in Kelly's life and career. Meanwhile, Jenny strikes up a rocky relationship with the family's baby sitter-cum-pot dealer.
My thoughts? I really dug Joe Swanbergs movie Drinking Buddies, and this film seems like it's got the same vibe and tone as that one. I really love that I'm seeing a good amount of movies now that are using usual plot of an indie dramedy (the lost 20 something year old who still makes mistakes) but instead of it being a guy, it's now a woman. It gives actors (like the awesome Anna Kendrick in this film) a real character to play, instead of playing yet another girlfriend.
What's it about? A romantic comedy about an Englishman brought in to help unmask a possible swindle. Personal and professional complications ensue.
My thoughts? One can't help but notice that Woody's been on a romantic/whimsy kick recently. Last years Blue Jasmine aside, since the success of Midnight in Paris, Woody Allen has been enjoying creating fun films with a similar tone. This one looks utterly charming, with Emma Stone turning up the adorable level to 20.  Casting Colin Firth in a Darcy-ish character is easy, but it ain't a bad idea either. I hope this ends up being as enjoyable as this trailer was.
What's it about? A woman, accidentally caught in a dark deal, turns the tables on her captors and transforms into a merciless warrior evolved beyond human logic.
My thoughts? If I can be honest, I'm not quiet sure why there was such a HUGE buzz for this trailer. For a brief period, I saw headlines spouting words like "If you're a SCI-FI fan you NEED TO SEE HOW AMAZING THE LUCY TRAILER IS!!" Now, don't get me wrong, this looks like a fun flick. No doubt. But is the concept that unique that it merited that much excitement? In my opinion, not really. It's another story of a normal person who gains super powers. I read comics, I've see this story before. But like I said, this looks like a ton of fun. Writer/Director Luc Besson has been slowly getting back into main stream  action movie filmmaking, but after his last film not doing well with both critics and audiences (the Robert DeNiro action/comedy The Family)  I  hope this flick can deliver. Truthfully, Lucy might very well be his most commercial and mainstream movie he's ever made. Judging from the trailer, it doesn't go into crazy Luc Besson ideas….but I hope it does. I hope Besson slipped in some of that crazed Sci-Fi imagination that popped up in The Fifth Element.
What's it about? Having endured his legendary twelve labors, Hercules, the Greek demigod, has his life as a sword-for-hire tested when the King of Thrace and his daughter seek his aid in defeating a tyrannical warlord.
My thoughts? Based very loosely on the Radical Comics version of Hercules, we get Hollywoods first real  Big Budget attempt to bring the famous character of myth to the big screen in decades. (I, of course, am not counting the very cheap looking movie The Legend of Hercules that was released earlier this year.)
Dwayne Johnson is an action hero who doesn't have his own franchise, which I think is insane especially since I think he's actually an appealing lead.
But as of now he doesn't have his own Conan. His own Terminator. His own Rambo. Hell, not even his own Universal Solider.
He's been great as an added bit of badassery in other franchises (Fast and Furious and G.I. Joe.) but he still doesn't have HIS that he can call his own.
Is this movie finally his answer? I hope so, and the imagery in this trailer is very nice indeed….but I have one main problem, and that problem is director Brett Ratner.
Ratner makes films that somehow always feel hollow, even if they are fun. See, if the film works at all it's not the what that he does as a director, it's the work of the cast who brings all the charisma with them (I.E. Jackie Chan and Chris Tucker in the Rush Hour films)
So yes, this may end up being fun, it will have a great shot of being very forgettable once you leave the theater.
And hey, that may not be a terrible thing if that's what you're in mood for.  This Hercules film could just be simple fun.
So how about you guys? Which films do you wanna check out the most this week? Let us know in the comments below!