I'm not quite sure why last week was a dumping ground of new movie releases, this week we seem to have a more leaner list of new movies that will be coming out this week.
While one or two of them do fall in the category of "Well…it certainly is a January movie releases.", some do have potential to be pretty interesting.
JANUARY 21
LIMITED RELEASE 
What's it about? Knights of Badassdom' follows three best friends (Peter Dinklage, Steve Zahn and Ryan Kwanten) and dedicated LARPers (Live Action Role Players) as they take to the woods to reenact a dungeons and dragons-like scenario fresh out of the mythical Middle Ages. Trouble arises after they unwittingly conjure up some serious evil in the form of a blood-lusting Succubus, from the pits of hell.
Fantasy and reality collide on the Fields of Evermore in an all-out epic battle of make-believe wizards, demons and assorted mythical creatures. Their courage and friendship is put to the test as they attempt to vanquish the evil they have summoned. Will the group prove to simply be foam sword-wielding LARPers, or true "Knights of Badassdom?"
My thoughts? Awesome trailer right? It's an idea that is ripe to be a totally fun movie. It's got a cast full of my favorite actors; Peter Dinklage! Steve Zahn! Danny Pudi! Summer Glau! And it's got a Big Trouble in Little China sense of energy and humor. Sadly, there is a problem with the movie. See the director the film, Joe Lynch, was basically locked out of the editing of this as the producers took the film over. A ton of bad blood happened between the producers and investors. The film was edited with out the director overseeing it, which usually means the film will become a shadow of it's potential. It's a real shame too, because Joe Lynch is a very talented filmmaker. His first film was the movie Wrong Turn 2: Dead End, an unnecessary sequel to a not that great horror film. What he DID with it was make a really fun, really funny movie that is superior the limp original in every way. Check out his killer short film based on Marvel's Venom to see how good he is. His involvement with Knights of Badassdom was enough to get my interest, but the fact that he wasn't with there to help with the fine tuning of the film makes me a bit hesitant to see it. Who knows, maybe they still made a enjoyable film regardless, I'm just bummed that the film isn't Joe's anymore.  
JANUARY 24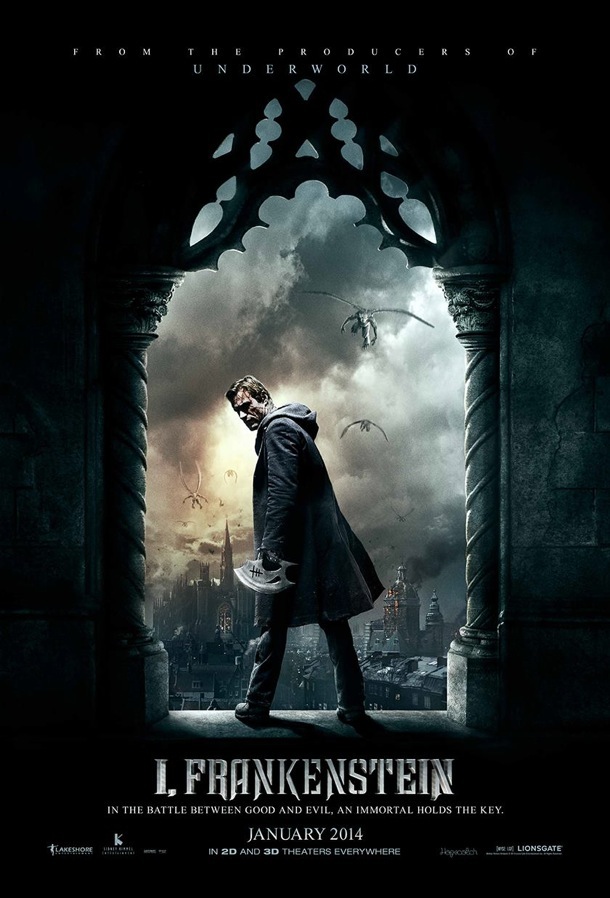 What's it about? Set in a dystopic present where vigilant gargoyles and ferocious demons rage in a battle for ultimate power, Victor Frankenstein's creation Adam (Aaron Eckhart) finds himself caught in the middle as both sides race to discover the secret to his immortality. From the creators of the hit supernatural saga, 'UNDERWORLD', comes the action thriller 'I, Frankenstein', written for the screen and directed by Stuart Beattie based on the graphic novel "I, Frankenstein" by Kevin Grevioux, and brought to life by a cast that includes Aaron Eckhart, Bill Nighy, Yvonne Strahovski, Miranda Otto, Jai Courtney, Socratis Otto, Mahesh Jadu, Caitlin Stasey and Aden Young as Victor Frankenstein.
My thoughts? Well….it certainly looks like a film that was created by the Underworld guy. Me and Agent Patrick saw the panel for this movie back in San Diego Comic Con, and my feelings remain the same. A giant does of "meh." Director Stuart Beattie wrote plenty of ok/kinda fun action movies in his career but I did just recently saw his directorial debut, Tomorrow, When the War Began. That film was pretty much the Australian version of Red Dawn, and it was a decent flick with some fun action. An ok flick to see when I was channel flipping on Showtime. This is how I will probably end up watching I, Frankenstein. I'll be channel surfing, will stumble on to it (most likely FX so it will be the edited down cut) and will just decide to watch it because nothing else is on. It will probably be even entertaining enough. Will I see it opening weekend? Most likely not.
LIMITED RELEASE
What's it about? After a major shipment of drugs goes missing on the US-Canadian border, forest ranger and former Navy SEAL Henry is plunged into survival mode when the drug cartel forces him to help retrieve the downed package. Trapped in the wilderness with no communication to the outside world, Henry finds himself face to face with Clay, a man with a personal vendetta against Henry who has returned for retribution. Now, the two mortal enemies must make a choice: put aside their past and work together, or die alone at the hands of the drug runners, a ruthless gang who will stop at nothing to retrieve their lost cargo.
My thoughts? The poster screams that this is a Van Damme movie, so imagine my utter SHOCK to see who the real leads are. Tom Everett Scott (who I will always love thanks to his performance as Guy Patterson from That Thing You Do.) and Orlando Jones. What the hell? And they are playing trained killers who know martial arts? Van Damme is the bad guy? What is going on here? Apparently a movie that could be more fun than that generic poster is promising. This film is directed by Peter Hyams, who used to be a pretty big studio action director. He also directed Van Damme in two of his most enjoyable films, Timecop and Sudden Death. Hyams was always a nice shooter of his movies (he even works as his own cinematographer.) and the action in this trailer actually looks really good. I'm surprised, but I'm actually kinda interested in see this.
LIMITED RELEASE
What's it about? Fetish photographer Billy (Adam Wingard) stages elaborate shoots around his fixations, photographing women in various stages of undress and death. When one of Billy's models winds up actually dead, depressed and romantically disillusioned investigator Michael (Simon Barrett), suffering through a crumbling relationship himself, knocks on his door and discovers a world he struggles to understand – in Billy's art, as well as his apparent ease at juggling professional and intimate relationships with a committed girlfriend and various models. Jealousy runs high, and meanwhile, a killer is still on the loose.
My thoughts? I just recently saw director Joe Swanbergs film, Drinking Buddies and I thought it was great. That film was a great character comedy/drama piece with some of best performances I've seen from it's cast. Drinking Buddies was also my first Joe Swanberg film, as I have never seen his other ones. Looking him up, his reputation is doing films more like this one, with a cast of mostly unknowns. The premise seems interesting enough, it just doesn't feel like a must watch for me. But knowing that Swanberg can make something that  I can love, shows that I will find something enjoyable in his new film. SIDENOTE: The lead actor in this film, Adam Wingard, was also the director of the very cool horror thriller You're Next from last year. Joe Swanberg also had a role in that film.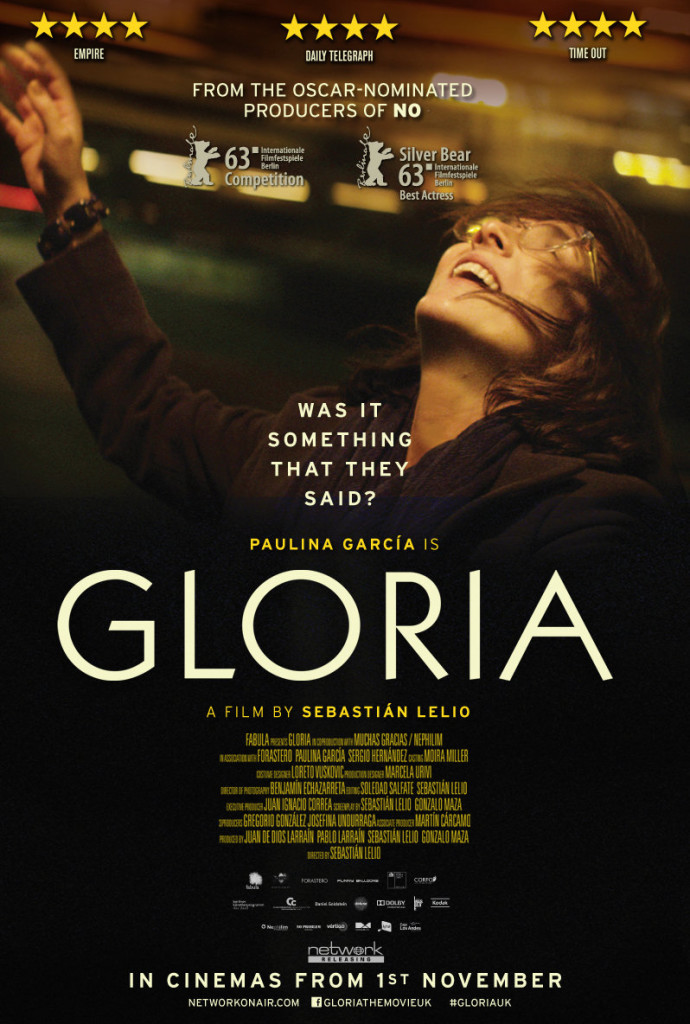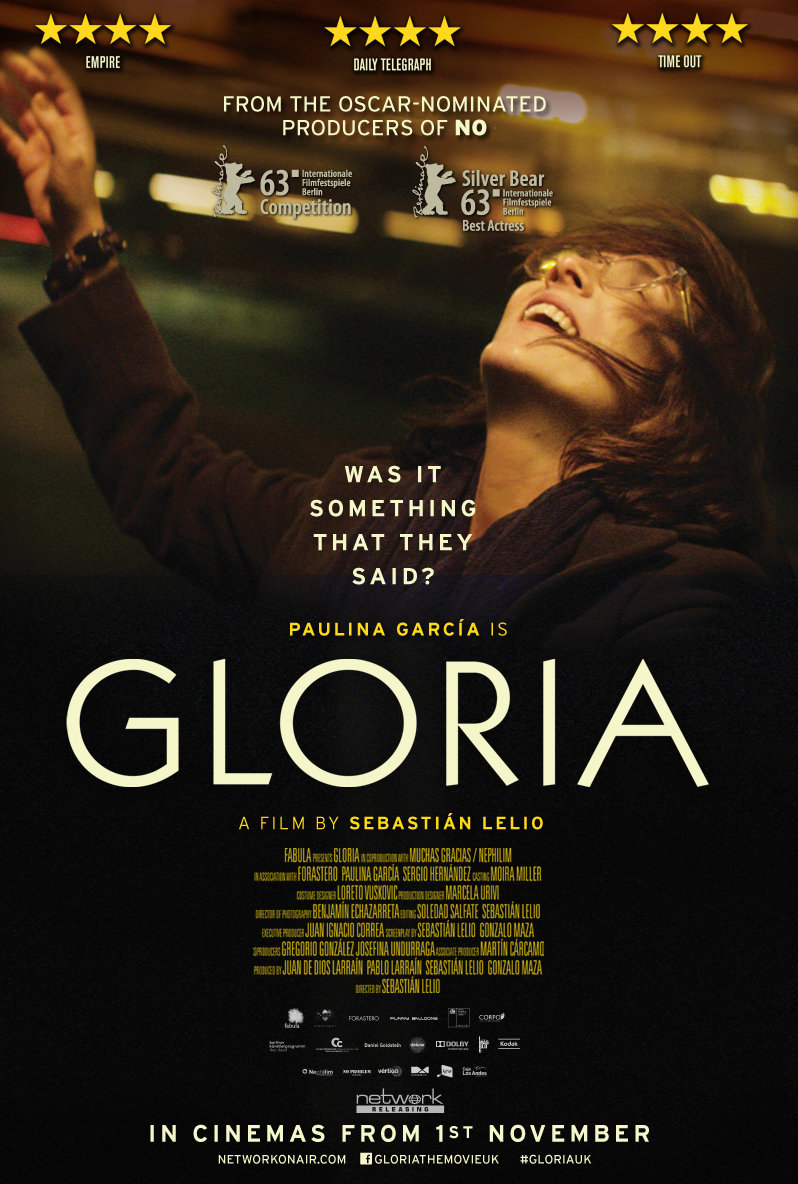 LIMITED RELEASE
What's it about? Gloria is a "woman of a certain age" but still feels young. Though lonely, she makes the best of her situation and fills her nights seeking love at social dance clubs for single adults. Her fragile happiness changes the day she meets Rodolfo. Their intense passion, to which Gloria gives her all, leaves her vacillating between hope and despair — until she uncovers a new strength and realizes that, in her golden years, she can shine brighter than ever. 'GLORIA' is Chile's official entry for Best Foreign Language Film at the 86th Academy Awards, and stars Paulina García in a tour de force performance that captured the Silver Bear Best Actress Award at this year's Berlin Film Festival.
My thoughts? Looks like it could be really funny, and while I never heard of Paulina Garcia, she very appealing in the footage from this trailer.  Plenty of potential to be a really enjoyable film.
LIMITED RELEASE
What's it about? Based on the inspiring true events, 'Gimme Shelter' centers on the courageous story of Agnes "Apple" Bailey (Vanessa Hudgens) and her incredible path to motherhood as a pregnant, homeless teenager. Forced to flee her abusive mother (Rosario Dawson), and turned away by her Wall Street father (Brendan Fraser), Apple finds herself on a desperate and isolated journey of survival. In the depths of despair, she meets a compassionate stranger (James Earl Jones), who ultimately leads her to salvation and unprecedented support in a suburban shelter for homeless teenagers. With gained confidence, and the warmth of her new home, Apple breaks from her inhibiting past, embracing the future with clarity and hope.
My thoughts? It feels like Vanessa Hudgens is constantly try to prove to us that she is capable of more in movies. I don't mean that as a knock, because the truth is, I've liked her in everything I've seen her in. A few weeks ago I saw Spring Breakers and she was magnetic in it. In the very little I saw of the Twilight wanna be movie Beastly, she was one of the few bright spots in it. She's a talented actress who's been slowly chipping away her Disney Channel image, but she hasn't found the breakthrough role that can help bring her to legitimacy. I'm not sure if this film is the answer yet. I'm sure it's well acted by everyone involved, but there is a element of the drama being too calculated in it's formula. Maybe that's the fault of the trailer. One thing for sure, there is no denying that Hudgens seems to be giving it her all in this thing.
LIMITED RELEASE
What's it about? Frank (Pierre Deladonchamps) spends his summer days hopelessly searching for companionship at a popular cruising spot on the shores of a lake in rural France. One day, he meets Michel (Christophe Paou), an attractive yet darkly mysterious man and falls blindly in love. When a death occurs, Frank and Michel become the primary suspects but they choose to ignore the dangers and instead continue to engage in their passionate and potentially lethal relationship.
http://youtu.be/VM96nlbS_rI
My thoughts? I will say this….the Freddie Mercury mustache on the suspected killer is very distracting. Sorry. That being said, for a film that promises a "Hitchcockian" level of suspense, I don't really get a lot of that in the trailer. It's mostly shots of trees and scary music. That, of course is the work of the very underwhelming trailer editors. While the premise doesn't sound THAT original, here's hoping that the execution from the director and writer is the real reason this film stands out to the reviewers.
LIMITED RELEASE
What's it about? Thirty years after 'Koyaanisqatsi', Godfrey Reggio-with the support of Philip Glass and Jon Kane–once again leapfrogs over earth-bound filmmakers and creates another stunning, wordless portrait of modern life. Presented by Steven Soderbergh in Black and White digital 4K projection, 'Visitors' reveals humanity's trancelike relationship with technology, which, when commandeered by extreme emotional states, produces massive effects far beyond the human species. The film is visceral, offering the audience an experience beyond information about the moment in which we live. Comprised of only seventy-four shots, 'Visitors' takes viewers on a journey to the moon and back to confront them with themselves.
My thoughts? Director Godfrey Reggio and music composer Philip Glass makes films that are gorgeous cinematic poems. That will be MAIN reason you want to see this movie. It isn't about plot or subject matter. This will be cinema at it's finest. A pure, 100% visual experience. If that doesn't appeal to you, I understand, but knowing that these filmmakers made this is enough for me to to seek it out.
Below is the trailer to Godfrey's first film….
There you go folks. Which films do YOU want to seek? Comment below!