Fans of visionary director George Miller (The Road Warrior, Mad Max Beyond Thunderdome and Mad Max: Fury Road) and Oscar-winning director/producer/actor Mel Gibson (Braveheart, Lethal Weapon) know well the dystopian action adventures of Max Rockatansky from the highly popular MAD MAX movies.  Relive the high-octane action, experience the visceral thrills, and see the beginning of this legendary road warrior before the brand new major motion picture hits theaters.  On May 5, 2015, Scream Factory is proud to present MAD MAX Collector's Edition Blu-ray, packed with insightful bonus content, including all-new interviews with Mel Gibson, Joanne Samuel, director of photography David Eggby, special audio commentary, retrospective featurettes and much more! This definitive collector's edition contains a collectible cover featuring newly rendered retro-style artwork and a reversible cover wrap featuring original theatrical key art.
A must-have for loyal fans, movie collectors and pop culture enthusiasts to complete their home entertainment library, MAD MAX Collector's Edition Blu-ray is priced to own at $19.97.
Pre-order now at:
https://www.shoutfactory.com/film/action-adventure/mad-max-collector-s-edition
http://www.amazon.com/Mad-Max-Collectors-Blu-ray-Gibson/dp/B00T73AO0W/ref=sr_1_1?ie=UTF8&qid=1425055139&sr=8-1&keywords=MAD+MAX+Collector%27s+Edition
*** Avid fans and collectors please take note: those who order MAD MAX Collector's Edition Blu-ray directly from ShoutFactory.com and get it shipped two weeks early, plus receive an exclusive 18″x24″ poster featuring our newly commissioned artwork! Available while supplies last.
Setting Mel Gibson on a sure path to superstardom, this highly acclaimed "crazy collide-o-scope" (Newsweek) of highway mayhem "cinematically defined the post-apocalyptic landscape" (TV Guide). Featuring eye-popping stunts that are "electrifying and very convincing" (Variety) and "an authentically nihilistic spirit" (The Village Voice), this unforgettable actioner from director George Miller is "pure cinematic poetry" (Time).
In the ravaged near-future, a savage motorcycle gang rules the road. Terrorizing innocent civilians while tearing up the streets, the ruthless gang laughs in the face of a police force hell-bent on stopping them. But they underestimate one officer: Max (Gibson). And when the bikers brutalize Max's best friend and family, they send him into a mad frenzy that leaves him with only one thing left in the world to live for – revenge! MAD MAX also stars Joanne Samuel (Nightmaster), Hugh Keays-Byrne (Mad Max: Fury Road) and Steve Bisley (The Great Gatsby, Red Hill).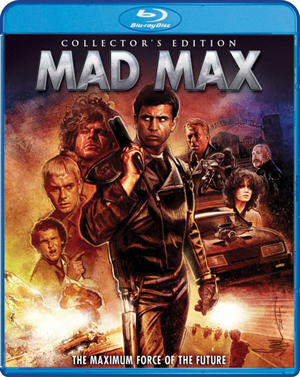 MAD MAX COLLECTOR'S EDITION BLU-RAY
Special Features:
NEW Interviews with Mel Gibson, Joanne Samuel and Director of Photography David Eggby
Audio Commentary by Art Director Jon Dowding, Director of Photography David Eggby, Special Effects Artist Chris Murray and Tim Ridge
Mel Gibson: The Birth Of A Superstar
Mad Max: The Film Phenomenon
Theatrical Trailers
TV Spots
Photo Galleries
Contains Both the Original Australian English Audio and the U.S. English Dubbed Audio