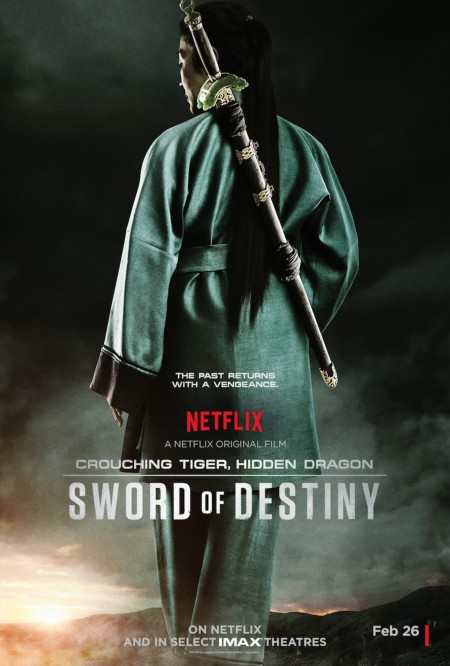 Let me be clear on something…for me, Crouch Tiger, Hidden Dragon is pure art.
Ang Lee's film isn't just a martial arts film, it is visual poetry. While I do love me a great martial arts action film, the film's drama is the high point for me. Ang Lee's own skill as a dramatic story teller is the reason why the first film stood out among the HUNDREDS of Hong Kong martial art movies that have existed before it. The drama is as complex and layer as the best of Ang Lee's previous films (Sense and Sensibility, The Ice Storm and Eat Drink Man Woman) and the action is ground breaking.
Some folks might have changed their opinion on the first film in the 16 years (!!) since it came out, but the personal impact it has had on me will never leave.
So forgive me that I'm not jumping for joy when I saw the trailer to the first official sequel to the film.
Now, while I actually understand the interest in making a sequel to the film, I'm still baffled at the idea of shooting it in English. The original made $128,078,872 at the box office in America alone and it was released in Mandarin in the states. If this was a film made for Netflix,  you'd think they'd understand that the film would fit in some niche market that making it in Mandarin again would be fine.
Ang Lee is not behind the directors chair but instead legendary fight choreographer (and the man who choreographed the fights in the first film and dozen of classic movies) Yuen Wo-Ping is helming the sequel. Now, Yuen Wo-Ping can certainly direct the action with skill, his story telling chops are mediocre at best.
While the trailer to this movie doesn't look bad per-say, I'm just disappointed to see them continue the legacy of the first film and just make it a standard action film. It'll probably be entertaining (the fights do look good and watching Michelle Yeoh and Donnie Yen be bad asses never really gets out of style)…but I can guarantee that Crouching Tiger, Hidden Dragon: Sword of Destiny will not have one OUNCE of class that the first film had.
Crouching Tiger, Hidden Dragon: Sword of Destiny (not to be confused with Tenacious D: The Pick of Destiny) will be available on Netflix February 26 and in some selected IMAX theaters.