I was already completely enamored by how good Sailor Moon Crystal was but this morning's episode starring the adorably brilliant Ami Mizuno as Sailor Mercury surpassed even my most fanatical expectations.
I'm not even going to bother comparing this episode to the manga because it was so well done and perfectly contained in itself that trying to keep a scorecard for details changed would totally take the fun out of it.  In the last episode we caught a glimpse of Ami out of the window as she walked by herself through the school courtyard.  I squealed, you squealed, we all sounded like pigs in heat.
As Act 2 opens we watch as a stunned class stares, stupefied, at Ami while she calmly fills an entire chalkboard with a mathematical equation.  All of you should feel this stunned when presented with Ami's sweet disposition and pure heart.  Unfortunately she's still in middle school and the other kids only see her perfect grades and quiet diligence.  The audience's heart is immediately broken as Ami overhears two boys talk about how she is always studying and has no friends.  But what hurts even more is the longing on her face as she watches Usagi and Naru chillin' in their clique. CUE OPENING CREDITS. CUE DENISE'S UNENDING TEARS.
Months ago when I started rewatching the anime in preparation for Sailor Moon Crystal my co-worker, Lainey (another die-hard Moonie), lent her DVDs of the original subtitled version rather than the dubbed because she swore by how much better they were.  It was hard for me to adjust to things like Naru's non-Jersey accent or not sighing "Darien" every time Mamoru came on screen but she was absolutely right.  Ami was so much better developed in the subbed storylines.  Sailor Moon Crystal has taken that to a whole new level.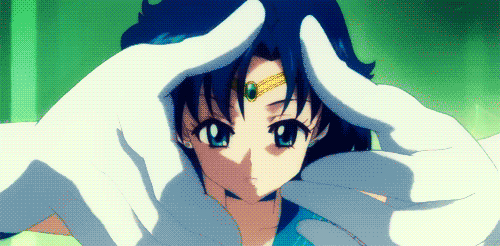 We see her agonize over picking ambition or friendship.  It's devastating and you just want to swoop Ami up in your arms and protect her from the world.  What is truly awesome is that Usagi really shows a side of her kindness that was usually skipped over in the older anime.  In the original anime Usagi is loveable but in that bumbling, silly younger sister way.  She first initiates friendship with Ami so Ami can help her study and then she usually runs to Ami when someone is picking on her because she knows Ami will tirelessly defend Usagi's antics.  But in Sailor Moon Crystal while Usagi jokes to herself that Ami could help her that idea is quickly forgotten and replaced with the need to just include this lonely girl.
In just one episode their relationship is already so much stronger and meaningful than in the almost 200 episodes of the original anime.  THAT is how good this episode is.  I'm not saying what they had before was a crock of shit, but this smoothly showcased the growing bond between two new friends.  Usagi's curiosity became pity and then turned into genuine affection while Ami's apprehension became interest and that melted into complete appreciation.
If anyone was questioning how well they were going to translate the manga onto the screen this should calm their tits.  Sure, the original anime was more cheesecake and light-hearted but this captures so much more emotion and depth.  Already there is a fraction of Moonies who are shitting on Sailor Moon Crystal for its art esthetic and slightly more serious tone but screw them! They are drowning in their own nostalgia and while they flail around bitching about how their childhood is ruined we can sit back and watch our favorite characters develop into beautifully fleshed out icons.
Act 2 was incredible.  It laid down some serious groundwork.  Usagi may act like a coward but in moments of real danger she will jump at the chance to save her friends and do the right thing even though she is terrified.  Ami is more than just the quiet, brainy girl.  She is full imagination and will power and now really understands the value of friendship.  Mamoru isn't just a snarky collegebro with a severe blackout problem.  He's so clever and intuitive and picks up on unseen details.
And if all of this hasn't satiated your senshi needs then may I present to you the official music video and full length single for "Moon Pride" the Sailor Moon Crystal opening theme song.  It's glorious and for sure a definite summer jam.  As of right now the only way to purchase copies are through Japanese websites but who cares, it's a banger and you need it.
Listening to that song and watching the girls come together in the video despite being knocked down is so inspiring and goddamn you have to love that little girls will grow up singing this song like I did with "Moonlight Densetsu."  Telling boys to step off because magical girls take care of business better than some pretty boy prince.  It's only been two episodes and already this show has kicked down preconceived notions and smashed the patriarchy.  And we haven't even met Rei yet.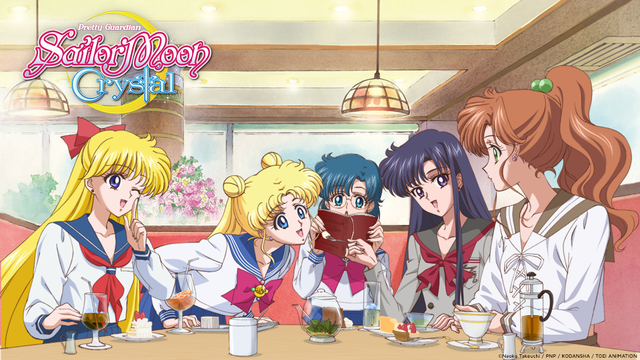 If you still haven't seen Sailor Moon Crystal yet there are quite a few places you can check it out: Hulu, Crunchyroll, and Niconico!