I've been counting down the days for Sailor Moon Crystal to finally introduce Sailor Jupiter and I couldn't be happier with Act 5 because not only do we finally get roses and thunder we get a much richer and compelling story for Makoto Kino.
Quick back story, as kids when my friends and I chose which sailor scout we got to be I was stuck with Jupiter and I didn't appreciate her at all. I had a quiet, brainy friend so she obviously got to be Mercury; I had a strong, overpowering friend with miles of black hair so she was Mars; and I had a cocky, over-achiever friend who was a total flirt and she was Venus.  I didn't understand the wonder of Jupiter until much later but once I did, I was a goner because Makoto Kino is the dream.
Act 5 is the first episode of Sailor Moon Crystal where the original anime's version severely differs from the manga's plot.  One of the reasons I think I didn't love Makoto when I was younger was because her intro episode was so shitty.  She falls in love with this gamer jerk and then follows him around like a lost dog despite the number of times he tells her to leave him alone.  It makes her seem like a crazed stalker.  Now let me go on a brutal feminist tangent for a second, when they created the original anime they wanted it to appeal to boys as well as girls so a lot of changes that we grew up with were made specifically to appease a younger male audience.  Skeevy, right?  Now with that in mind think about Makoto's original episode.  Here's this guy who uses supernatural powers to cheat at video games and when some baddie starts chasing him and a girl saves him he is humiliated and offended.  It's a shitty episode.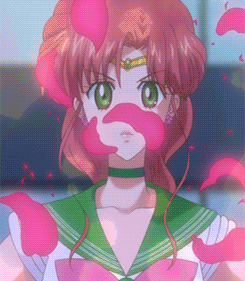 Sailor Moon Crystal flips it by sticking to the original plot from the manga which centers on a bridal shop said to be haunted by a ghost bride that seduces men at night.  First of all that sounds like a way cooler story than some asshat who cheats at arcade games.  Secondly it doesn't depict Makoto in such an unrelatable, unfavorable light.  Instead of being sprung on some douche that treats her like a leper she is surprised by Motoki's sudden interest while being overwhelmed by a rush of nostalgia.
Even better though they really down-played the romance and upped the power of friendship.  I've talked long and hard about how important it is that young girls who are watching this show learn that Usagi's kindness to strangers isn't considered weak or weird but appreciated and adored by those around her.  When Usagi approaches Makoto who is sitting by herself during lunch she notices how cute and delicious her lunch looks.  Now with the removal of one small sentence we see the vast difference between original anime Usagi and SMC Usagi: in the original she says something along the lines of "I bet she can teach me to cook."  Whereas in the new show she instead compliments Makoto and praises her like the domestic goddess she is.
Here's what makes Makoto so fantastic in my eyes, she symbolizes a balance.  She spits on stereotypes and flips her perfect ponytail with reckless abandon.  She's a fighter and a cook.  She's domestic and out-going.  She likes romance and video games.  She is both incredibly girly and still the toughest bitch in the group.  That is such critical message to put out for future generations.  We don't have to live by gender norms anymore, girls can like nerf guns and nail polish and boys can get excited about shopping then watch college football in sweats.  You don't have to pick a side, you can like whatever you want to like.
And here's another small change that I feel really helps develop the characters into better role models.  In the arcade when Usagi is introducing Makoto to Ami and Motoki she asks what his friends call him and then uses that nickname instead of his more formal title as well branding her new friend as Mako-chan.  In the manga Ami and Luna are embarrassed by this exchange and mention that Usagi never knows when she's crossing the line but in SMC Ami is all heart eyes.  She wonders on how Usagi is easily able to meet new friends and make them comfortable.
Let's move on to the action before I start to get really emotional.  After Makoto leaves the other girls she walks through the city and comes across a possessed Motoki who starts taking her energy after confessing his demonic love for her.  Luckily Mamoru was walking past and senses that not all is right (where were that intuition when you were kissing a sleeping teenager, huh?)  He immediately rushes to Usagi's house and pulls her out of her bedroom window which, considering the last we saw of him he was macking on our unconscious hero is reaching all new levels of creep-tacular.  But he manages to lead her to Makoto with Rei and Ami showing up right behind them.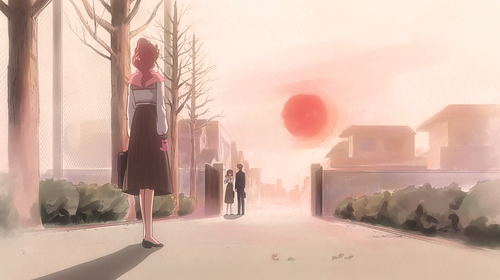 This is where the episode takes the most unbelievable turn.  When Makoto realizes that Nephrite was controlling Motoki the whole time she falls into a flashback of getting her heart broken right before she moved to Juban.  It's a sad little story that I would spend another 1000 words on but for brevity's sake let's just say it emotionally destroys her and she crumbles to the ground completely defeated.  And then the game changes.  While Makoto starts coming apart thinking that she will never find love Usagi breaks her out of that dark spell.  Usagi literally decrees that love is not easy but it is an unstoppable power that is always around.  She even continues to compliment Mako!  In that moment Makoto realizes that romantic love is not the only love that exists and she transforms in time to save the other senshi.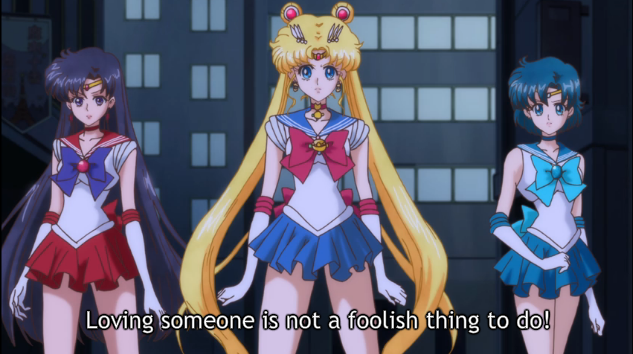 In true anime fashion Rei's power looks breath-taking, filling the streets with blasts of fire.  We even get to see two of Makoto's powers, Flower Hurricane and Jupiter Thunderbolt.  Both of which are downright beautiful and terrifying.  But here comes the best part, as Makoto looks up with the baddest bitch death glare Nephrite is overcome with the strangest expression and admits to recognizing her.  OH DAMN THEY ARE DOING THE THING.  They are taking the hints from the manga and making it come true.  I am so weeping with joy over the possibilities.
The show ends with two phenomenal quotes first from my girl Mako after the monster has been banished and the girls stand around assessing the situation.  She confides in the other senshi the real reason she left her other school was because she was so heartbroken she couldn't stand it.  But now she knows that "no one can bring down a girl who believes in love."  Hell yes, if I could go back in time that would be my senior quote.  To which Rei later replies, "We don't have time to cry over guys."  Listen, this show is taking the patriarchy by the balls and slaying gender roles.  Girls don't have to wait for boys to rescue them.  Girls don't need to be feminine or tough.  Girls don't need to stop romanticizing life to be a hero.  And most of all, it's totally normal to have friend crushes on your best pals.
If you still haven't seen Sailor Moon Crystal yet there are quite a few places you can check it out for free: Hulu, Crunchyroll, and Niconico!