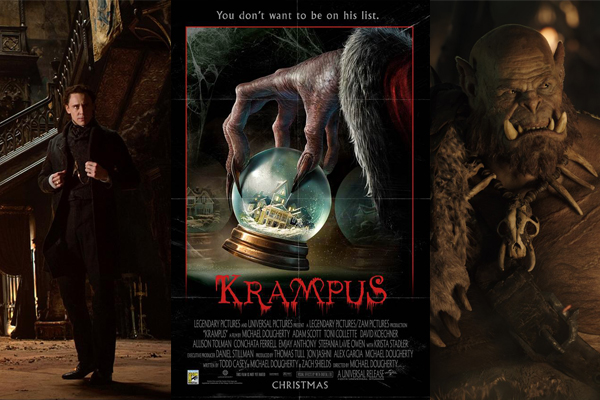 Just a few years ago, Legendary was part of the Warner Brothers studios family. I was at the 2013 SDCC panel that they showcased some Warcraft test footage and got the fans talking. Since they left WB they are now releasing their films through Universal Studios, but this is not a Universal Studios panel….this is entirely Legendarys. It's interesting to see the Legendary company strike out on their own this year and showcases their films on their terms.
They only promoted three films, but I think they got themselves a really solid lineup.
Crimson Peak
Guillermo Del Toro's full on big budgeted gothic horror romance, this film looks like it's classic Del Toro. Striking visuals, amazing production designs and offbeat characters. There wasn't much new information concerning the film on this panel, just a nice discussion about Guillermo's process as a director.
I loved hearing that for Guillermo he wanted to make a film that would empower women, pointing how the strong women in his life (his wife and his daughters) inspire him to make strong female leads in his films.
I'm really excited to see Tom Hiddleston hang out in the world that Guillermo creates. He's a lovely fit for the kind of stories that Del Toro likes to tell. Benedict Cumberbatch was originally gonna play this part, but seeing the footage that they showed us during the Panel, I think that Tom is gonna be a better call. Besides his acting talent, Tom has that sexuality that has given him his massive fan base.
The same thing can be said for Mia Wasikowska. She's always got this haunting beauty to her, and after seeing her work in both in Only Lovers Left Alive (in which she co-starred with Hiddleston) and in Stoker (my goodness, still one of my favorites films from that year) she's always someone I'm gonna pay attention too.
Oh and did I mention Jessica Chastain is gonna scare the crap out of you? I didn't?! Well she will.
Krampus
Everytime I see Michael Dougherty's film, Trick R Treat, the more I love it. It's wicked funny, clever, scary and just pure horror goodness. I heard about him making a film about the Krampus lore thinking that was a good fit.
After seeing the footage they showed on during the Hall H panel, I'd say Dougherty's got another good little horror film here.
The footage showed off the film's tone. At first it will feel like a John Hughes family comedy ….then it will turn into an all out violent Gremlins at the end.
Casting Adam Scott and Toni Collette fits with this film's genre set up. Both of them have starred in movies that have been family dramas or comedies that this movie is trying to be in the begining. Adam Scott in particular is exciting to me for this film as I never saw him in anything like this before.
The footage looked great, and I honestly can't wait to see more from this. It might be a bit too early for me to claim it to be a new Holiday cult favorite….but it sure does feel like it's gonna deliver.
Warcraft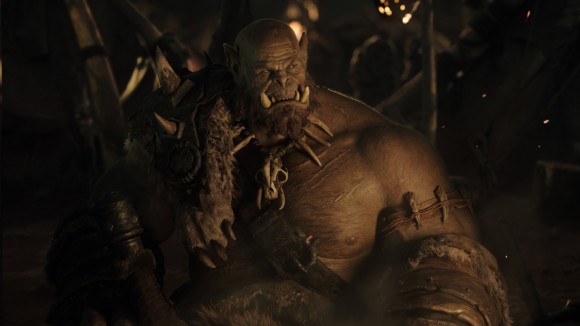 The night while waiting in line, me and Agent Earl were talking to some friends. I soon noticed a couple handing out Twinkies and asking folks if they would be members of Alliance or The Horde. I was looking at them until I realized I recognized one of them.
I pretty much blurted out the words "Are you Duncan Jones?"
The man turns around with a big smile and walks towards me. "Yeah, how are you doing!"
He then walked towards us with his wife, Rodene Ronquillo. They were apparently Periscoping the Hall H folks.
Rodene offered me a Twinkie BUT told me I had to answer her question…am I Alliance or am I The Horde?
Knowing NOTHING about the video game I picked Alliance, which still earned me a Twinkie. I'm not sure what Agent Earl answered, but I know in my hearts he most likely answered The Horde. We shook Duncan's hand, told him we've been looking forward to the film. He told us thanks and said "I'll see you guys tomorrow!"
If there was one person I wanted to watch this panel with…it was with Agent Earl. Why did I want to watch this panel with Earl? Because Agent Earl is a HUGE Warcraft fan. I'm not a gamer, but to see Earls reactions to this would have been worth it. The games iconography would have meant something to him. He knows the games really well to give him that jolt of excitement.
Sadly while Agent Earl did wait with us in the line for Hall H, it didn't work out for him and he ended up missing the days presentations (I'm sure he'll do a write up about what happened to him in his next blog post.)
Like I said, I wasn't a Warcraft fan…but the trick for this Hall H presentation is to convince me that there is a movie that can work on me even if I've never played the video game.
Now, I'm not gonna lie, the footage they showed us was a bit lost on me. It's an all Horde scene, no humans and while I didn't know the context of what they were talking about and what they were doing it did prove to me the main their main mission statement for this film…these characters are NOT the bad guys. I've seen the Orcs have a family life, have fears and unsurness. These are not the snarly creatures from Lord of the Rings. These are creatures with fully lived lives.
We got glimmers of each cast members, and each new shot of action, magic, and sword swinging just kept looking cooler and cooler.
Duncan Jones's first two films, Moon and Source Code, are stupendous. His involvement alone is enough for me to be excited about this movie.
I look forward to a full length trailer soon so I can get a sense of the story…but right now, I'm impressed.
Could Warcraft finally be the first GREAT video game movie? I hope so, but so far it's looking pretty spectacular.