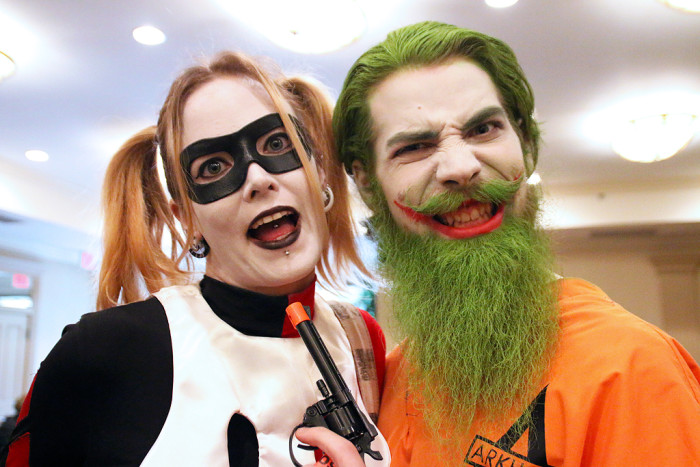 It's a new year, which means a whole new slew of conventions to attend. While other people make resolutions about losing weight or taking up the guitar, my resolution was to attend more cons. Bigger conventions like WonderCon and Anime Expo are still a few months away, but I'm in no hurry with a pair of new events to start off 2016.
First up was Anime Impulse, held at the Pomona Fairplex on Jan. 16 and 17. What made this con unique was that it took place simultaneously with the Asian American Expo and a one day ticket for both events was a mere $11. The Expo featured a wealth of food options from Korean BBQ, dumplings, grilled lobster, and boba tea. Food trucks on the premises were Okamoto Kitchen and Seoul Sausage, winners of Food Network's The Great Food Truck Race.
If you could pry yourself away from the bulgogi and rice bowls, you could find Impulse vendors selling artwork, vintage video games, lunch boxes, Funko Pop figures, and clothing though a surprisingly little amount of manga and anime. Our own Earl Baylon was also there as a special guest though we missed each other as I was only able to attend Saturday's festivities. Organizers also set up a stage towards the back of the building for cosplay panels, concerts, and fashion shows. There was also a fenced off area on the opposite end where smaller panels were held. Unfortunately, the loud speakers of the main stage tended to drown out the speakers there.
There was also a lack of signage to indicate where the convention was being held. The entrance to the area was a triangular metal structure with "Anime Impulse" in yellow and black. However, there were three buildings inside without any indication, which was correct. Of course, any first-time cons will have their hiccups and I'm looking forward to seeing if there will be a second event.
Another first-time convention was the low-key Cos-Losseum in San Diego at the Crowne Valley Plaza Hotel, held on Jan. 23 & 24. I wasn't originally going to attend, but I lived 15 minutes away and proceeds went to finding a cure for Lupus. Tickets were only $10 for a day and a lot of well-known cosplayers such as Countess Canterburry, Loki Hates You, and ThorTV. The majority of vendors were selling handmade crafts (steampunk weapons, jewelry, etc) with one lone booth stocked with comics and another selling art books. Local comic book store Villainous Lair was on hand with a costume repair area, which cosplayers will surely hope pops up at more cons. Both Cos-Losseum and Nerd-Con (which debuted last year) are looking like fantastic alternatives for those in the San Diego area who have become jaded by the massive crowds of SDCC or those who were simply shut out of passes.
For more photos from Anime Impulse, click here.
For more photos from Cos-Losseum, click here.