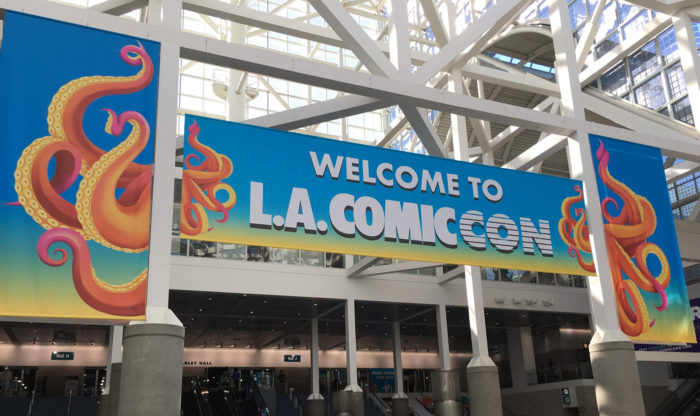 LA Comic Con has grown since its humble beginnings in 2011 where it was staged inside Kentia Hall, the Los Angeles Convention Center's underground parking lot. The event also has something of an identity crisis as the name has changed several times over the years. Originally known as Comikaze Expo, the organizers formed a partnership with Stan Lee and became Stan Lee's Comikaze Expo followed by Stan Lee's LA Comic Con. The relationship recently dissolved and for 2018, they were simply known as LA Comic Con. Hopefully, the name sticks in spite of San Diego Comic-Con's litigiousness.
Held the weekend before Halloween, LACC 2018 was just one of many events in Downtown LA, which made things a little more hectic. Bruno Mars played next door at the Staples Center, the Rock & Roll Half-Marathon shut down streets Sunday morning, football at the LA Coliseum, and the World Series at nearby Dodger Stadium.
Security lightened up when it came to weapons and props this year, but enacted a new policy prohibiting food and drinks inside the convention center. So, some con goers would have to subsist on Halloween candy and a scant number of food trucks.
LA Comic Con also made a concerted effort to organize the exhibit hall into more clearly delineated sections. There was Cosplay Corner on one end, along with Karma Corner, a small area dedicated to charity organizations. Sections were also set up for vendors specializing in comics, anime, and toys, as well as a horror section hosted by Fangoria and a prominent Artists Alley. Hot Topic had their usual booth with exceptionally long lines for their exclusive Funko Pops. While Marvel and DC have usually skipped LACC, you could still find smaller publishers like BOOM! Studios, Cryptozoic, and Aspen Comics.
Toy collectors could check out the Mezco booth, which displayed their 1/12th scale line of figures based on various pop culture properties.  You had the usual Marvel and DC characters alongside the Ghostbusters and the Warriors. Not to be outdone was Toynami with mini-figures based on characters from Mega Man and Dragonball Z were highlights though personal favorites were the Samurai Batman and Samurai Joker from Batman: Ninja. BricksLA, a convention devoted to LEGOs and the like, brought several intricately built dioramas that included the Avengers Tower, the Battlestar Galactica, and a recreation of a scene from Oscar winner The Shape of Water.
LACC kicked the festivities off on Friday evening with a Q&A with Tenacious D, the duo of Jack Black and Kyle Gass. Colin Hanks was originally scheduled to moderate, but cancelled and Val Kilmer (doing his Brando impression from The Island of Dr. Moreau) was tapped for the introduction. After their panel on the main stage, Black and Gass screened their animated YouTube series, Post-Apocalypto, for select fans. The six-part webseries featured crude drawings by Black and even cruder humor as Tenacious D attempt to survive in a wasteland populated by savage women and mutant creatures. The Tenacious D panel was preceded by the annual Le Geek So Chic fashion show, featuring the work of ten designers. Outfits ranged from snazzy dresses inspired by Star Wars characters to Disney-themed workout gear.
Saturday's main stage programming started out with cast members from Agents of SHIELD and Runaways. Katie Cassidy from Arrow, voice actors from Steven Universe, and Rob Liefeld followed with the main event being the Cosplay National Championships. AMC's Comic Book Men, Power Rangers, voice actors from Overwatch, and a kids cosplay contest rounded out Sunday. Other celebrity guests included Isaiah Washington, Michael Biehn, Katrina Law, Danny Trejo, Robbie Amell, and comic book artists Greg Capullo, Jim Mahfood, and Skottie Young. While Chris Jericho's Rock 'n' Wrestling cruise gobbled up a lot of wrestling talent on the other side of the country, LACC still managed to book some quality talent for fans of the squared circle. Jake "The Snake" Roberts, Rob Van Dam, Shad Gaspard, Lisa Marie Varon, and ladies from the original GLOW signed autographs around the exhibit hall. In addition, WOW – Women of Wrestling, set up a ring near the main stage and held live matches on Saturday and Sunday afternoon.
For more photos, check my Flickr page.